As Christmas and New Year's comes and goes, we all return to our daily routines and say goodbye to the holidays. But, for those in and around the bay area, we still have one more important holiday to look forward to! Gasparilla is a Tampa tradition, and this pirate fest brings in tourists from all over.
If you're visiting Tampa Bay and are looking for a place to stay, there are all types of Tampa hotels with unique aspects and quality amenities. We love these Tampa Bay hotels for Gasparilla Weekend and encourage you to make your plans as soon as possible. The invasion will be here before you know it!
Tampa Hotels for Gasparilla
Below are our picks for the best Tampa Bay hotels for Gasparilla Weekend. Picking the right hotels is all about the location, but your budget is important to consider too. Some Tampa Bay hotels offer amenities that are perfect for couples, while others are great for families. We make note of these features below.
2023 Gasparilla Parade Route
The Gasparilla Invasion emerges at the south end of Hillsborough Bay and makes its way into Seddon Channel (between Davis Island and Harbor Island) before docking at Tampa Convention Center.
The Parade of Pirates begins at Bay to Bay and Bayshore Blvd. It continues along Bayshore to Brorein St., turns east on Brorein and then north on Ashley Dr.
The following hotels are a short walk (between 0.2 to 1 mile) from the end of the parade route and are roughly 6 miles away from Bayshore Blvd. However, due to road closures, detours, and parade traffic, plan your timing and drive accordingly if you plan on heading to Bayshore. For a better idea of proximity, check out the official 2023 parade route map.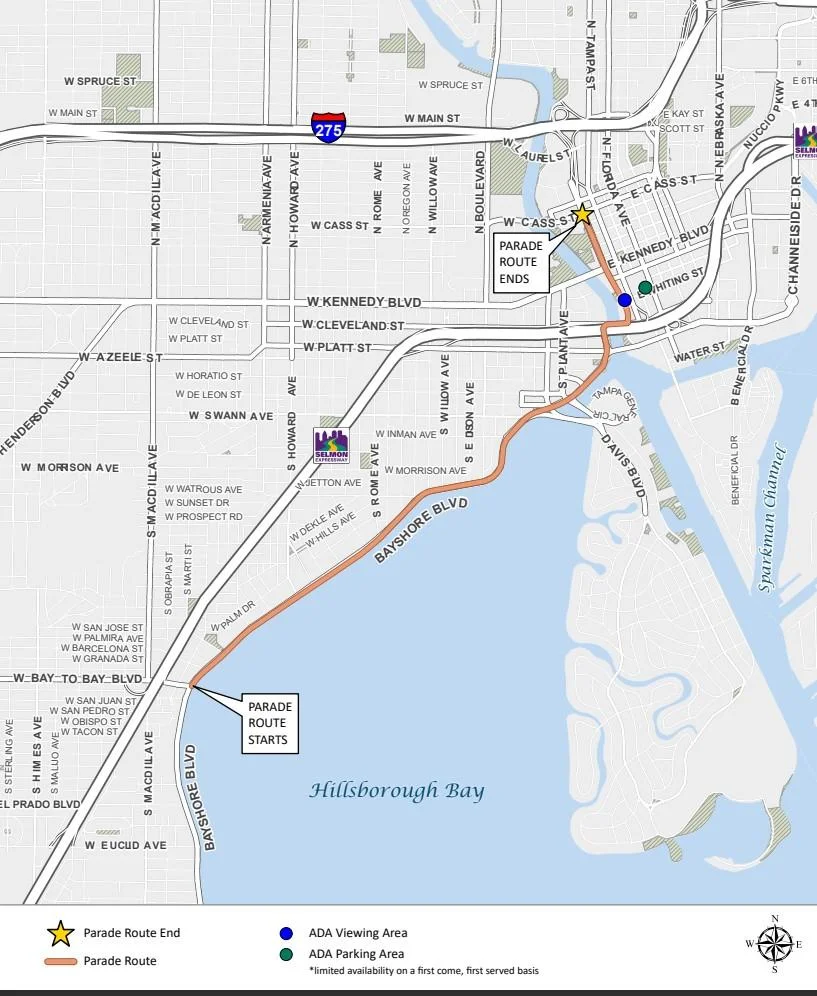 Gasparilla Hotels
Tampa Marriott Water Street
JW Marriott Tampa Water Street
Courtyard by Marriott Tampa Downtown
The Westin Tampa Waterside
Le Meridien Tampa
The Floridan Palace Hotel
The Barrymore Hotel Tampa Riverwalk
Aloft Tampa Downtown
Hilton Tampa Downtown
*Aloft Tampa Downtown and Courtyard by Marriott Tampa Downtown are both on the direct parade route as it heads through downtown. All other hotels are within 1-2 blocks walking distance. 
505 Water St, Tampa, FL 33602
For couples that want to be right in the middle of Tampa's metropolitan area, Tampa Marriott Water Street is an excellent option. This waterfront hotel sits around the corner from the Tampa Riverwalk, Sparkman Wharf, and Amalie Arena, all of which have endless dining and entertainment options.
Along with being close to all the restaurants and bars downtown Tampa has to offer, this property is located waterside so you can enjoy rooms with a view.
Gasparilla includes a boat parade, which goes right by nearby Harbour Island, so you'll have an excellent vantage point.
510 Water St, Tampa, FL 33602
Prefer a swankier stay? Connected to the aforementioned Tampa Marriott Water Street by way of a sky bridge, the new JW Marriott Tampa Water Street offers upscale amenities like a spa, 6th floor resort pool, multiple restaurants, and waterfront views.
It's the perfect place to unwind after a long day and night of Gasparilla fun.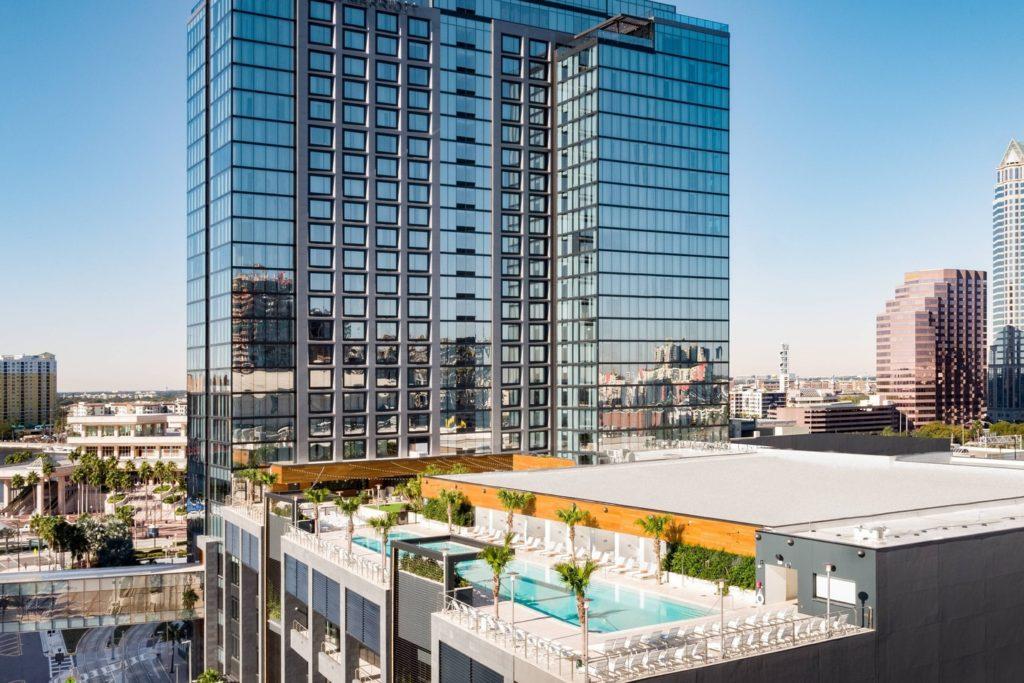 102 E. Cass St., Tampa, FL 33602

The Courtyard by Marriott places you in the heart of Tampa just steps from Tampa Riverwalk and Glazer Children's Museum.
This hotel is also only 0.2 miles from Curtis Hixon Waterfront Park (which is where Pirate Fest takes place) and 0.2 miles from the historic Tampa Theatre.
725 S Harbour Island Blvd, Tampa, FL 33602
This well-established Tampa hotel focuses on blending modern luxury and quality guest service. Located on Harbour Island, this hotel is located right next to popular dining options, American Social and Jackson's Bistro.
As a downtown waterside location, this hotel provides excellent views and is a great place to watch the boat parade. A quick Uber ride or stroll through downtown will bring you to Bayshore Blvd where the Gasparilla parade takes place.
601 N Florida Ave, Tampa, FL 33602
Another downtown option, Le Meridian is a historical federal courthouse reimagined as a four-diamond chic hotel. With 130 spacious rooms, this centrally located hotel is around the corner from bars, restaurants, and the setting for the Gasparilla parade.
Built in 1905, Le Meridian offers a taste of Tampa's historic charm while offering all the comforts of modern amenities. Make sure to check out French restaurant Bizou Brasserie during your stay.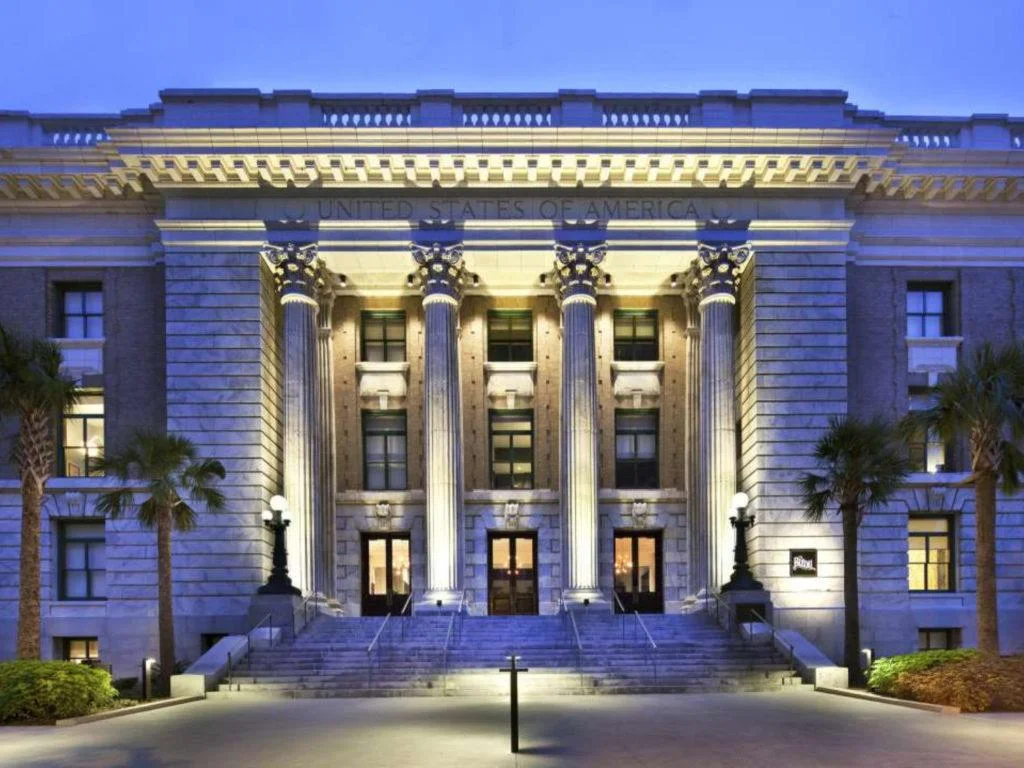 905 N Florida Ave, Tampa, FL 33602
Located in the heart of downtown Tampa, The Floridan Palace is in a great location for anyone looking to celebrate Gasparilla.
Originally built in 1926, this nineteen-story hotel is one of the only hotels in Tampa that is on the National Register of Historic Places. With its ornate details and historical touches, you'll get the old world feel alongside modern comforts.
111 W Fortune St, Tampa, FL 33602
Located along the Tampa Riverwalk, the Barrymore Hotel is just a short stroll from many of the experiences Tampa has to offer.
Along with being close to the Gasparilla Parade, guests can also find food and entertainment at Armature Works, the Straz Center, and museums and restaurants in the downtown area.
The Barrymore is also pet friendly.
100 W Kennedy Blvd, Tampa, FL 33602
Overlooking the Hillsborough River, this trendy hotel is just a short walk from the Gasparilla Parade, Curtis Hixon Waterfront Park, and all the food and entertainment downtown has to offer. Guests can keep the party going at the W XYZ lounge with craft cocktails, small plates, and live music poolside.
211 N Tampa St, Tampa, FL 33602
This posh downtown Tampa hotel offers modern lodgings with a rooftop pool, fitness center and other exciting amenities.
Located in the heart of downtown, this hotel is close to Harbour Island where the Gasparilla boat parade takes place. It's also just a short walk from the Gasparilla Pirate Fest. Keep the fun going in the nearby Soho district or explore downtown.
Feature Photo Credit: patch.com