Pick sunflowers with your love! Thanks to Florida's climate, it is pretty much always u-pick season in the Tampa Bay area. There are plenty of sunflower and zinnia farms where you can take advantage of Florida's early growing season.
We've included all our favorite places for u-pick sunflowers and zinnias in Tampa Bay, as well as the other things each place offers. 
Tips to make the most out of your u-pick sunflowers adventure:
Bring plenty of water.

You definitely want to stay hydrated, so bring plenty of water for everyone in your group.

Bring your own vase and clippers: Many farms offer clippers, but it's always best to bring your own just in case. And a vase and water so the flowers don't wilt on your way home.
Be prepared to get dirty!

While walking the rows of fruit fields, it's ideal to wear closed-toe shoes (ideally old shoes or ones that are easy to clean).

Bring wet wipes.

Keeping wet wipes and towels on hand is also a great idea to avoid tracking the dirt in your car. Not every farm has a traditional restroom onsite.

Pack sun protection.

Open fields mean lots of sunshine. Hats, sunscreen, and water will come in very handy.
*U-pick availability is subject to change. We recommend checking the location's website or Facebook page before you go for updates and hours.
Open Right Now for U-Pick Sunflowers and Flowers
Beasley Farms in Brooksville
10137 Preston Road, Brooksville
Sunflowers: April-June, October
This is a new addition to our list of places to pick sunflowers in Tampa Bay! They open the field for u-pick sunflowers seasonally – you can pick two for $1 and BYOC (bring your own clippers). They also offer veggies like green beans and Swiss chard seasonally. You can pick your own zinnias and sunflowers during weekends in October. Stay up to date on future u-picks by visiting their Facebook page here.
Stay Tuned for Official Opening Dates
Hunsader Farms in Bradenton: u-pick sunflowers and wildflowers
5500 County Road 675, Bradenton
Sunflowers: March – April
The family-owned Hunsader Farms has fresh u-pick flowers available seasonally, with prices varying by variety. They also strawberries and rhubarb available for u-pick starting in December, followed by fresh veggies such as eggplant, green peas, and okra shortly after. They also have a full farmers market filled with more fruit, veggies, eggs, and jams. They also have a petting zoo for an added dose of family-friendly fun! Check their Facebook page for u-pick updates.
Strawberry Passion/Passion Organics: U-pick sunflowers
11780 Tom Folsom Road, Thonotosassa
Sunflowers & Zinnias: April – July
Strawberry Passion is now offering u-pick sunflowers and organic veggies on Saturday, April 15. Sunflowers are $1 each and organic yellow squash, zucchini and green beans are $1 per pound. Make sure to check their Facebook page for specific dates and times.
Three Son Farms in Dover: U-pick sunflowers
3830 MacIntosh Road, Dover 33527
Visit Facebook page here
Three Sons Farms in Dover has transitioned from strawberries to u-pick sunflowers! Their fields are open or u-pick sunflowers Monday- Friday from 10am-5pm. The sunflowers are $1 each. Make sure to bring your own vase and they'll supply the rest.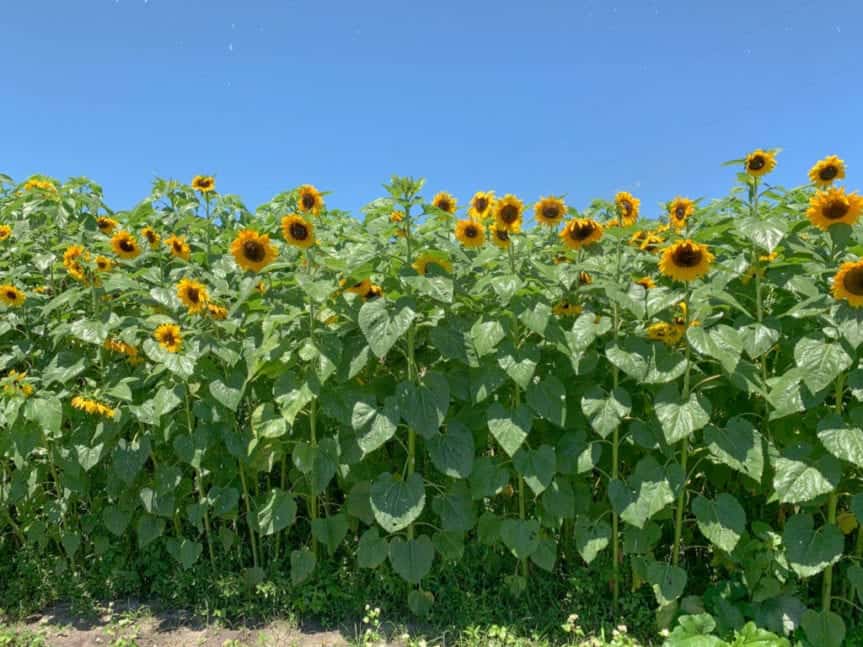 Sweetfields Farm in Brooksville: U-Pick Sunflowers and Zinnias
17250 Benes Roush Road, Brooksville
www.sweetfieldsfarm.com
Sunflower season will return in May 2024
In the spring, you can check out the themed sunflower maze, play area, peddle tractor rides, hay rides, farm animals and more! Tickets usually sell out for this one, so you'll want to buy right away to secure your spot. Tickets are required for everyone ages 3 and older and includes the maze, visits with farm animals, tumble weed rollers, peddle cars, and more. Check out their Facebook page here.
HarvestMoon Fun Farm Sunflower U-Pick in Masaryktown
15950 Stur Street, Masaryktown 34604
www.harvestmoonfunfarm.com
Sunflower season will return in May 2024
In the spring, be sure to visit HarvestMoon Fun Farm for u-pick sunflowers, zinnias and wildflowers AND have some fun on the farm by making your way through the sunflower maze, visiting with the animals at the petting farm, and more! They'll be open May 6-May 30 this year.
Fancy Farms in Lakeland
5204 Drane Field Rd Lakeland, FL
Sunflowers: Dates vary
Fancy Farms opens their fields in the spring for zinnia and wildflower u-pick. Sunflower picking dates vary. The flower fields should be open through the end of June. Hours are Wednesday-Saturday from 10am-5pm with the last entrance into the field at 4pm. Admission is $5 per person (kids ages 4 and younger are free). To fill a 32 ounce cup, it is $5. Strawberry u-pick and tons of delicious strawberry desserts are also available seasonally. Check their Facebook page here for updates.
Berry Sweet Acres in Plant City
5621 W US Hwy 92, Plant City
Sunflowers: May-July
Berry Sweet Acres is a new farm to the Tampa Bay Area, run by the family of farmers behind the popular Parkesdale Farms. They will have seasonal u-picks including sunflowers and zinnias! The farm is open Wednesdays-Sundays in June. Admission is $2 and then sunflowers are $2 or 6 for $10. Zinnias are 4 for $1 or you can get the mason jar special for $15. Stay up-to-date by visiting Berry Sweet Acres' Facebook page before you go.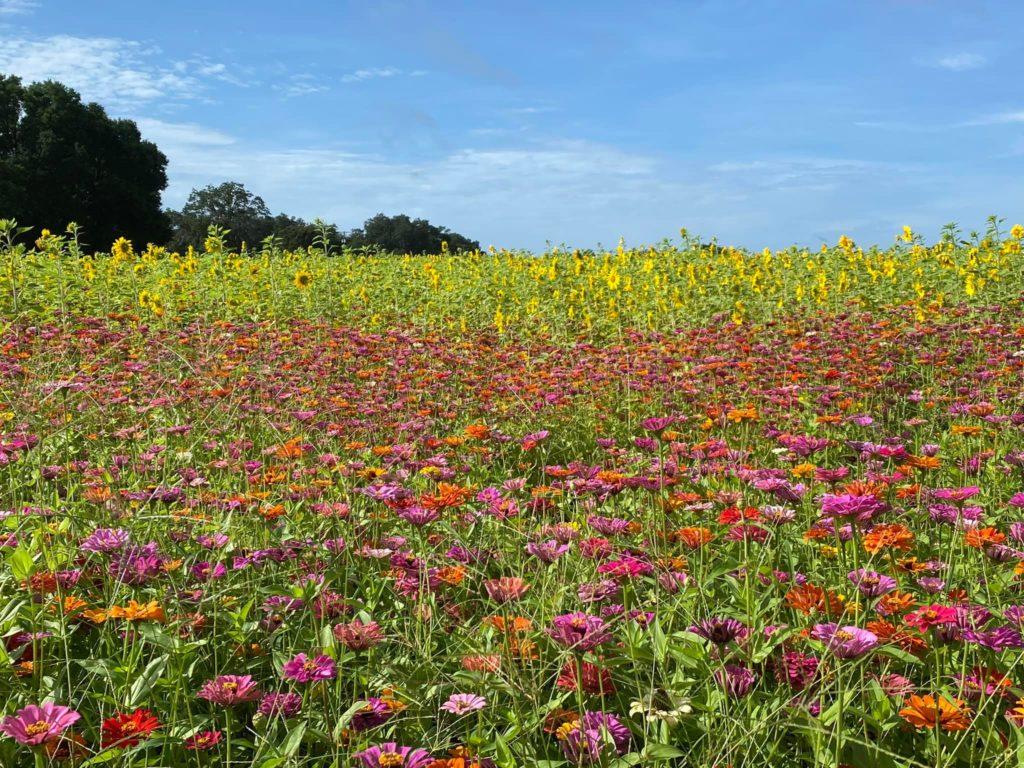 5K Farms in Plant City
6302 S. County Road 39, Plant City
Sunflowers: March – May
5K Farms will has a variety of crops available for picking seasonally, including Strawberries in the spring. Sunflowers are available March-May. Check out their Facebook page for more information, fun strawberry recipes, and to learn about other fruits and veggies they may have available for sale!
Jimmy MC's Farm in Spring Hill: U-pick sunflowers
17430 Coon Hide Road, Spring Hill 34610
Jimmy MC's Farm offers u-pick sunflowers in the spring!  Learn more here for future updates.
---
Explore these local u-pick farms in Tampa Bay for a day full of fresh produce, berry picking, and more. In our complete guide to u-pick farms, we've broken this post down by what is available at each farm.