Thanks to Florida's climate, it is pretty much always u-pick season in the Tampa Bay area. There are plenty u-pick strawberry farms where you can take advantage of Florida's early growing season.
We've included all our favorite places for u-pick strawberries and blueberries in Tampa Bay, as well as the other things each place offers. 
Tips to make the most out of your u-pick strawberry adventure:
Bring plenty of water.

You definitely want to stay hydrated, so bring plenty of water for everyone in your group.

Be prepared to get dirty!

While walking the rows of fruit fields, it's ideal to wear closed-toe shoes (ideally old shoes or ones that are easy to clean).

Bring wet wipes.

Keeping wet wipes and towels on hand is also a great idea to avoid tracking the dirt in your car. Not every farm has a traditional restroom onsite.

Pack sun protection.

Open fields mean lots of sunshine. Hats, sunscreen, and water will come in very handy.

Bring the right containers.

Some places will have bags and boxes for you to put your picked produce in, but it's always a good idea to bring your own just in case. Keep in mind that you pay by weight, so lighter bags and baskets are a good idea.
*U-pick availability is subject to change. We recommend checking the location's website or Facebook page before you go for updates and hours.
U-Pick Strawberry Farms
JG Ranch in Brooksville
17200 Wiscon Road, Brooksville
Strawberries: November – April
Blueberries: April – May
Blackberries: May – June
Veggies: Varies seasonally
JG Ranch has plenty of strawberries ready to be picked from November through April! Keep an eye on their Facebook page for other fresh vegetables like jalapenos and lettuce that they may have freshly picked for sale as well as local honey, beef, and eggs.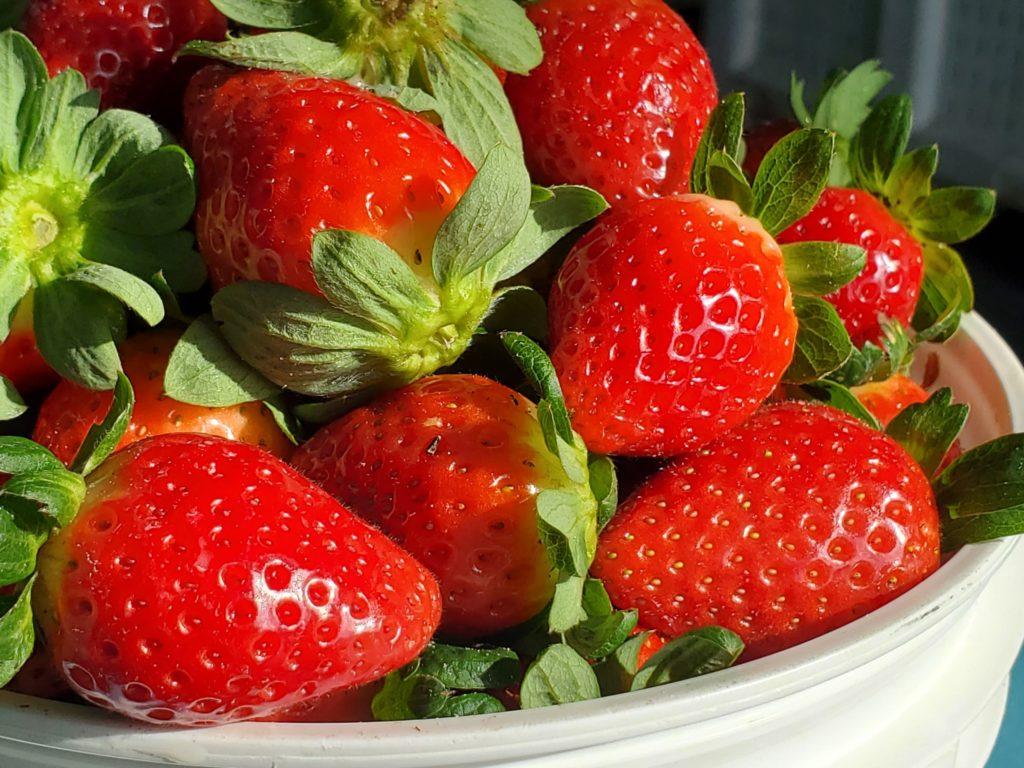 Starkey Farms
10730 Lake Blanche Dr., Trinity, FL
Strawberries: December – March
Blueberries: April – May
Blackberries: May – July
If berries are your jam, make your way to this farm in Trinity. Strawberry u-pick kicks off the year in early March, followed by blueberries at the end of April and blackberries starting in May.
Make it a complete date day by staying to enjoy live music, sample some of their specialty beer, wine, and cider, and grab some small bites.
Check the farm's Facebook page for daily updates and events schedule.
Strawberry Passion/Passion Organics
11780 Tom Folsom Road, Thonotosassa
Tomatoes: January – March
Strawberries: March – April
Strawberry Passion/Passion Organics offers u-pick strawberries (early March), tomatoes, and more on the weekends seasonally. They also offer freshly picked fruits and veggies at their market.
After you're done picking, you'll definitely want to treat yourself to a fresh strawberry milkshake or strawberry shortcake.
Make sure to check their Facebook page for specific dates and times.
Keel & Curley Farm in Plant City
5202 Thonotosassa Road, Plant City
Strawberries: January – March
Blueberries: April – May
Keel & Curley offers strawberry u-pick on Saturdays beginning at 10:00 a.m. January through March.
After you're done, head over to their restaurant to enjoy a glass of strawberry wine from their winery and some of their fresh, farm-to-table food. They have a great outdoor seating area and it's right near Dinosaur World, making for a cool day trip adventure!
Check Facebook for u-pick updates.
READ MORE: A Date at Keel and Curley Farm in Plant City
5K Farms in Plant City
5732 east SR-60, Plant City
Strawberries:  March – April
Squash & Zucchini: May
Sunflowers: March – May
5K Farms has a variety of crops available for picking seasonally, including u-pick Strawberries in the spring. Check out their Facebook page for more information, fun strawberry recipes, and to learn about other fruits and veggies they may have available for sale! Strawberries are $2 per pound.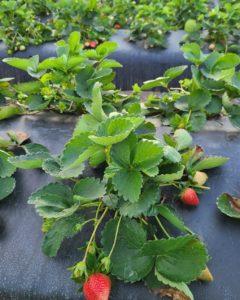 Upicktopia in Masaryktown
19125 Phillips Rd., Masaryktown
Veggies: October – June
Strawberries: November – April
Blueberries: April – May
Blackberries: April – June
Upicktopia in Masaryktown offers a wide variety of u-pick veggies, plus strawberries, blueberries, blackberries and more throughout the growing season! Make sure to follow their Facebook page for weekly updates on availability and prices. U-pick is available on weekends. Be sure to stick around and check out their on-site winery too!
Hunsader Farms in Bradenton
5500 County Road 675, Bradenton
Strawberries: December – March
Veggies: Varies seasonally
Sunflowers: March – April
The family-owned Hunsader Farms has u-pick strawberries and rhubarb available for u-pick starting in December, followed by fresh veggies such as eggplant, green peas, and okra shortly after.
They also have a full farmers market filled with more fruit, veggies, eggs, and jams. They also have a petting zoo for an added dose of family-friendly fun! Check their Facebook page for u-pick updates.
Berry Sweet Acres in Plant City
5621 W US Hwy 92, Plant City
Sunflowers: May-July
Strawberries: December – March or later
Berry Sweet Acres is a new farm to the Tampa Bay Area, run by the family of farmers behind the popular Parkesdale Farms. They just launched their first strawberry u-pick in December 2022.
Reservations are required and they're open Wednesday to Sunday 9am to 5pm. Admission is $2 per person 3 and up.
They will have seasonal u-picks including sunflowers and zinnias! The farm is open Wednesdays-Sundays in June. Admission is $2 and then sunflowers are $2 or 6 for $10. Zinnias are 4 for $1 or you can get the mason jar special for $15. Stay up-to-date by visiting Berry Sweet Acres' Facebook page before you go.
Fancy Farms in Lakeland
5204 Drane Field Rd Lakeland, FL
Sunflowers: Dates vary
Strawberries: March
Fancy Farms opens their fields in the spring for zinnia and wildflower u-pick. Sunflower picking dates vary. The flower fields should be open through the end of June. Hours are Wednesday-Saturday from 10am-5pm with the last entrance into the field at 4pm.
Strawberry u-pick and tons of delicious strawberry desserts are also available seasonally. $3 per container. Check their Facebook page here for updates.
---
Even more u-pick farms around Tampa Bay:
Love the great outdoors? Check out these Outdoor Activities Around Tampa Bay or explore lots of Free Things to Do in Tampa Bay.