While cooking at home is fun, sometimes the best thing to do is order takeout from your favorite local spot and enjoy the evening watching a movie instead. To level up your usual takeout routine, several Tampa Bay restaurants have introduced to-go dinner deals for two perfect for date night at home. Keep scrolling if you want to see all of our favorite deals for two that restaurants in the area are featuring right now.
Bern's Steak House
Celebrating an anniversary or just want to treat your loved one to a nice dinner? Then check out the Bern's Steak House "cut of the week," a weekly dinner bundle available to-go. Each kit serves two and includes a featured cut of meat paired perfectly with an accompanying wine or spirit. The bundle changes weekly and is available for curbside pickup at the restaurant on Friday each week. Once you pick up your meal, head home to cook and recreate the Bern's experience at home.
This week's feature: A bottle of George Duboeuf Domaine des Quatre Vents Fleurie 2017, a Rosemary Brined 6oz Duck Breast, and a 4oz Maple Wine Reduction.
Order online or call (813) 284-4838.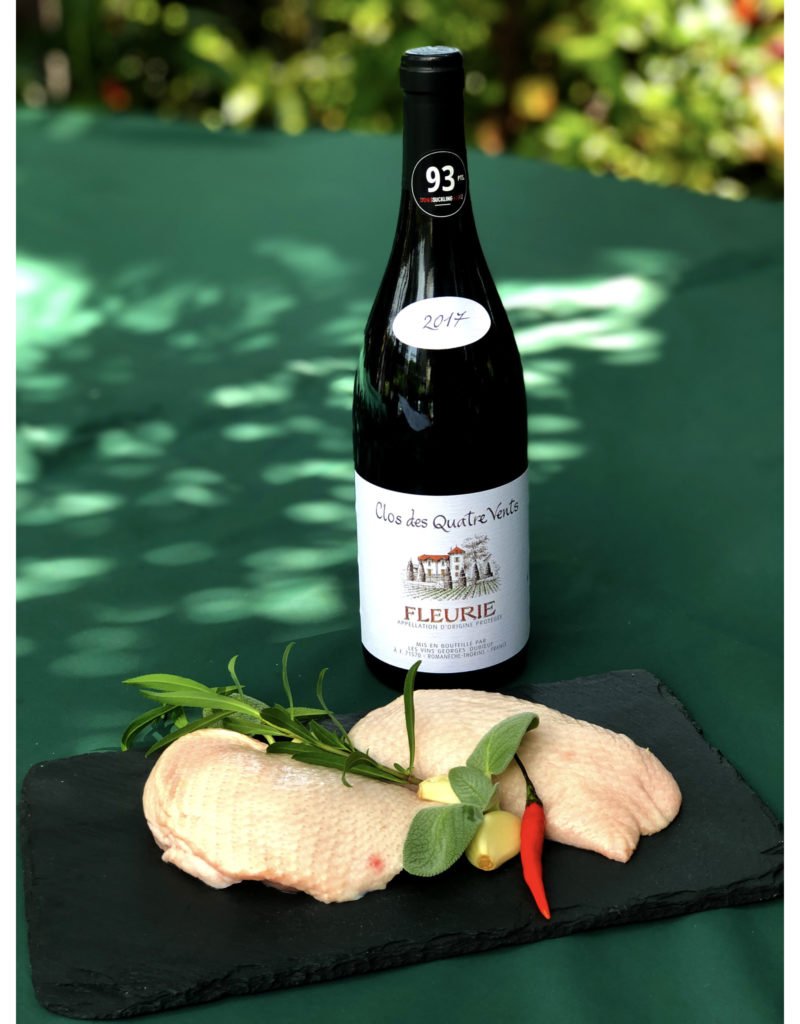 Bulla Gastrobar Tampa
Working from home? Take a break together to try Bulla's lunch special for only $14.95. Pick two courses from over 80 combinations. From now until September 1, also try out the Taco Takeover featuring a tuna tartare and a Spanish margarita for only $20.
Looking to cook a unique dinner for your significant other? Then try out Bulla's Paella making kits. For $18 try their Paella de Pollo kit which includes chicken, artichoke hearts, Portobello mushrooms, green peas, red sofrito & saffron. Another kit is the Paella Mixta kit. This includes calamari, shrimp, chicken, sofrito de calamer, and saffron. Each kit comes with instruction for perfect paella at home. Add on the Paella pan for an extra $20, or a pitcher of the eatery's signature white or red sangria for $25.
There's also an assortment of family meal options ranging in price from $20 – $60 each. Online ordering is available for pickup and delivery.
Rooster & the Till
Check out this modern neighborhood restaurant open Wednesday-Saturday for dine-in and take out. On Sundays, couples can try out the Sunday Supper, which includes an appetizer, entree, and dessert for two for $60. This is an at-home dinner experience allowing you to enjoy a chef-crated meal at home, no cooking required. Orders must be placed by 5pm on Thursdays and will be available for pickup on Sunday between 11am and 12:30pm. New menus drop every week.
Visit the restaurant's website to place an order and view the current menu.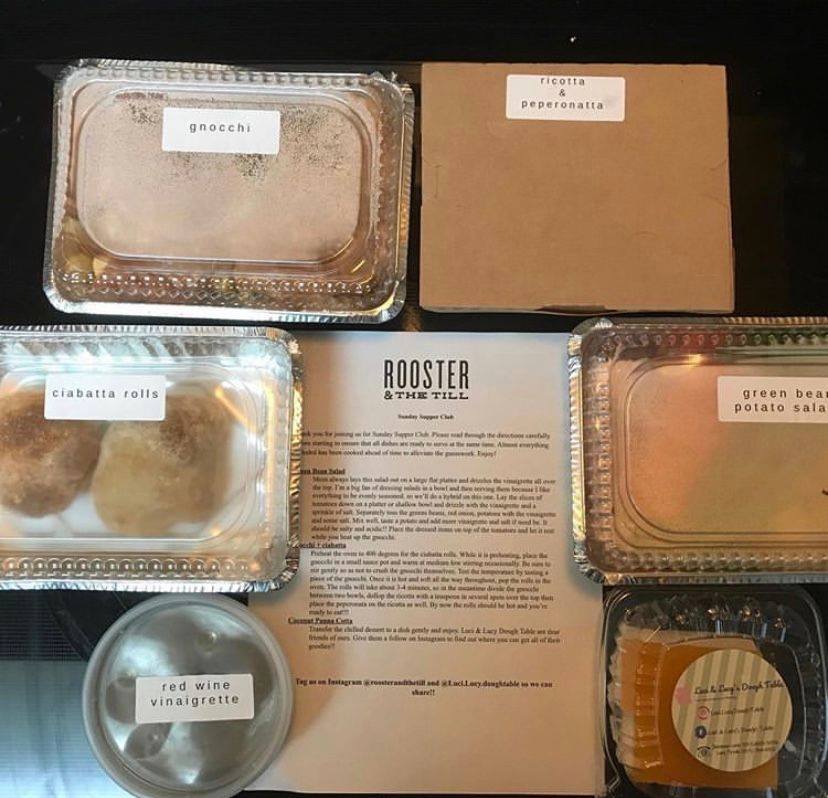 Il Ritorno
Another great Italian restaurant, Il Ritorno offers a family meal which serves 2-3 people. For only $65, this meal includes tomato salad, lemon basil agnolotti, pork campanelle, pan seared chicken, chef's choice of gelato, and house focaccia with basil pesto.
You can also choose from a selection of frozen take-home pasta kits for two. Each kit comes with a recipe card so you can cook your meal to perfection in your own kitchen. Kits range from $20 – $40.
Order delivery via UberEats or download UberEats in the app store.
Boca Tampa
Boca is a fantastic little restaurant nestled in south Tampa. Order a takeout dinner to feed 2-4, with options ranging in price from $19 – $55. Try dishes like the Wilber's fried chicken, sweet potato gnocchi, or Margarita pizza. Want to add something more? Buy the friend green tomatoes kit which comes with everything you need to bread & fry tomatoes at home. Or, try out the cobbler kit which includes everything you need to make a fruit cobbler with strudel. Both kits are priced at $15.
For a full date night, opt for the dinner for two + wine special available every Thursday. This option includes your choice of a dinner for two, house salad, jalapeño mac and cheese, watermelon salad and a complimentary bottle of Cabernet or Chardonnay.
Order online here.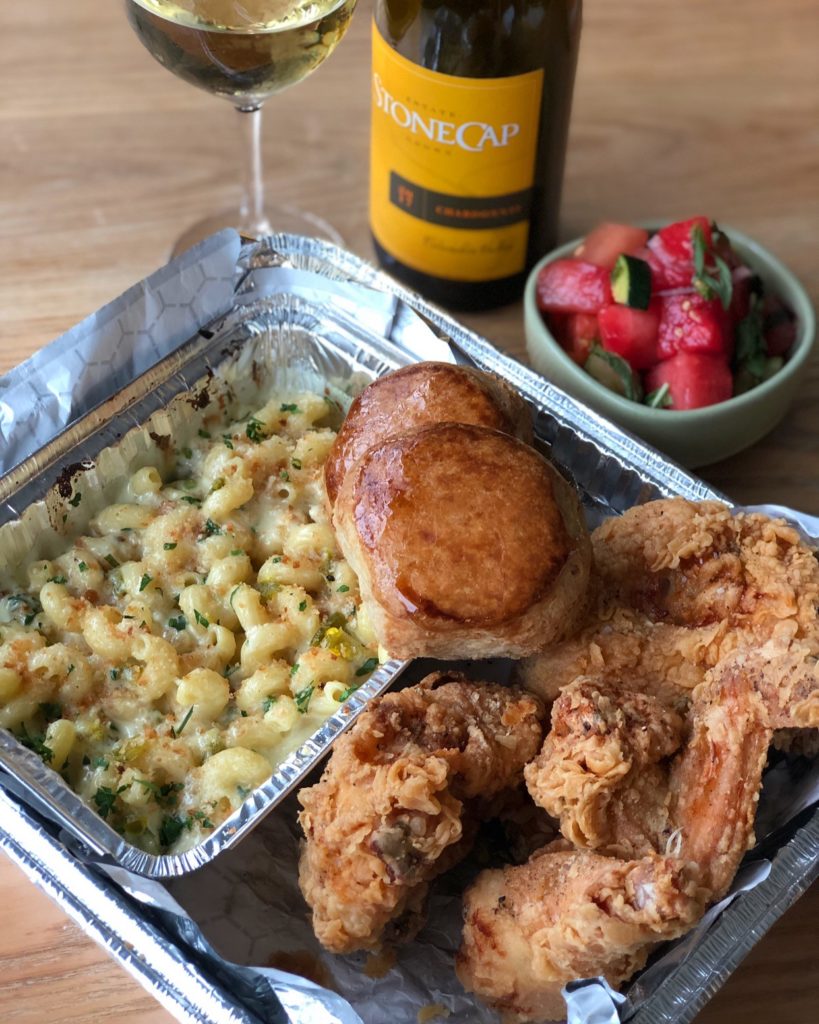 The Capital Grille
For the first time ever, The Capital Grille has made The Generous Pour, their annual wine tasting event, available for to-go orders! This deal allows you the opportunity to choose from seven wines to enjoy with items from the takeout menu. Your order will also include a crystal Stölzle Generous Pour wine glass with each entree and a link to access series of videos from Winemaker of the Year, David Phinney.
For another takeout option, try the Steak Grille boxes from The Capital Butcher, the restaurant's online marketplace for dry-aged, uncooked steaks. In your box, you'll get four uncooked steaks, along with The Capital Grille's signature steak sauce and seasoning. You can select from Bone-in Dry Aged New York Strip, Bone-in Prime Ribeye, or a combination of the two. You can also choose single steaks, and add mashed potatoes or lobster mac n' cheese to complete your feast.
American Social Tampa
American Social Tampa has a number of to-go dinner deals for your next date night. To place your order, call (813) 285-7757. Their family-style meal kits are as follows:
AmSo Burger Kit: $40
Backyard BBQ Kit: 3 half racks of ribs, 12 buffalo chicken wings, blue cheese, poppyseed slaw; $45
Family Pizza Party: 3 pepperoni pizzas or 3 balls of dough to make at home with pizza sauce, pepperoni, mozzarella, and parmesan; $35
Cocktail lovers can also get their fix with DIY cocktail kits available for takeout. Mix up your own traditional margarita, Patron Paloma, Bloody Mary, Mojito, Tito's & Soda, or Ketel Mule. Each kit comes with instructions and makes 4-6 cocktails. Prices range from $35-$55 per kit.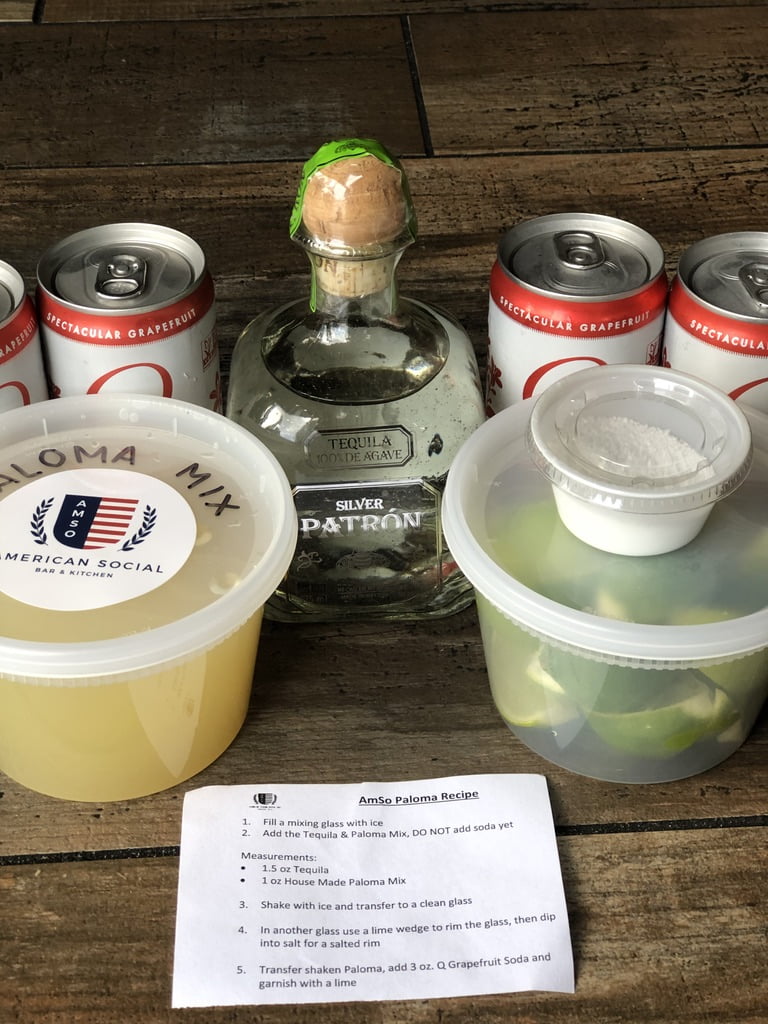 Maggiano's Little Italy
Craving some Italian comfort food? The Tampa location of Maggiano's has a special family meal to serve two, plus a fun date night package to enhance your at-home dates. Each family meal includes a salad, pasta and entree portioned to feed 2-4 people, plus fresh baked ciabatta rolls. Meal kits to feed two are $39.
Add on the date night package for $20, which comes with two half-sized bottles of Imagery wines – Cabernet Sauvignon and Chardonnay, "Wine Talks" conversation starter cards, a wine tasting note card, Maggiano's mints and a special Maggiano's playlist on Spotify. This package is available through the end of September.
Place an order online here.
SaltBlock Supper Club
Dreamed up by local catering and event company SaltBlock Hospitality, Supper Club is a unique meal kit delivery service that let's you build your own kit. Each kit includes multiple meals for the week so you don't have to worry about cooking. The menu rotates regularly and features locally sourced ingredients.
First you type in your address and then you can plan how often you want your deliveries. Ranging from a one time order to once a month deliveries, Supper Club gives you a variety of price points and delivery options. Couples can indulge in the small family package, which includes a total of four meals that feed 2-3 people each. Larger meals to feed 6-8 are also available. Prices for the small kits range from $195 – $229 depending on how often you choose to receive meals. Lastly you choose your entrées, sides, and desserts with the option to pick from other kits and grocery options.
Bamboozle Cafe
When you order online from Bamboozle Cafe and use the code WeekendTakeout, it will give you the opportunity to buy two entrees and get a free appetizer. This option is available Friday-Sunday. Make sure to also check the restaurant's Facebook page regularly for daily BOGO takeout specials. Bamboozle is known for fantastic vegan cuisine, specializing in healthy Vietnamese and Pho dishes.
Grimaldi's Coal Brick Oven Pizzeria
For more of a casual date night, explore all the meal deals Grimaldi's has to offer. If you are looking for a night in, order a one 18" cheese pizza, one small house or caesar salad, and your choice of a slice of cheesecake or two mini cannoli for only $25.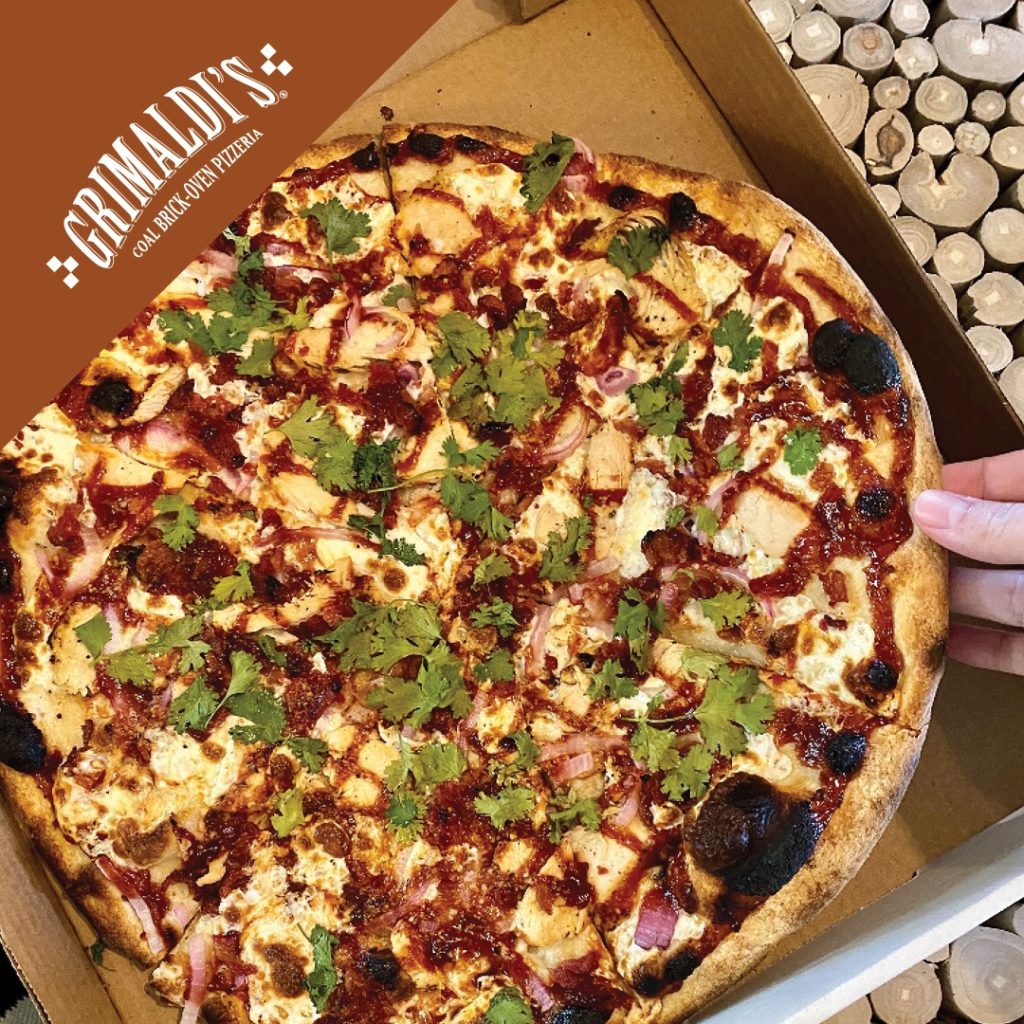 Feature image credit: Bulla Gastrobar