When I mentioned to friends that my husband and I were going to Orlando to check out the Orlando Beer Spa, they had questions – lots of them. Do you actually sit in a tub full of beer? Why do you sit on a bed of hay toward the end? Do you really get unlimited beer? And what's the point of something like that?
For spa owner, Barbara Corzo and her husband, Kevin, the intrigue is what makes this place so unique since there's nothing else around like it. A few years ago, Barbara and Kevin visited the Czech Republic and Prague, where they first learned how common beer spas are out there. Wanting to bring that same hoppy experience back home, they decided to open up My Beer Spa in July of 2021.
A Touch of Old-World Charm
The location is nestled along International Drive in Orlando, making it convenient for locals and tourists to check it out. The exterior is simple but once you step inside, you're greeted by old-world charm. Barbara wanted the ambiance to pay homage to the beer spas around Eastern Europe. A long bar against an exposed brick wall displays drink accessories, soaps and shampoos made with hops, and a beer tap. Beside it, a wall covered in artificial grass displaying the spa's name. The vintage charm mixed with modern touches give it a very unique vibe.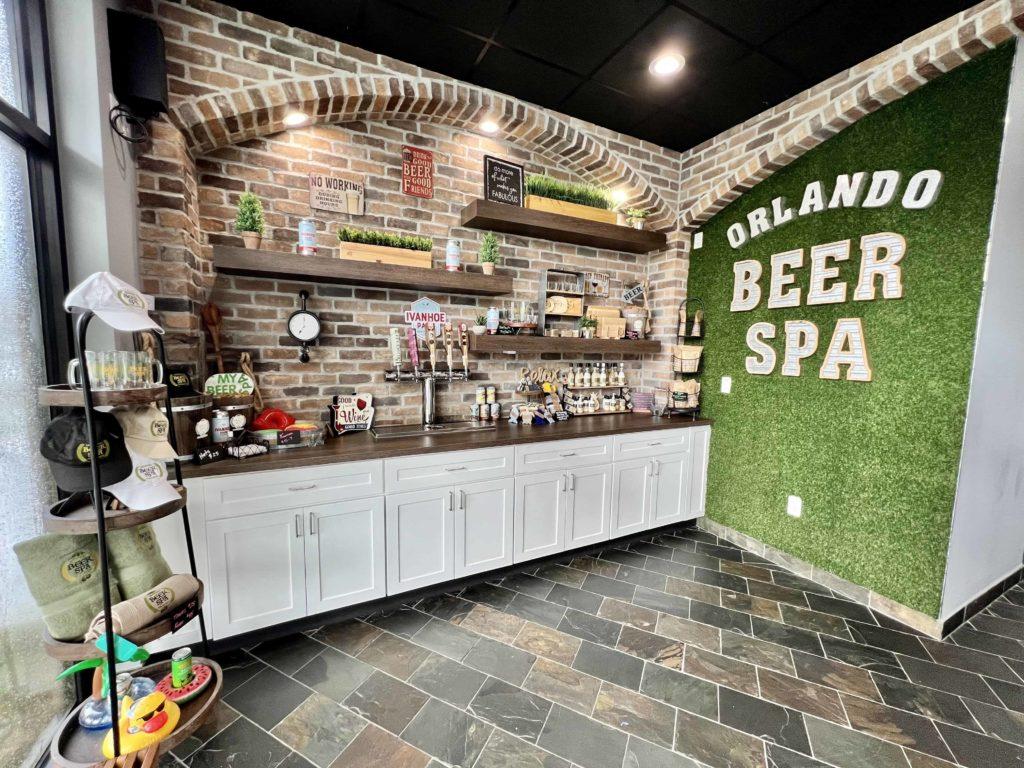 The walls along the hallway to the rooms are also covered in artificial grass with phrases like "Sip & Soak" in large block lettering. When we got to our door, our names were displayed on a sign welcoming us to the spa.
Entering the room, you immediately feel like you're transported to a European oasis. In the center of the room, there are two giant tubs that look like they're made out of cask barrels. Between them, your very own tap with three craft beers and two wines to choose from. One side of the room sits an infrared sauna and on the other, a hay bed.
There is floor-to-ceiling exposed brick, giving the room a rustic feel. Each room is also equipped with its own full bathroom and TV. The totally soundproof rooms allow you to stream whatever kind of music you want without disturbing other guests.
From beginning to end, the experience was top notch. When we first arrived, we were given an overview of what the spa was all about and what to expect. After that, we did a beer and wine tasting. The spa partners with local Orlando brewery, Ivanhoe Park Brewing Company, and Tampa-based wine company, Wine Stream.
The taps are rotated based on what's popular and what is in season. During our visit, we had the choice of an IPA, wheat beer, and pilsner. Our wine selections included prosecco and cabernet sauvignon.
The Experience
After the tasting, we were taken to our room and given an explanation of what to do. Our session was 60 minutes long and we had both tubs reserved. To get the full effect, it was suggested that we spend about 75% of our time in the tubs and split the other 25% between the sauna and hay bed. They also recommended not showering for several hours afterwards in order for the hops and antioxidants to fully do their job.
The tubs are much bigger than they appeared to be in pictures. We had two tubs reserved but could easily fit in one. They're filled with aromatic hops and we both immediately felt relaxed as soon as we sat down in them. We spent about 35 minutes soaking in the tubs, while sipping on our drinks.
Prior to visiting the spa, I had never heard of using hops as aromatherapy, and was surprised to learn they had other benefits besides being a key ingredient in beer. Barbara explained to me how hops have been used in medication for anxiety and insomnia, and I can see why. They produced a slightly floral scent and my skin felt so smooth when I was done.
Relax. Sip. Repeat.
Next up, we spend some time in the infrared sauna. As a personal preference, I was pleasantly surprised to see infrared over steam. Barbara had also talked to me about the reason behind the choice. "You can achieve the same effect without steam. It's the same effect with less heat." Another benefit is the effects of chromotherapy, or color therapy. The sauna is lit up in green which provides a relaxing ambiance.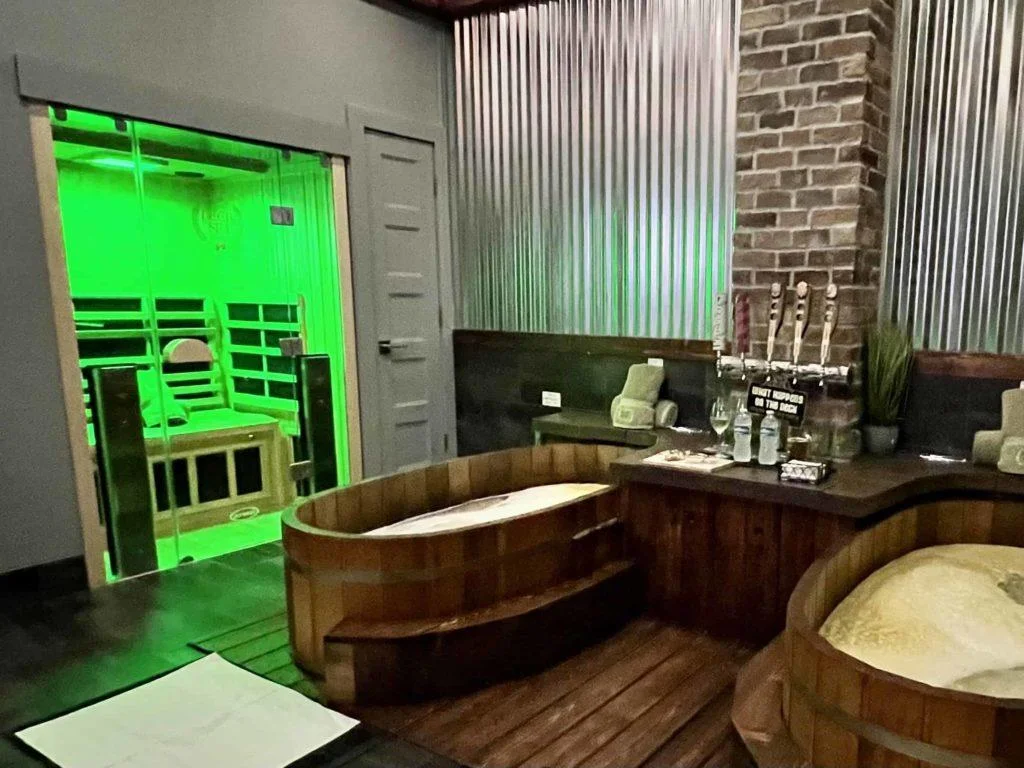 The last step to the experience is the hay bed. When I first heard we'd be laying in a hay bed, I couldn't image how that would feel relaxing, but let me tell you – it was. The hay bed is designed with cooling elements to bring down your body temperature. You're given a set of clean sheets to lay across the hay bed, along with some super fluffy pillows.
We both felt so relaxed – it took all of our energy not to fall asleep. What sounded strange ended up being the perfect end to the visit. Why the hay, you might ask? It's a German custom that they wanted to replicate in keeping with the European theme.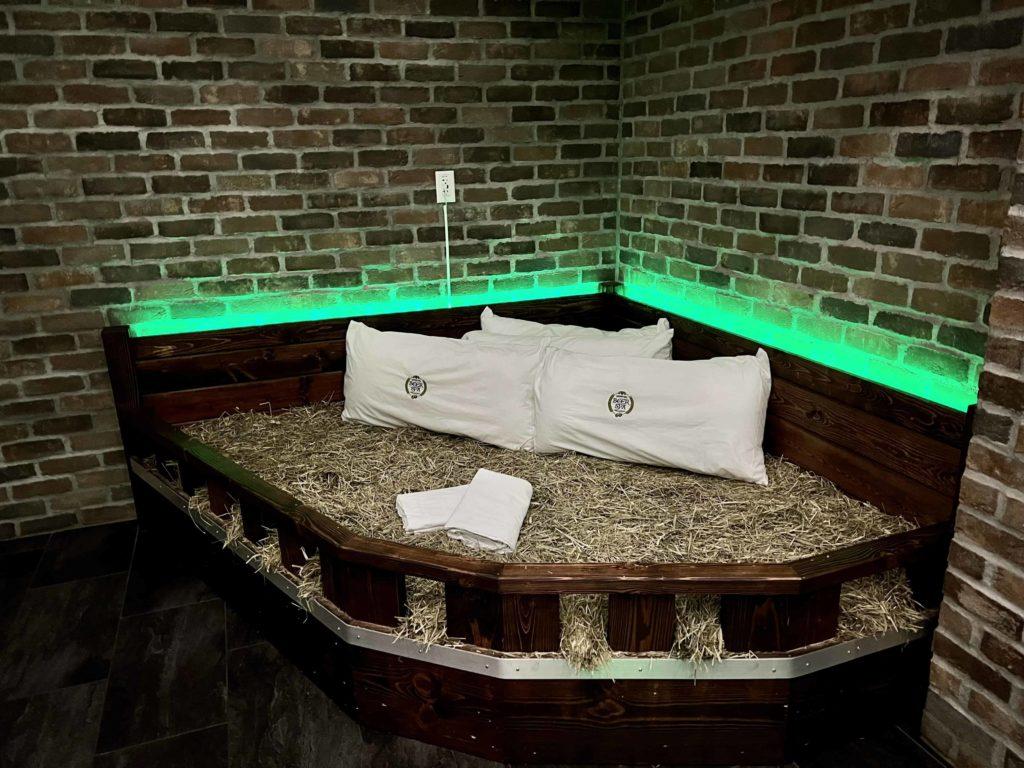 I honestly have nothing negative to say about this place – it definitely lived up to the hype. We both had an amazing time and felt so relaxed afterward. It's also the type of place that we could see ourselves coming back to with friends. The spa has several options for up to four people per room.
The tubs are definitely big enough to accommodate that, and the overall experience is perfect for a double date. It's also a great place for a girls' day out. Who says spa days need to be massages and mud masks? This place would definitely be fun to grab a group of girlfriends for a unique day out.
If you're planning on visiting the Beer Spa, here are my tips:
Wear dark colored bathing suits. The tubs have hops in them and you will too when you get out. The private bathrooms have showers in them to rinse off if you need to.
If you're going with more than two people, upgrade to 90 minutes. You'll all have more time to get a full experience.
The wine is an upgrade, but definitely worth it. Kicking the experience off with a cold glass of prosecco hit the spot.
They give complimentary homemade soft pretzels and mustard but adding on a charcuterie board is additional. It's a good idea to have some extra small bites if going with a group.
Take their advice and don't shower (just a rinse-off, if need be). We both definitely noticed a difference in our skin.
Overall, My Beer Spa is worth a visit. Though this visit was generously hosted, my husband and I are already talking about going back. I may have also asked very nicely if they'd open up a location in Tampa… But until then, head to Orlando for a hop-tastic experience that I promise you won't regret.
More stories we think you'll LOVE: