With spring upon us, there is no better way to cool down than with a Hyppo Gourmet Ice Pop. Located in the heart of St. Petersburg on Central, in south Tampa's Hyde Park Village, and in Centro Ybor, The Hyppo provides couples with a vast selection of both icy and creamy pops. These pops are all-natural and made with fresh ingredients, making it the perfect sweet treat without the guilt.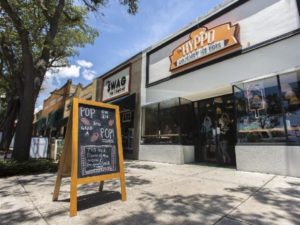 The Hyppo has created 450 all-natural flavors to date and they are still creating. When couples visit the shop, they will have about 50-75 flavors to choose from. The flavors available change with the season as The Hyppo only uses the freshest fruits and ingredients. Some of their most popular flavors include the following: Avocado Coconut, Blackberry Ginger, Blood Orange Cheesecake, Blueberry Lavender Lemonade, Cantaloupe Mint, Champagne Mango, Cucumber Jalepeño, Guava Peach, Hibiscus Starfruit, Honeydew Basil, Key Lime, Peaches and Cream, Peanut Butter Pie, and Vanilla Brownie.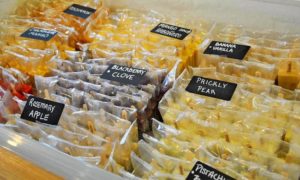 As revealed, these are not your average popsicles. With unique flavors and combinations, The Hyppo popsicles are one of a kind and will have you and your loved one coming back for more. However, if you are not as adventurous of an eater, they also have your standard icy and creamy flavors such as Strawberry, Chocolate, and Vanilla.
The interior space is modern and cool, in design and temperature, making it a perfect escape from the hot Florida sun. The staff is friendly, welcoming, and patient as you spend significant time picking out your flavor. But don't worry, no choice is the wrong choice as all the pops are mouthwateringly delicious.
If you happen to be in Tampa rather than St. Pete, have no fear. There is a Hyppo location here as well. With many other locations throughout Florida in cities like St. Augustine and Sarasota, The Hyppo Gourmet Ice Pops is one of Florida's favorite "ice cream" shops.
The Hyppo is the perfect date spot for couples, whether it's during the heat of the day or late at night for an after-dinner treat. Head on down to The Hyppo in St. Pete, or Tampa, for the best popsicle of your life. Your loved one will thank you.
St. Pete Address: 627 Central Ave, St. Petersburg, FL 33701

Hours:

Sun-Thurs: 11 am – 9 pm

Fri/Sat: 11 am – 11 pm

Tampa Address: 702 S Village Cir, Tampa, FL 33606

Hours:

Sun-Wed: 10 am – 10 pm

Thurs-Sat: 10 am – 11 pm
Feature Image Photo Credit: St. Armand's Circle