Picture this: date night is coming up and you want to take your significant other somewhere they've never been, somewhere unique. If this is the case, we've got you covered! A date night at Topgolf is just the date night you're looking for to give your special someone a special night they'll remember. Even if you've been to the Tampa Topgolf before, it can still make for an awesome date. For everything you need to know to plan your date night at Topgolf, stay tuned!
For those who have never been or never heard of it, Topgolf is an advanced golfing facility that include several different bays for groups to golf in and technology that will score each shot based on which target it lands in. Each hitting bay is climate-controlled so you won't have to worry about weather! Also, at Topgolf, there is a full-service restaurant with meals that will surprise you with how good they are. And on top of that, there are also bars that will serve you quality drinks you'll really enjoy while golfing. Basically, Topgolf is prime date night material for anyone!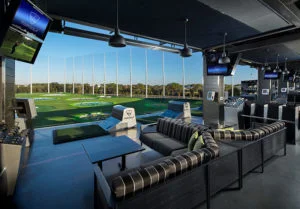 How it works
At Topgolf, each hit is scored based on the target it lands in. But, how does that work? Topgolf has patented technology and microchipped golf balls that will track your ball, making sure you get an accurate result and score. If you're competitive, this is great for you! Take your date to Topgolf and you'll get to enjoy some friendly competition along with some quality time with your significant other.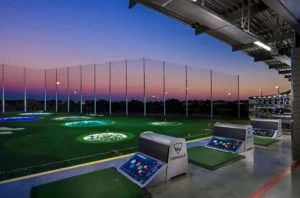 If food and drink is what you're looking for, you won't be disappointed. The Topgolf restaurant includes a full menu offering appetizers like cheese fries, wings and more, entrees including sliders, flatbreads, sandwiches and many more, and desserts like s'mores, sundaes and donut holes. In terms of drink, you'll find that the Topgolf drink menu is extensive. With wines, spirits, cocktails, margaritas, sangrias, and much more available, you're sure to find the perfect drink for you.
You can eat and drink at the actual restaurant and bar. But, if you want to get your meal or drink while golfing at the bay, then you can do that too! You'll have a dedicated Bay Host that will bring you that great meal or awesome drink you're looking for.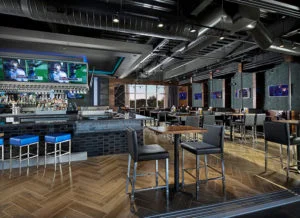 The Details: Price, Group Size and more
It's pretty clear that a date night at Topgolf is a perfect choice for just about anyone. To make it happen, here are the details you need to make it happen. To golf at Topgolf, you pay an hourly rate per bay. Each bay can hold up to 6 players, so if you want to invite some friends and make it a group date, feel free! The more people you have, the cheaper it is per person. Hourly rates change depending on the time of day but are not affected by the number of players. So basically, every day from open to noon, the hourly rate is $25 per bay; from noon to 5pm, it's $35 per bay; and from 5pm to close, it's $45 per bay. Remember, these rates are just for one hour of play!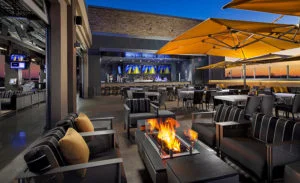 That sounds like a date night anyone will love! But, if you're not convinced and want to take a look at some more ideas, check these out! Dining in Gulfport and Armature Works Day Date will give you some more cool ideas for you to try.
Feature Image Credit: Tampa topgolf.com