Since its inception in 2015, Tampa Riverfest has become a must-experience Tampa Bay event. The perfect celebration of Tampa's iconic 2.4-mile-long Riverwalk, Riverfest is a great destination for couples looking for date ideas. This year's Riverfest will be held the weekend of May 5 and 6, 2023.
MORE: How to Experience the Tampa Riverwalk Year-Round
How To Experience Tampa Riverfest
If you have never been to Riverfest, or it's been a while, you'll want to brush up on the details. Riverfest is a free, two-day event held every May. We'll outline these details for you so you can plan the perfect date.
When & Where
What to Do
Where to Park
Tampa Riverfest 2023
The 2023 Tampa Riverfest will be held May 5 and 6 in the heart of Downtown Tampa. You'll find celebrations along the entire span of the Riverwalk, which stretches from the Water Street Tampa north to Armature works as it winds along the edge of the Hillsborough River. The bulk of the celebration will take place at Curtis Hixon Waterfront Park, right in the middle of the Riverwalk.
The party kicks off Friday May 5 at 5 pm and runs until 10 pm. On Saturday, the celebration begins at 9 am and goes until 10:30 p.m. Tampa Riverfest is free, but there are a few ticketed events worth checking out, as well.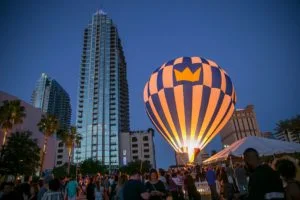 What to Do at Riverfest
Friday, May 5, 2023
Friday night at Riverfest kicks off with a night of live music, beer tents and food trucks at Curtis Hixon Waterfront Park. Snag a wristband for Taste of the Riverwalk on Friday night from 5:30 – 9pm.$15 gets you three samples, and $20 gets you five from participating restaurants.
Friday night's live music includes tributes to Katy Perry, No Doubt, and Journey. The traditional Hot Air Balloon Glow will cap the night at 8:30pm, a sight you will not want to miss!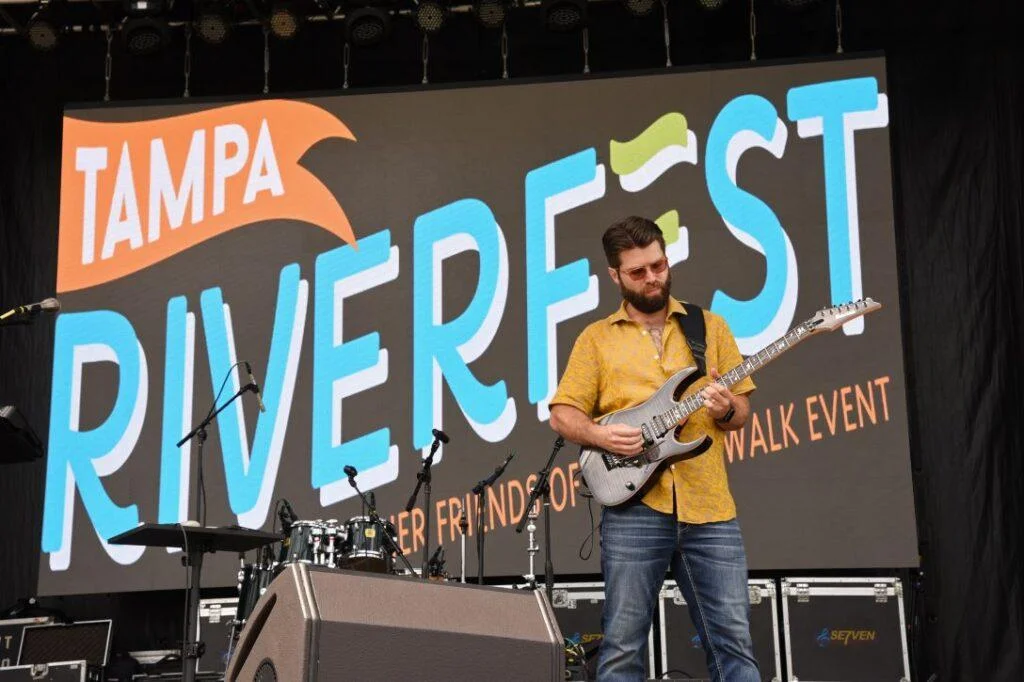 Saturday, May 6, 2023
Saturday's celebrations go all day and begin with a Paddleboard Invasion at 8:30 am. Next up, try Yoga on the Lawn at 9 am, with live music, food trucks and beer tents opening up at 10 am.
2023 Tampa Riverfest Lantern Parade – Saturday, May 6, 2023 at 8:30 pm
The Riverfest Lantern Parade allows participants to decorate their own paper lanterns and join a 1-mile parade that illuminates the Riverwalk! The parade will start at Water Works Park at 8:30 PM and end in Curtis Hixon Park.
2023 marks the first year for RiverFiesta! Sample a variety of tacos, bowls and nachos while enjoying everything else Tampa Riverfest has to offer. Wristband pricing is the same as Taste of the Riverwalk and RiverFiesta! lasts all day long.
The menu includes:
Braised Beef Taco
Mojo Chicken Taco
Ropa Vieja Bowl
Chopped Blood Orange Chicken Bowl
Cuban Nacho Station with Mojo Pork and Cojita Cheese
A Tampa Riverfest favorite is the Weiner Dog Derby. This fun event pits the cutest dachshunds in town against each other in races all day long. One of the largest Dachshund gatherings in the state, the festivities will include games, raffles, foster dogs and a silent art auction. To register your dog to race, click here.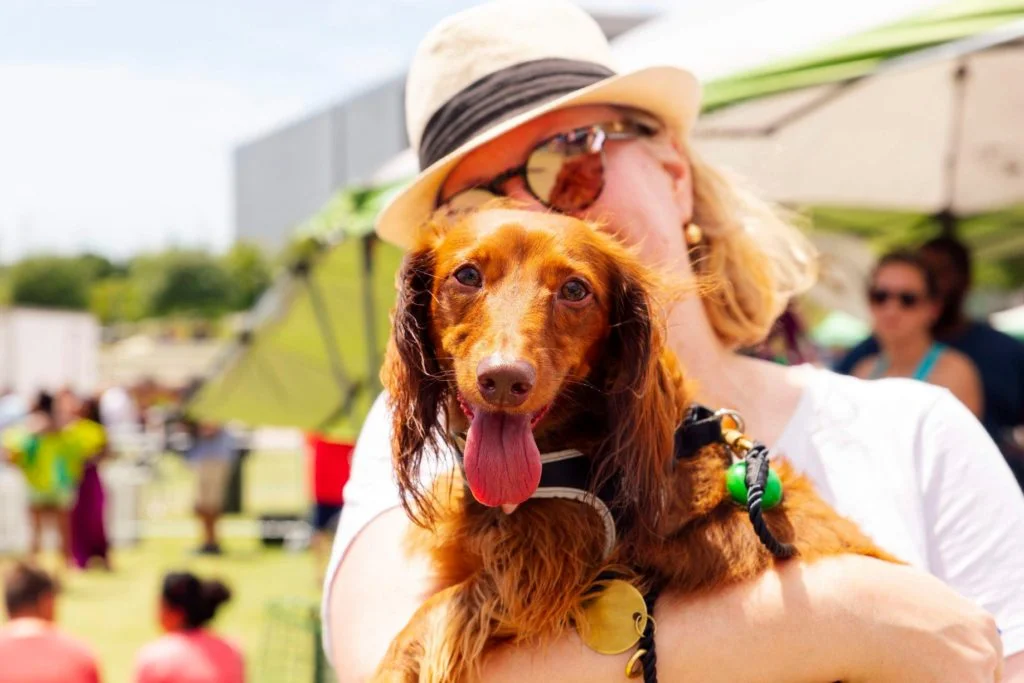 NEW for 2023! On Saturday from 11am-5pm, Riverfest Market by Tampa Markets will feature a host of independent vendors at Water Works Park. Guests can enjoy local vendors including handcrafted goods, plants and more. While you shop and stroll, enjoy the music on the Water Works Park Stage and several delicious food trucks to choose from!
As those activities wind down, there will be lantern-making workshops from 6-8 pm before the Riverfest Lantern Parade and Hot Air Balloon Glow begin at 8:30 pm. Saturday's live music includes the Bus Stop Band, as well as tributes to Taylor Swift, Carrie Underwood, Luke Bryan, Prince and Queen.
Local artists will host lantern-making workshops for kids and adults prior to Riverfest on April 17 and 27 from 6:30pm to 8:30pm at Armature Works Show + Tell Room and on April 25 from 6pm-8pm at Hidden Springs Ale Works. Registration for the workshops is required and can be found online.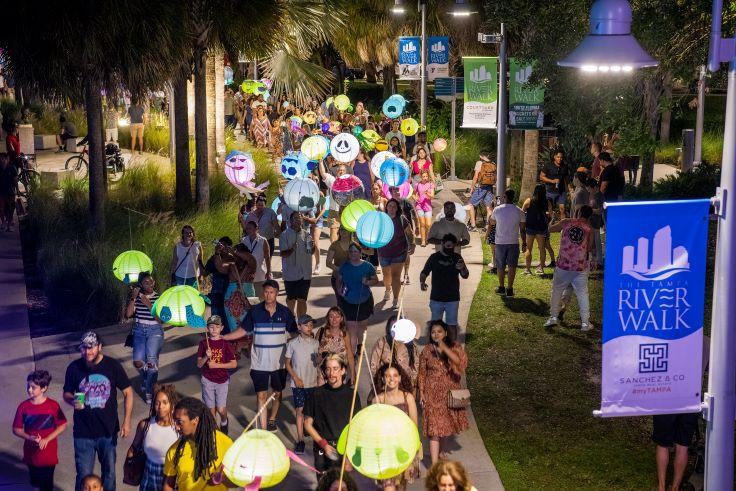 Tampa Riverfest: Parking and Transportation
Since the Tampa Riverwalk spans all of downtown Tampa, there are plenty of parking options depending on which end of the Riverwalk you'd like to be on.
While you can always hunt for street parking, during a special event like Tampa Riverfest, you may find it easiest to park in a city garage and walk a few blocks to the Riverwalk. Curtis Hixon Waterfront Park is located at 600 N. Ashley Drive. The William F. Poe and Fort Brooke garages are the closest.
If that sounds like too much trouble, consider using a rideshare service or Coast Bike Share. The TECO Streetcar (which is free by the way!) runs from Ybor City to downtown Tampa. Once you're at the Riverwalk, Pirate Water Taxi runs right along the Riverwalk with plenty of stops along the way. Check out the Riverwalks's full transportation details here.
Riverfest VIP
If you really want to splurge ($75 for Friday, $100 for Saturday or $150 for the whole weekend), a VIP Pass gets you complimentary beer, soda, water and cocktails, light food, front row access to the concert and access to executive restrooms. Friday's VIP passes also includes a wristband for Taste of the Riverwalk.
Keep this complete schedule handy as you plan your day.