The Tampa Pig Jig is less than a month away! Are you ready for a day full of fun and excitement surrounded by good food, good company and great entertainment? If not, you better prepare yourself because the Pig Jig is very soon, indeed. On October 20th, you'll get to experience everything this event has to offer. Here's what you need to know to plan that perfect date.
Over the years, the Pig Jig has made quite the name for itself. It's turned into an event you'll be sure to remember, from the food to the music to the competitions, games and more, you'l love what you get at this event. If you want to find a place for you and your date to spend the day together having a great time, the Tampa Pig Jig is the way to go. This year, the Tampa Pig Jig takes place on October 20th from 1pm to 10:30pm, giving you almost 10 hours of time to enjoy yourselves with everything this event has to offer!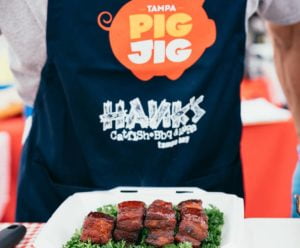 This year, the Tampa Pig Jig has a great lineup for you to enjoy! The live music starts right at the beginning of the event with Carson McHone starting the show at 1:05pm. She's followed by Futurebirds, Brett Dennen, Deer Tick, and Riley Green throughout the day. Finally, at 8:15pm, the headliner of the night, Chris Young, will be performing for the Tampa Pig Jig crowd. You can find all information, including schedule of artist set times, on the Tampa Pig Jig website.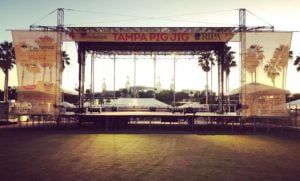 The Food and the Competition
At the Tampa Pig Jig, you'll have plenty of chances to find yourself a good meal. And if you think you have what it takes, you can also join in on the BBQ competition to see who is the Tampa Bay grill master. You could win trophies, prizes or the title of Overall Grand Champion! Just choose whether you want to compete with your best brisket, butt, ribs, or wild card, which is anything edible. The BBQ Awards will be announced at 7:35pm, right before Chris Young plays. If you want to compete, make sure you register before space fills up!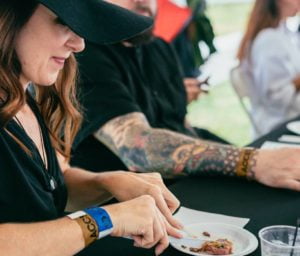 If you're thinking you want to try out Tampa Pig Jig, you can already get your tickets! Currently, tickets are at $40 per general admission ticket and then $125 for the VIP tickets. If you choose to get VIP tickets, you'll have access to a tent with complimentary food and beverage vouchers to use to get yourself that beer or wine you've been craving.
The Tampa Pig Jig started up in Tampa in 2008 when one of the founders' friends was diagnosed with Focal Segmental Glomerulosclerosis, FSGS. Since the first backyard BBQ the founders held, the Tampa Bay Pig Jig has grown every year to what it is now, raising over 3 million dollars for the NephCure Kidney International, which supports the search for a cure of FSGS. If you go to this event, you'll not only be getting a great experience with your date, but you'll also be helping the cause. Considering this, there's more than enough reason for you to go, so make sure you don't miss it!
Feature Image Credit: 8th Annual Tampa Pig Jig on the River Facebook Event