Remember celebrating Tampa Bay Taco Week? – well mark your calendars for October 17th-27th for Tampa Bay Burger Week! Just like last time, Creative Loafing will be joining forces with local Bay area restaurants for this year's 5th Annual Tampa Bay Burger Week! This is an incredible week for foodies, especially burger lovers to indulge in specialty-priced burgers up to $10! This year enjoy Jameson Irish Whiskey and Jameson Caskmates drink specials to wash down your delicious patties.
Participating in Tampa Bay Burger Week is simple. All you have to do is pop into one of the many participating restaurants and order their special burger. Each spot will have a specialty on the menu ranging from a classic style to something totally out of the box! That's 10 full days of delicious burger fun with some of the best eateries in the bay.
After you try all of the yummy burger options, be sure to vote for your favorite! Each eatery is in the running for the title of Tampa Bay's Ultimate Burger and they're relying on you to cast your votes. Voting opens on the 17th and closes on the 27th so get your votes in as soon as you sink your teeth into the best burger of the week!
After you eat and vote, be sure to post, post, post! As usual, during Burger Week, participants will be automatically entered to win a pair of VIP tickets to Sensory Overload! The only thing you have to do is snap a picture of your burger, post it to your Instagram account with the location, tag @cltampabay, use the hashtag #TampaBayBurgerWeek, and share!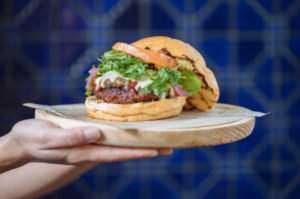 Check out all of the hot spots participating this year! You won't want to miss a single burger:
Head out to one of these delicious hot spots and enjoy a burger during Tampa Bay Burger Week! You definitely won't regret it.
---