It's time to celebrate because another brand new restaurant has officially opened on Tampa's Riverwalk! The new spot, Stones Throw opened in late May and offers a casual outdoor seafood menu with delicious cocktails. Grab the girls, or grab your special someone and make your way to the Riverwalk to check it out!
Stone's Throw is located on the Northern end of the Riverwalk and is a great modernized spot to socialize, enjoy deliciously fresh seafood, and sip on a smooth cocktail. The spot is a "50-acre, 3.2 million square foot urban mixed-use development on the river"! This spot is located right near Ulele, across from Armature Works in The Heights and is great for beautiful views of Tampa's downtown. While you're there, enjoy live music, counter service with a walk-up bar and delicious food during your visit to Stones Throw.
Stones Throw offers everything from fish sandwiches to tacos, to bowls…even a raw bar with different oyster selections every single week—yum! Stones Throw offers delicious clear spirits, cocktails, spritz, beer, wine, and more for your riverside experience. No need to make reservations at Stones Throw, seating is always first come first served, so get there early! Check out what Chas Bruck, Principal at Soho Capital and developer of The Heights has to say: "Stones Throw elevates the riverfront entertainment footprint of the Heights. Our Heights residents and visitors will have the best view of the city and won't' be able to get this close to the water anywhere else on the Riverwalk." Need more convincing? Check out their delicious menu options!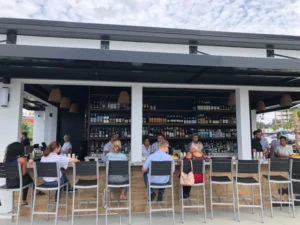 Stones Throw's menu is short and sweet and with eight different menu sections beginning with the Snacks and Such menu. On this menu, check out delicious starters and quick bites such as the Fried Shrimp! This awesome choice features rock shrimp, Sambal cocktail sauce, and key lime aioli. Also on the Snacks and Such Menu is their decadent Lobster Roll served high atop a brioche roll with mayo, lemon, tarragon, lobster (of course) and dill crunchies—no this isn't Cape Cod, but it's pretty close!
As you make your way down the menu, check out the Raw Bar option which comes with horseradish, cocktail sauce, lemon, and saltines with Oysters on the Half Shell served in a half or a dozen at Market Price.  Just below the Raw Bar menu is the Fresh Catch menu, also served at market price which features the fresh catch of the day served three ways: On a Bun, In a Bowl, or Dos Tacos. The fish is served fried, blackened, or seared and then prepared in the three ways! If you order your Fresh Catch On a Bun, expect a delicious sesame bun, lettuce, tomato, and preserved lemon mayo. In a Bowl features brown rice, black beans, pickled red onion, corn salsa, avocado, and cilantro and lime. Dos Tacos are served inside flour tortillas with pineapple Pico, chipotle crema, avocado, pickled red onion, and cilantro!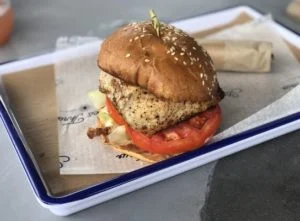 Next on the menu is the stunning array of drink options starting with Beer and Wine, Gintonique, Spritz & Giggles, a Pick your Poison menu, and last but not least, the Make it a Cocktail Menu. Order something safe such as a glass of wine or expand your taste buds and order The Statesman! This drink features Treaty Oak Waterloo #9, juniper, lime, and seasonal berries. Whatever you choose, you won't be disappointed!
Next time you have a hankering for something new, head over to Stones Throw! Bring your friends or make it a date night! Either way, explore a part of gorgeous Downtown Tampa that you haven't tried before and soak up the riverside views. Cheers!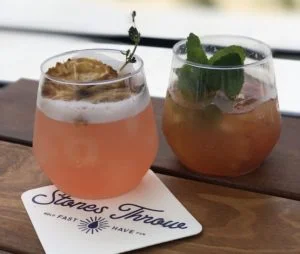 Featured Image Credit: CLTampa