Coming up with fun things to do with your significant other, that you haven't already done, might seem impossible and you may end up sitting on your couch watching the same thing for the thousandth time. Surprise your date with one of these stay at home date ideas.
All the ideas below are fun things you can do at home! You don't have to follow each one as it says, you can create your own versions of these stay-at-home date ideas!
Stay-at-home Date Ideas
Build Care Packages
Play Some Games
Visit the Dalí Virtually
Do Something Artsy
Stage a Cooking Competition
Have A Movie Marathon
Have A Blind Wine Tasting
Build Care Packages
No matter the time of year, there are people in our communities that could use some help.
Local schools, churches, places of worship, and other organizations often organize supply drives following a major storm and during the holidays. If you have extra supplies like toiletries, paper products, and non-perishable food items, you can make a big difference together. Consider making bundles of these items and donating them.
Doing good things together can really help strengthen your relationship.
Play Some Games
Regardless of the weather, it can be fun to get back to your childhood. Break out some childhood board games and toys. Do you have any LEGO sets or blocks stashed away? If not see if you can pick some up while you're out and about.
Even simple card games and dominos can be fun. See if you can find an updated version of your favorite board game, or discover a new one. Pick up a few simple games you can play while you stay safe indoors.
Visit the Dalí Virtually
For those interested in visiting The Dalí Museum virtually, TheDali.org/Virtual includes materials to engage audiences including the Museum's award-winning virtual reality experience, Dreams of Dalí, The Dali's 360 tour, plus several online-only exhibits.
Do Something Artsy
You don't have to be at a paint and sip place to get artsy. Grab a coloring book, paper or something else to color on and something to color with. Then, go to town! If you have macaroni, glue and cardboard, you can even construct a frame for your masterpiece. When you're done, show each other your work. Then, take a cute selfie to showcase your art skills and exchange drawings so the other person can hang it up at work.
You'll have a new piece of art and a reminder of the great time you had on your date!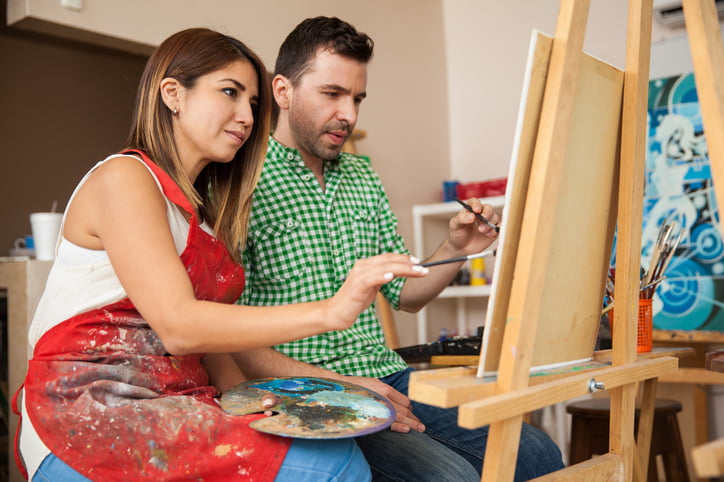 Stage a Cooking Competition
Going out to eat is definitely a classic date that will never get old and cooking at home seems like another normal day in your lives, so spice it up and turn the whole thing into a competition. The rules are simple: You must be honest at the end and confess which dish was the best, all hard feelings aside. Cook at the same time or separately and decide who is the Master Chef in your house.
Use Tampa's Most Romantic Restaurants as inspiration!
Have A Movie Marathon
Instead of sitting and watching a couple of the movies from a series, watch them all! Be ambitious and watch all eight Harry Potter or Fast and Furious movies. (Warning: both franchises will take you a few days!) Movie marathons are one of the easiest stay at home date ideas.
In case you have work the next day or don't have the time, pick a shorter series with three or four movies so you can still have your marathon. You can also choose an author's movies to view, like Nicholas Sparks or Stephen King movies.
Whether these are right up your alley or you just use them as inspiration, think outside the box and look around your home for inspiration when the weather is not ideal to go out. Enjoy one of the many stay at home date ideas or variations thereof!
Have A Blind Wine Tasting
Grab a couple of bottles of vino at different price points and have a blind tasting to see who can pinpoint the higher-end bottle. Compare notes about your favorites, see who has the most refined palate and maybe discover a new wine you'd love to enjoy together in the future. Combine this with a fun, at-home charcuterie board filled with your favorite meats, cheeses and fruits to make your night complete!
This wine tasting idea goes perfectly with How to Have a Gourmet Tampa Bay Date Night at Home.