Tampa's River O' Green Fest has a NEW date and time due to inclement weather on Saturday. It will now be held on Friday, March 17 from 4pm-10pm at Curtis Hixon Waterfront Park. This is the first time the event has been held on St. Patrick's Day since 2018, so the date change is a happy surprise!
The name says it all—you can watch the river to turn a bright shade of green in celebration of the St. Patrick's Day holiday. This is done using environmentally safe dyes, non-toxic and biodegradable dyes that meet the National Sanitation Foundation Standard 60 certification for use in and around drinking water.
River O' Green Fest has been celebrated in Tampa since 2012 when it kicked off with then mayor Bob Buckhorn.
"Seeing our Hillsborough River turn emerald green in celebration of St. Patrick's Day is a great reminder of the excitement and fun that Tampa has to offer," added Mayor Jane Castor. "I know how much I look forward to this annual tradition and the opportunity it brings to come together and celebrate all that makes our city great."
Related: The BEST St. Patrick's Day Events and Specials in Tampa Bay
Is it free to attend River O' Green Fest?
The River O' Green Fest is FREE to attend and absolutely a family and pet-friendly event. You can expect to see the return of live music, Irish-inspired food from local restaurants and activities designed with kids in mind.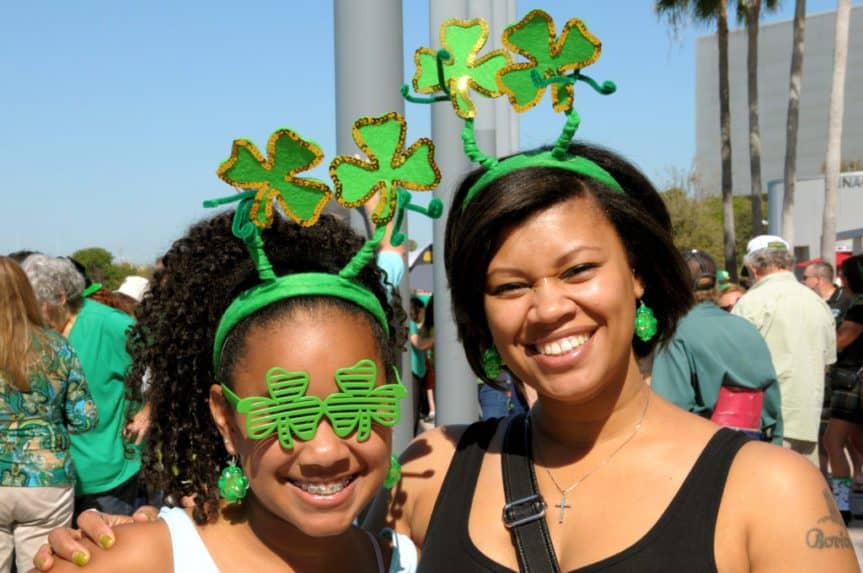 What activities are on schedule this year?
Tampa Mayor, Jane Castor, will sound the horn at 4pm to start the dying process while spectators watch as the Hillsborough River turns bright green! This year's event will feature live music, kids' activities, food trucks, and of course, beer.
More events on schedule for River O' Green Fest:
4 p.m. to 8 p.m. – Hurling Demonstrations by DSM Sports Marketing, Inc.
7 p.m. – Pet Costume Contest sponsored by Barrymore Hotel
NEW this year, Freedom Boat Club will be offering a limited number of free boat rides along the Hillsborough River! "This makes one of Tampa's best events even more memorable, with free boat rides along the green Hillsborough River for potential Freedom Boat Club members," said Tampa Downtown Partnership President and CEO Lynda Remund. "Getting out on the water brings a unique perspective. You'll get an up-close look at the bright green river and incredible views of our beautiful downtown skyline."
Where are the best places to park for River O' Green Fest in Tampa?
We recommend parking at Poe Garage near Glazer Children's Museum, as well as the downtown lots such as the Regional Royal Lot. There are also plenty of street parking options available which will have pay-by-credit-card or pay-by-app pay stations. Click here for a complete map to Downtown Tampa's parking garages and lots.
What's the best way to view the green river?
Along the Riverwalk and even ON the water. You can book a trip with Pirate Water Taxi which has stops along several riverfront spots, including Curtis Hixon Park. Crews will dye the river green between the Cass Street Bridge and Kennedy Bridge for those who want to watch the water turn green right before their eyes.
Where can I learn more?
Visit RiverOGreen.com for more information.
What else is there to do around Downtown Tampa?
There is so much to do in downtown Tampa!