There's a lot to love about a quick getaway to Orlando, but there are plenty of alternatives to popular theme park hotels that will still grant you access to all of the fun. For two years in a row now I've rented a house in Reunion Resort with a group of friends. House is an understatement — you can snag a mini mansion with a few other couples or families for about what you would all pay for rooms at a resort hotel.
The vacation rentals in Reunion Resort are truly amazing. The homes are all a little different, but with nice finishes, plenty of space and tons of unique touches. Plus, Reunion Resort's location in Kissimmee puts in only about an hour away from Tampa.
This year we rented a house for four nights over a long weekend, giving us plenty of time to hang out together at the house, but also branch off and enjoy some other activities as well. These houses are so well-appointed you may never leave!
Choosing Accommodations
Reunion Resort offers everything from 1, 2 and 3-bedroom villas to 14-bedroom mansions with water slides, game rooms, a bowling alley and themed bunk rooms for the kids. Check out the resort villas for the convenience of staying right on the golf course, close to amenities, but with all the space and convenience of home.
If you're looking to level up a bit, try Reunion Resort's vacation home rentals. You don't have to spring for the 14-bedroom palace, many of the homes feature 4 or 5 bedrooms and plenty of space for a few families to spread out, enjoy a private pool and have a BBQ together. Pool tables and game rooms are pretty common amongst the houses.
FYI: Booking directly through Reunion Resort ensures access to resort amenities like the water park and theme park shuttle service.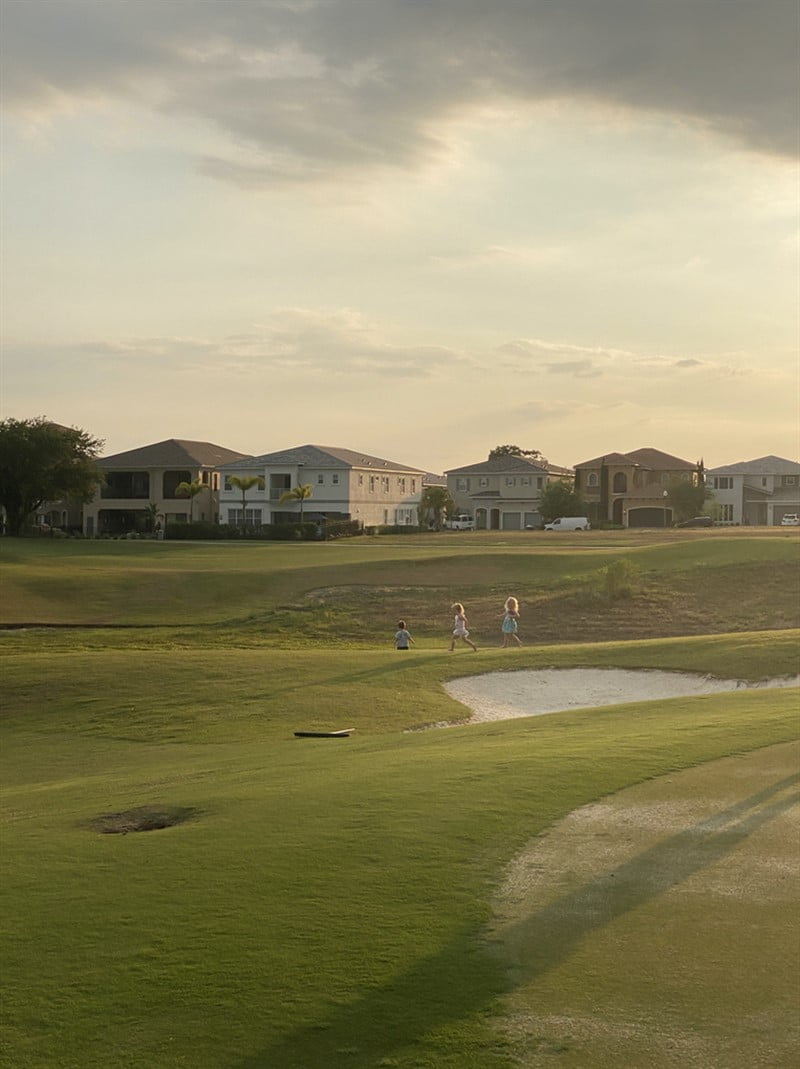 Fun at the Resort
We had a blast at the resort's incredible 5-acre water park. The park has plenty of lounge chairs and umbrellas for a little sun relief. In addition to a kids play area, there's an enormous pool and relaxing lazy river. Drinks and food are available for purchase (you can only bring in bottled water and small snacks for little kids).
If you're planning to camp out for the day, ask about cabana rentals when you book your stay. Prices for cabanas begin at $175, but are $225 for holiday weekends.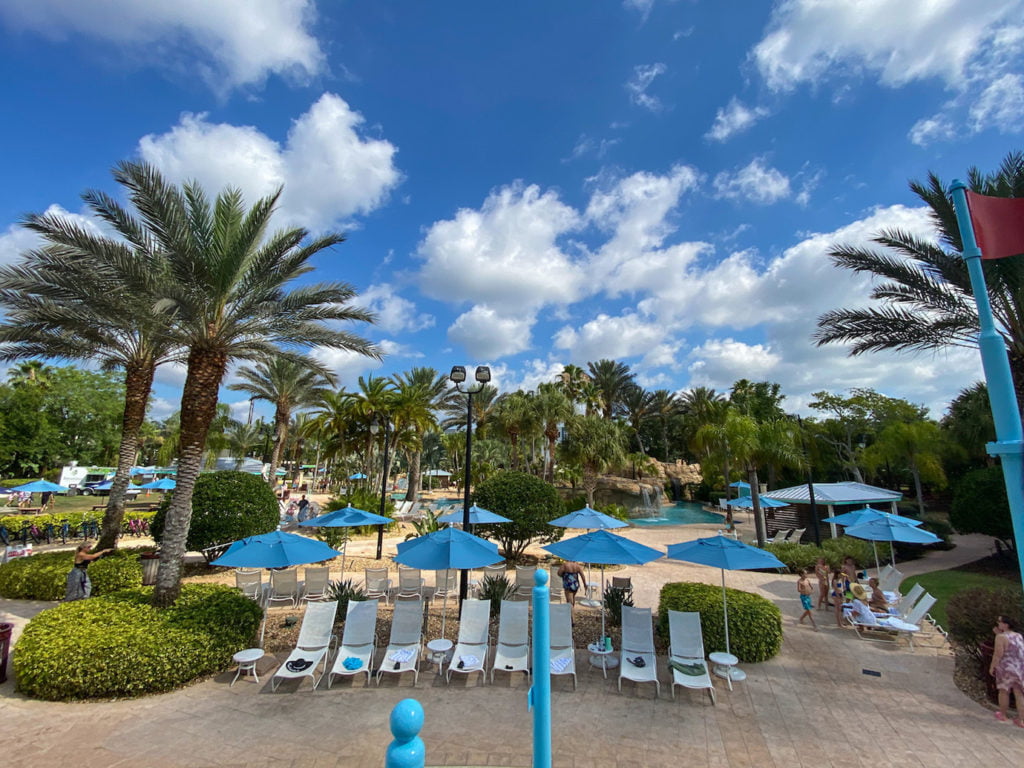 While at the water park, our husbands took the morning to hit the links. Reunion Resort has three signature golf courses, one each designed by Jack Nicklaus, Arnold Palmer and Tom Watson.
The resort also features miniature golf, a fitness center, 10 community pools, playgrounds, footgolf, pickleball and tennis courts.
For on-property dining, grab a bite after golf at Traditions, located within the Jack Nicklaus Clubhouse. If you're hitting the popular Seven Eagles community pool, you'll find poolside grab-and-go and a well stocked bar at the Cove Bar & Grille. For a fancy date night, try 7593 Chophouse, which offers a premium steakhouse experience, fresh seafood and an extensive wine list.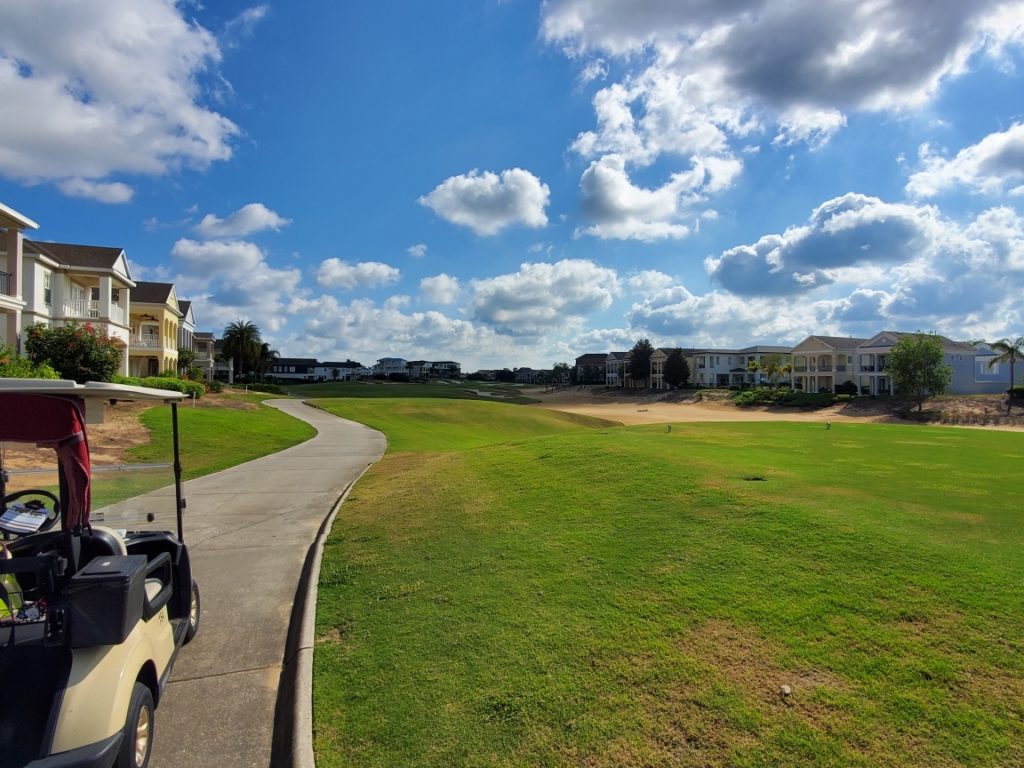 Day at the Spa
While the Reunion Resort Spa is temporarily closed for updates, we made appointments at the Mokara Spa at the nearby Omni Orlando. Our appointments granted us access to the spa hot tub and locker room, as well as the resort pools. We beelined for the relaxing adults-only pool after our truly incredible services at the spa. Cocktails and food are delivered directly to your lounge chair, exactly how it should be. Incredible spa services are also available at the nearby Gaylord Palms and The Ritz-Carlton Orlando, Grande Lakes.
Nearby Fun
Reunion Resort is situated incredibly close to Orlando's theme parks and attractions. We spent a day at Disney Springs and loved our nice lunch at The Boathouse, but skipped the parks for this trip. If you are going to take advantage of proximity to the parks, Reunion Resort offers a shuttle to make the whole experience easier by skipping the hassle of parking (and paying to park!).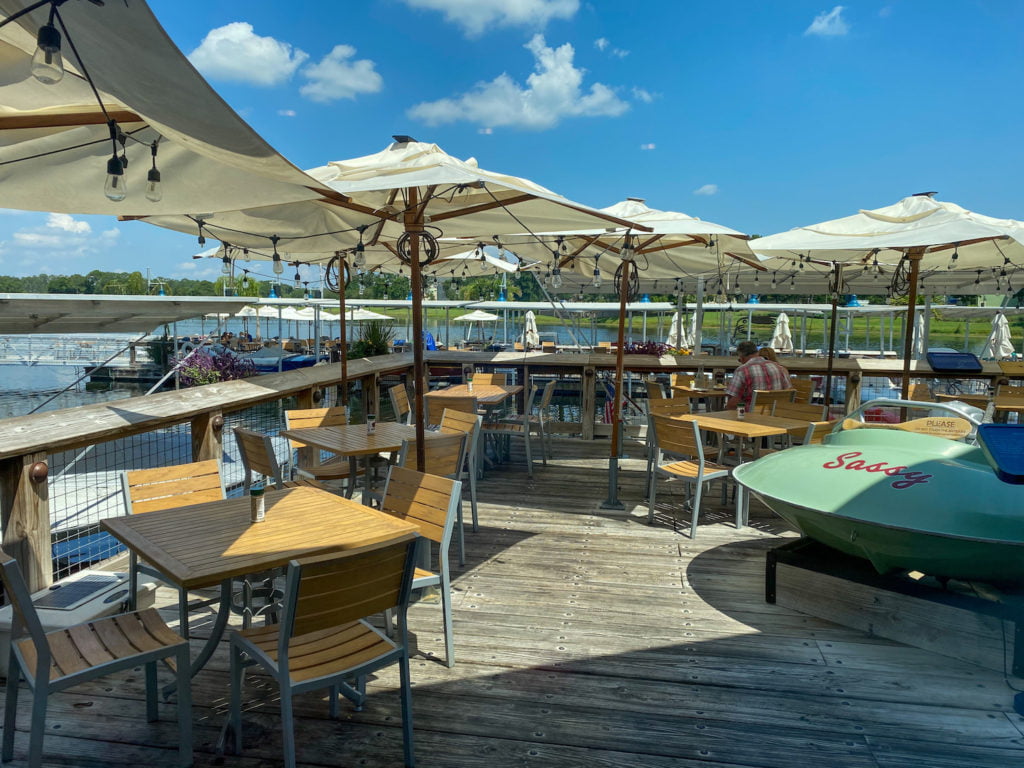 Current Deals
Reunion Resort is currently offering a Summer Drivecation package which includes villa accommodations, free parking, a complimentary appetizer at the Clubhouse, one game of mini golf and a special 20% discount on airboat rides at Wild Florida — in addition to the full resort amenity access and shuttles to the parks.
Other current offers include Florida resident discounts and golf packages. But they vary by season so it's worth checking back every so often.
All images by Ciarra Johnson