Going out to eat for every date has gotten too expensive to do nowadays. Not to mention, it can be a bit repetitive. Spend a night in with your significant other and cook a gourmet meal together! When it's all said and done, you will have a meal in front of you fit for a restaurant at a fraction of the cost. Check out these quick and easy recipes for a meal that you'll want to cook over and over!
4 Ingredient Pesto Chicken Bake
3 chicken breasts, organic recommended
1 6 oz. jar basil pesto
2 medium tomatoes, sliced
3 slices mozzarella cheese
Forget the days of four ingredient recipes that throw in an additional six or seven ingredients. With this wonderful low carb recipe, you and your significant other can have an easy and delicious meal to eat while you watch your favorite movie! Find the full recipe here. Simplysissom.com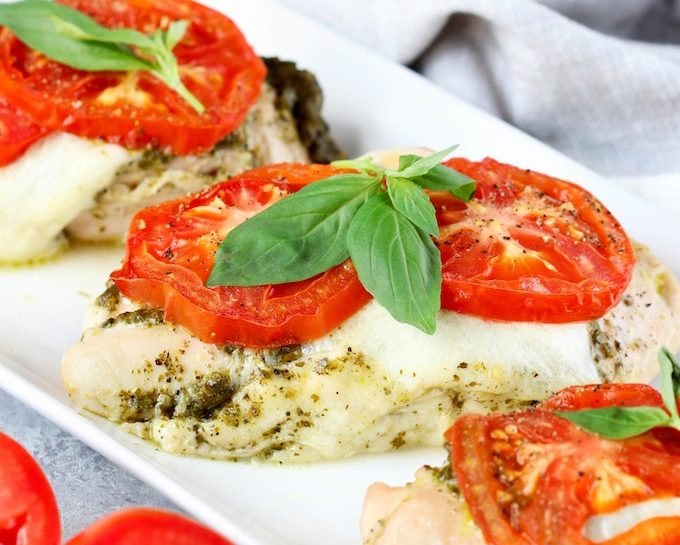 Monterey Chicken Skillet
2 cups shredded pre-cooked chicken (1/2 rotisserie chicken)
1 10 oz. can Rotel
1/2 lb. fusilli pasta
2 cups chicken broth
1/3 cup BBQ sauce
1 cup shredded Monterey Jack cheese
3 slices bacon
2 green onions, sliced
The days of going out to eat for every meal will soon be over if you make things as good as this! This should only take you about twenty-five minutes to make, so you'll have plenty of time to snuggle up after you're done eating. Make it for yourself. Budgetbytes.com
Pesto Penne with Shrimp and Peas
12 oz. penne
2 c. baby spinach
1 c. Fresh basil
1/3 c. plus 1 tablespoon extra-virgin olive oil
1/4 c. grated Parmesan, plus more for serving
1/4 c. pine nuts or almonds
1 clove garlic, minced
kosher salt
Freshly ground black pepper
1 lb. peeled and deveined medium shrimp
1 c. peas
Crushed red chili flakes (optional), for garnish
The ingredient list might look a little daunting at first, but most of the items are things you would already have in your pantry! There's no need to go out for dinner if you can make something that tastes like this. Have a wonderful seafood pasta that leaves you wanting more. Check out the full recipe here. Delish.com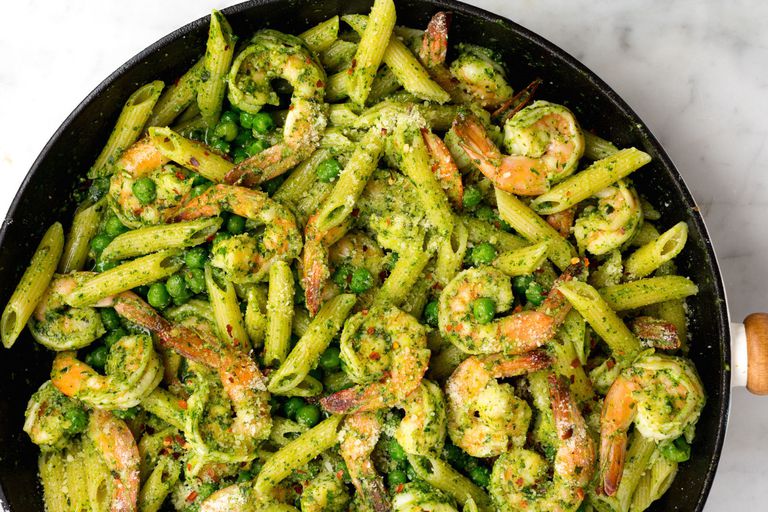 10 Minute Easy Tomato Basil Soup
1 teaspoon olive oil
1 medium onion chopped
3 large cloves of garlic chopped very finely
7 cups of chopped fresh tomatoes
1 handful of basil
2 teaspoons salt adjust to taste
1 teaspoon pepper adjust to taste
Some people don't like soup in the summer, but other people have a craving for it no matter how hot it is outside! Stay in on a rainy day and throw a grilled cheese in a skillet and you've got yourself a full spread. This recipe can be whipped up in about ten minutes, so there's no need to spend a long time on dinner. Find the full recipe here. Avirtualvegan.com
20-Minute Greek Gyros with Tzatziki Sauce
Gyros Meat:
1/2 lb.lean ground lamb
1/2 lb. lean ground beef
4 cloves garlic, grated
1/4 teaspoon all spice powder
1/4 cup grated onions (squeezed to remove liquid)
1 1/4 teaspoon salt + 1/2 teaspoon black pepper
Tzatziki Sauce:
1 cup Greek yogurt
1 clove garlic, grated
1 tablespoon lemon juice
1 teaspoon dill weed (or more!)
To Serve:
Pita bread, sliced onions, tomatoes, shredded lettuce
International cuisine has never been so easy! Make it a whole experience for you and your significant other to make this meal together and be proud of your creation. Get the recipe here. Littlespicejar.com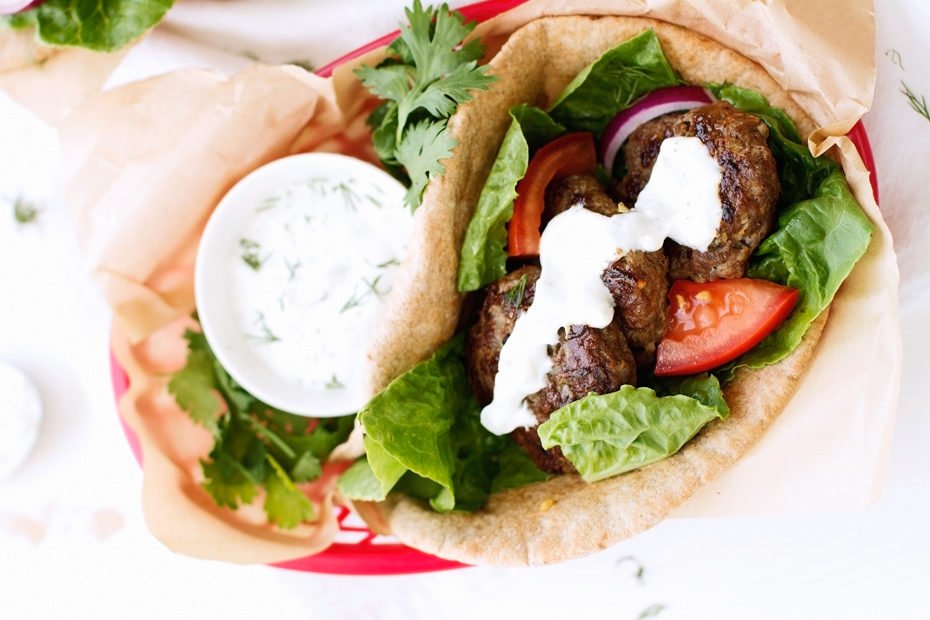 Easy Asian Glazed Meatballs
1/2 cup hoisin sauce
2 tablespoons rice vinegar
4 teaspoons brown sugar
1 teaspoon garlic powder
1 teaspoon Sriracha chili sauce
1/2 teaspoon ground ginger
1 package (12 ounces) frozen fully cooked homestyle or Italian meatballs, thawed
Optional: Thinly sliced green onions and toasted sesame seeds
Hot cooked rice
Break out some Asian cuisine with this fun and easy recipe! You probably have most of the ingredients right at home, so no need to spend a lot at the grocery store for this one. Skip out on the takeout Chinese food and make something better right at home. Check out the full recipe here. Tasteofhome.com
Grilled Cumin-Rubbed Hanger Steak with Smashed Minty Peas and Grilled Bread
3 tbsp. unsalted butter, divided
1 lb. fresh or thawed frozen peas
1 tbsp. fresh mint, chopped
1 tbsp. fresh lime juice
Kosher salt
Freshly ground black pepper
1 1/2 lb. hanger steak, cut into 2 pieces
1 tsp. ground cumin
4 slices country bread
1 tbsp. olive oil
2 oz. shaved Parmesan
Just like a recipe I mentioned earlier, don't let the longer ingredient list scare you! You probably have most of these things in your kitchen, so bring the steakhouse to you. Get in your entrée and two side dishes all in one recipe. Feel like a master chef after you've made this one with your significant other. Find the full recipe here. countryliving.com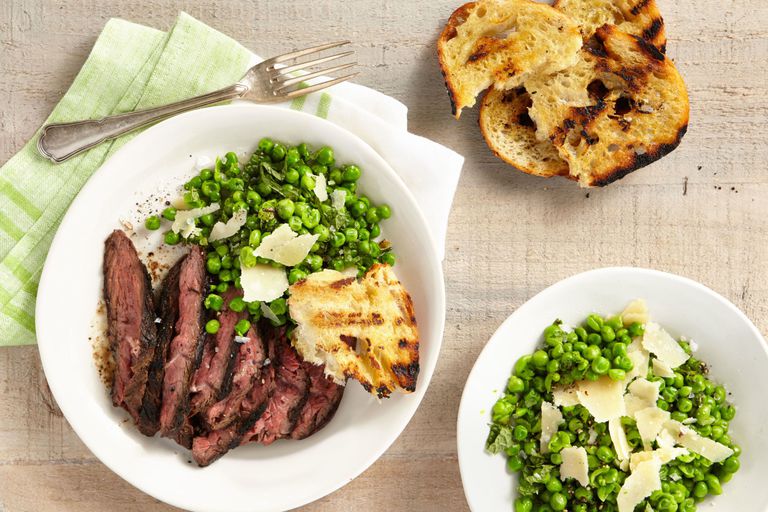 Chicken Alfredo Bake
16 ounces penne rigata pasta
6 tablespoons butter
3 teaspoons minced garlic
4 cups heavy cream
1/2 teaspoon white pepper
1 1/2 cup shredded parmesan cheese
1 1/2 cup mozzarella cheese
2 ounces cream cheese
salt (to taste)
2-3 chicken breasts, cooked and diced
chopped parsley, for garnish (optional)
In just a short time of 40 minutes, you will be able to create a dinner that you could find at Olive Garden. You and your significant other could take the leftovers for lunch the next day, too! If you're looking to stay lower carb, just substitute the pasta for some zoodles and you'll be set! Check out the full recipe here. makeaheadmealmom.com
Basil and Lemon Baked Salmon in Foil
1 ½ lbs salmon cut into 6 fillets
6 Tbsp butter melted
1 clove garlic crushed
1 handful basil finely chopped
2 Tbsp lemon juice
1 tsp salt
½ tsp pepper
6 lemon slices
In the mood for some seafood but don't want to spend a lot of money? This recipe is for you! All you need to do is pick up some salmon at the grocery store and raid your pantry for the other ingredients and you'll be able to throw together a meal that should leave you saying, "That was easy". Find the full recipe here. evolvingtable.com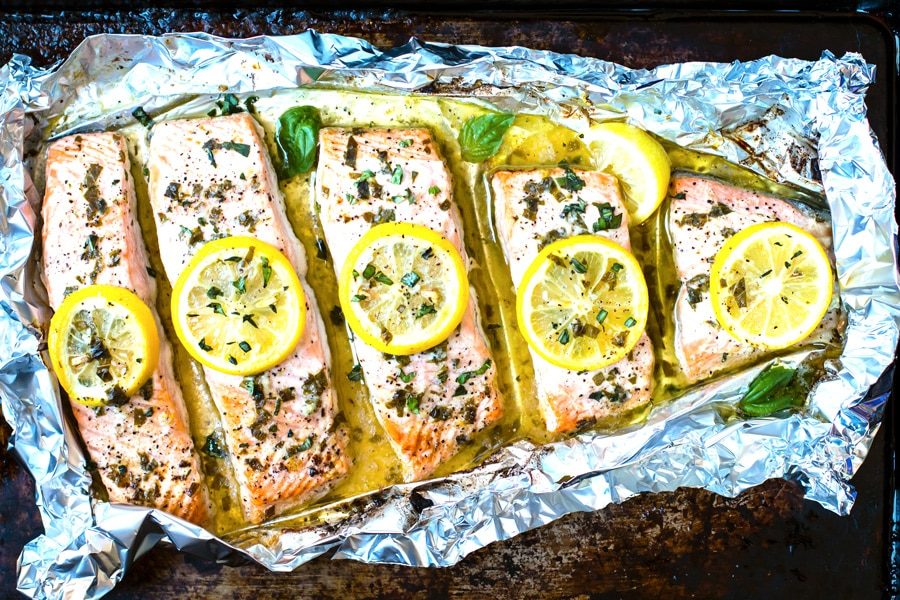 Easy Oven-Baked Sheet Pan Chicken Fajitas
Fajitas:
1 1/2 lbs chicken breasts, skinless, boneless
3 bell peppers, red, yellow, green
1 medium onion
1 tsp cumin powder
1 1/2 tsp chili powder
1 tsp garlic powder, or minced garlic
2 tsp paprika
salt and pepper to taste
1 tbsp vegetable oil
8 flour tortillas, 8-inch size
Garnishes – optional:
lime, wedges
fresh cilantro, chopped
sour cream
avocado
There's no need to share a fajita meal at your favorite Mexican restaurant when you have this recipe! All you need to do is look around the kitchen for all those spices you've been waiting to use, and you'll be able to make at-home fajitas. You and your significant other will never want to spend money on a fajita meal again! The full recipe can be found here. tipbuzz.com
Want to try more quick and easy recipes? Maybe try a cooking class! Cooking Classes in Tampa Bay.