Parkshore Grill, located on Beach Drive in St. Petersburg, is a gourmet restaurant dishing out tasty, but affordable, American cuisine to couples in Tampa Bay. They have decadent lunch and dinner menus, but their brunch is what really stands out. After visiting almost all the restaurants on Beach Drive for brunch, I can say that Parkshore Grill is not only the most delicious, but also the most consistent of the bunch.
Parkshore's brunch menu is short and sweet, as they have perfected about a dozen standard brunch menu items. However, each is unique, as they have added a little Parkshore twist. They offer items such as Niman Ranch Smoked Ham Benedict, which is served on puff pastry and topped with chive hollandaise and Ale Battered Shrimp and Cheese Grits, served with Andouille sausage and chili oil for some spice. Prices for these dishes range from about $10-15, making it a more affordable restaurant on Beach Drive.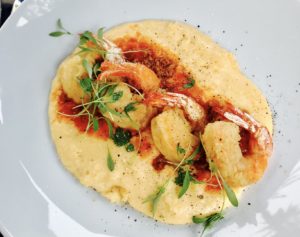 Another local favorite is the Banana Brioche French Toast, which comes with whipped maple butter, candied spiced pecans, Applewood smoked bacon, and pure maple syrup. In addition, they offer an insane Steak and Eggs dish, which comes with a side of pepper potato hash. This dish is not on the menu so if you are craving beef paired with yolky eggs, make sure to ask your server about this divine special.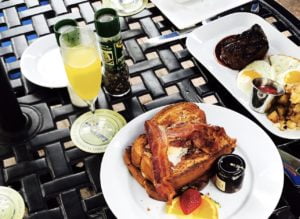 In addition to the food, Parkshore Grill offers $5 Bloody Mary's, Mimosas, and Screw Drivers during their brunch hours. You and your loved one can sip on one of these refreshing boozy brunch beverages while you devour your meals. The staff at Parkshore is incredibly friendly and attentive and will be stopping by consistently, asking if you and your significant other would like a refill. Couples will leave Parkshore full, buzzed, and happy.
If you are not a fan of brunch food, the lunch menu is also available to couples. You can check this menu out on Parkshore's Website.
Parkshore Grill serves brunch from 11 am to 3 pm on Saturdays and 10 am to 3 pm on Sundays, this is the perfect weekend date spot for couples.
Address: 300 Beach Dr NE #104, St. Petersburg, FL 33701
Feature Image Photo Credit: parkshoregrill.com