Located in the up and coming city of St. Petersburg, Hawkers Asian Street Fare is dishing out delicious Asian cuisine with a twist.
With six other locations in different parts of Florida, as well as one in Atlanta, Hawkers Asian Street Fare is a guaranteed incredible meal for couples.
The word "hawkers" describes the street vendors that are prominent all over Asia. These vendors are the ones offering up some of the freshest, tastiest recipes in the area, which are often always made with locally grown ingredients and spices. This is where the idea of Hawkers stems from as the owners wanted to bring authentic Asian street food back to The States.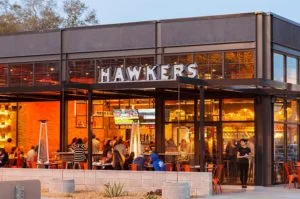 In terms of the menu, Hawkers of course offers the basics such as pad thai, miso ramen, and fried rice. However, there is nothing basic about the flavors in these dishes. Everything on the menu is incredibly delicious with bold ingredients, making you and your loved one feel like you are in Asia itself. These dishes run for around $9, which is a decent price for how much food you are receiving.
In addition to the variety of noodle and rice dishes, Hawkers also provides the option for a collection of small plates for couples to share. This is common within Asian countries and it is another small detail Hawkers decided to bring to its restaurant.
Couples can order street skewers, Korean fried wings, wontons, steamed baos, curry, roast duck, and more. In addition, there is a vast selection of vegan/vegetarian options as almost every dish with meat can be substituted for extra vegetables or tofu. Prices for these dishes vary, but are all still incredibly affordable.
Sip on a local craft beer or choose from a variety of imported Asian beers while you are waiting for your food. Hawkers also offers wine and a wide selection of mixed drinks. You won't have to wait long though, as they are speedy back there in the kitchen and will have your food out to you quickly.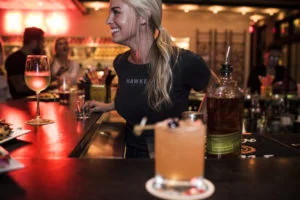 One more unique thing about Hawkers is that each dish is brought out when it's ready rather than all at once, which means you may receive your food before your loved one. But don't worry, his or hers won't be far behind. This is just another Asian restaurant characteristic Hawkers has tried to incorporate.
The restaurant itself is swank, but cozy at the same time. The dimmed lighting makes it a romantic spot for couples, whether you choose to go in the afternoon or later at night. With bar seating, high tops, low tops, and an outdoor space, there are plenty of places for couples to enjoy their meal. However, Hawkers is a local favorite, so if you are going on the weekend, make sure to make a reservation.
This restaurant is the perfect lunch or dinner spot for your next date with your significant other. If you are seeking out delicious Asian food, which is often hard to find in the Tampa Bay area, look no further than Hawkers Asian Street Fare.
Hours:
Sun-Tues: 11 am – 10 pm
Wed-Thurs: 11 am – 11 pm
Fri-Sat: 11 am – 12:30 am
Address: 1235 Central Ave, St. Petersburg, FL 33705
Feature Image Credit: Boca Life Magazine