Karma Juice Bar and Eatery is dishing out fresh and organic food every day of the week in the heart of downtown St. Petersburg. Known for their infamous acai bowls, Karma has people from all over stopping in to give them a try. Karma is the most popular juice bar in the area and once you and your loved check it out, you'll keep coming back for more like the rest of us.
The menu at Karma is extremely eclectic, but all dishes have one thing in common: they're GOOD for you. Karma knows how to provide you with your needed nutrients, fruits, and vegetables in the tastiest way possible. You feel good while eating their food and you feel good after. That's the Karma way!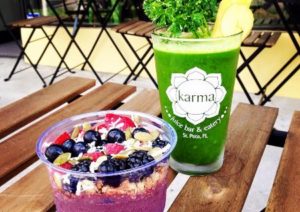 In terms of the menu itself, they have acai bowls (acai puree blended with strawberry, banana, and almond milk) with a variety of toppings fitted to their names, including The Tropical (pineapple, banana, mango, almonds, and coconut) and The Indulge (strawberries, banana, granola, cacao nibs, raw local honey). These are a favorite among locals.
They also have a plethora of house-made, cold-pressed juices and smoothies including Rocket Power juice (pineapple, cucumber, spinach, green apple, lime) and the Violet Wave smoothie (acai, banana, strawberry, spinach).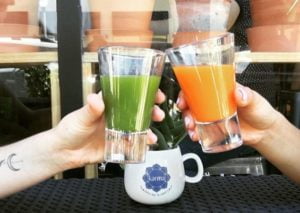 Aside from their bowls, juices, and smoothies, Karma Juice Bar also offers something for couples a little more on the hungry side. They have small plates such as fresh avocado toast w/ olive oil, hummus with pita, and chicken salad, as well as a wide selection of salads and sandwiches including the Avocado Mint Salad (avocado, garbanzo, beans, cucumbers, tomatoes, carrots, parsley, nuts, and greens with a lemon mint dressing). This place is perfect for vegetarians and meat eaters alike!
In terms of the restaurant itself, couples can enjoy a cozy atmosphere while munching on their treats. Choose to sit inside or outside the restaurant, as both sections will send out good vibes to you and your loved one at any time of the day, whether it be mid-morning or late afternoon.
---
Craving a cleanse, but also an incredibly satisfying meal? Look no further. Karma Juice Bar and Eatery is the perfect spot for your next date with your significant other.
St Pete. Address: 209 1st St NE, St. Petersburg, FL 33701
Monday- Saturday 8am-7pm
Sunday 9am-5pm
Clearwater Address: 2095 Drew St, Clearwater, FL 33765
Monday – Friday 8am-7pm
Saturday 9am-5pm
Sunday Closed
New location opening soon at 201 Main St, Safety Harbour, FL 34695!
---