A painting class is a fun idea people always forget about when trying to plan a fun Girl's Night Out. Not only do you have an awesome time with great people, but you get to take something creative home that you made yourself to remind you of these memories. Check these places out to paint with the girls if you've never taken a class before.
With locations in St. Pete, Brandon, Wesley Chapel, and Oldsmar, Pinot's Palete is the perfect place to paint with the girls or even a date night. Sip on a glass of delicious wine while a local artist helps you create your very own masterpiece. Every class has a different theme that lets you create something beautiful. Most classes are around $35, but Pinot's Palete can also host parties and corporate events if you ever need a fun idea for a larger group. There is a wine and beer bar at each location, so you can't bring your own drinks, but you can bring food or snacks if you like.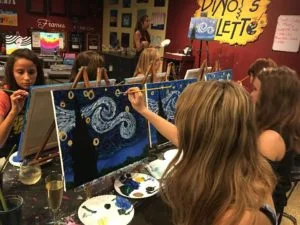 Painting With a Twist is located in South Tampa and is another awesome place to check out if you're feeling creative. They have a different painting theme almost every night and a Wine Glass Wednesday event twice a month. Most classes at Painting With a Twist are $35 and are BYOB, so pick your favorite drinks to bring with you to help you unwind while you tap in to your inner artist.

Located in Brandon, House of Art Painting Studio is a super cool place for a GNO. House of Art is different from most painting classes, though, because all their painting parties are private parties. They host parties with as little as 5 people, so you can be intimate or have a big group. House of Art Painting Studio is a place where you call the shots to create an experience and art that you will love.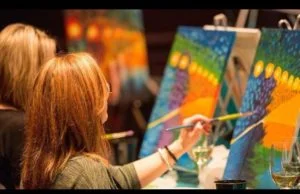 Featured Image Credit: Painting With a Twist Facebook Page