By Joan O'Neill
Craving a vacation? A little staycation at the Hyatt Regency Grand Cypress Resort may be the ideal Orlando getaway for you. This pet friendly resort has so much to offer, you won't have to break the bank to entertain yourself at one of the nearby, tourist-packed theme parks.
As an added perk, the Hyatt Regency Grand Cypress offers preferred pricing to  Here's a two-day itinerary for fun, relaxing trip that is totally amendable to meet your personal vacationing needs without ever leaving the Grand Cypress grounds.
Friday
Make it a short workday or drive up right after because check in begins at 4 p.m.
Whether you're staying in one of the many luxury suites the resort has to offer or a lavish room overlooking the pool, the Grand Cypress has something to fit everyone's needs. All accommodations provide free Wi-Fi, full bath amenities, ceiling fans, and a private balcony.
Go for an afternoon or evening swim at the half-acre lagoon styled pool.
It's open till midnight. Lay out for a bit and catch the last of the late day sun rays on a pool chair, then watch the sunset from On the Rocks Poolside Lounge with a margarita or your favorite island vacation drink in hand.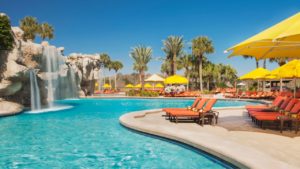 After you clean up and unwind back in your room, head down to one of multiple Hyatt Regency restaurants.
I suggest you start the weekend off right at Four Flamingos, A Richard Blais Florida Kitchen, because this spot is only open nightly from 5 – 10 p.m. This tropical-themed restaurant provides guests a culinary oasis filled with surf and turf.
The menu includes plenty of nostalgic Florida staples like croquettas, ceviche, whole lobster. After this sure to be food coma, get a good nights rest. You'll have lots of staycationing to do in the morning!
Saturday
Start the morning off with breakfast at LakeHouse.
This restaurant is open from 7a.m. to 10p.m. daily but serves breakfast until 11:30a.m. Start big with the Grand Cypress Breakfast Buffet, which includes over 30 different breakfast choices varying daily. Enjoy everything from fresh fruits, charcuterie, hot breakfast choices, omelets to order, and more. If you're still feeling stuffed from the night before, try the Chicken and Waffles or the Grilled Banana Bread French Toast off the specialty breakfast menu. Pair these with cappuccino, or a tasteful morning cocktail.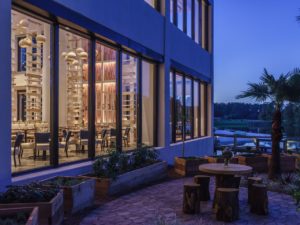 After breakfast, the Hyatt Regency is your oyster.
Even with its close proximity to the theme parks, the resort has a world of activities and amenities to keep you occupied and relaxed onsite. For the sports enthusiast, begin the day with a game of golf and perfect your swing with the guidance of a gold instructor. The Hyatt features four different Jack Nicklaus Signature Design courses to keep you busy all afternoon.
If tennis is more your speed, then the Hyatt is the place to be. The Grand Cypress Tennis and Racquet Club is ranked as one of the top 50 best tennis resorts internationally. Play on the same courts where Grand Slam champions like Jimmy Connors, Andre Agassi, and Martina Navratilova have swung their racquets. Work on your game with certified professionals and indulge in this topnotch tennis facility while you vacation like the pros.
Head back to your room or grab a snack from the Market or at On The Rocks Poolside Restaurant.
Grab some food and drinks poolside at On The Rocks. Pick something from the grab-and-go menu if you're in a hurry or enjoy a leisurely burger and a frozen cocktail and soak up some rays. On the Rocks has a full menu, including bowls, sandwiches, salads and a kids menu.
Next check into the Marilyn Monroe Spa.
This location has been designed and decorated like you're lounging in Marilyn Monroe's iconic California home. Spend a few hours feeling like a Hollywood film star as the spa's production crew waits on your hands and feet. With a friendly and engaging staff, the spa boasts its use of only organic products perfect for your skin and nails. The spa is open 10 a.m. to 5 p.m.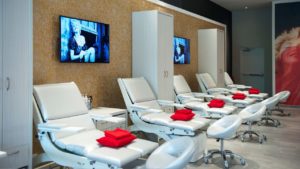 Make it a day at the LakeHouse by returning for their stellar dinner menu.
This extensive dinner menu is packed with just about everything under the sun. Run through the hearth oven options like French Onion Fondue, Barbecue Chicken Pizza, and Grilled Artichoke Flatbread. There's lots of soups and salads ranging from LakeHouse Fish Tacos to Octopus Salad, and the Grilled and Range section boasts favorites like Spaghetti Squash Lasagna and Atlantic Beer Battered Cod Fillet just to name a few. Seriously, there are so many options at this Hyatt Regency restaurant.
Don't forget to taste test the specialty cocktails here like the gin based Rainy Summer or the Absolut filled Cherry Soda. If you're feeling homesick try the elderflower influenced Sunshine Skyway or the Plant City Smash made with Rittenhouse Rye. LakeHouse also offers sake options for the exotic taste buds in addition to more than decent craft beer selection.
After LakeHouse, wander over to the Lobby Bar for a late night glass or bottle of wine.
The Lobby Bar is all glass walls and vaulted ceilings in the open air setting of the Grand Cypress's 18-story lobby, open from 5 p.m. to midnight The wine list here is incredibly extensive with champagne and sparkling, blush, red, and white wines spanning across all intensities as laid out in their easy to read menu, even for the wine novice. The Lobby Bar is the perfect relaxing lounge environment to end your mini-staycation.
Sunday
Stay in bed and take advantage of the hotel's 24-hour room service, or maybe go for a farewell swim or ride down the waterslide tower. Check out the hotel's nine-hole pitch 'n' putt mini course, flex your muscles on the rock climbing walls, or unwind in the game room before the Hyatt Regency's 11a.m. checkout time. And then start planning your next staycation at one of the many awesome resorts that Florida has to offer.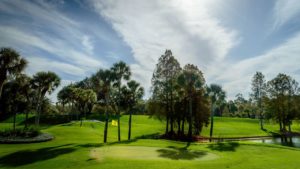 Feature Image Credit: Hyatt Regency Grand Cypress