The holiday season is full of joy, generosity, and nostalgia. It's fun to reminisce about Christmas traditions celebrated during childhood. But as adults (regardless of one's 'naughty' or 'nice' status), embracing both old and new traditions reminds us of why the holiday season remains the most wonderful time of the year! It's even merrier when you follow these holiday lights tips.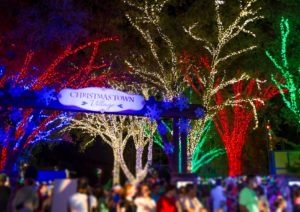 Aside from kissing under the mistletoe, one of my favorite traditions is seeking out Christmas light displays with my holiday-lovin' partner.
There are tons of ways to see holiday lights throughout Tampa Bay.
Drive (and occasionally parking) around town.
Attend tree lighting ceremonies or light-themed events.
Take in holiday boat parades or holiday street parades.
Participate in coordinated or DIY seasonal pub crawls throughout decorated districts.
READ MORE: Where to Find Tampa's Best Holiday Lights
For now, let's shift gears from penning that Christmas list to Santa Claus to address the logistics of how to have a holiday lights joy ride with your favorite date night partner. Here are nine illuminating tips to make your holiday lights adventure truly sparkle…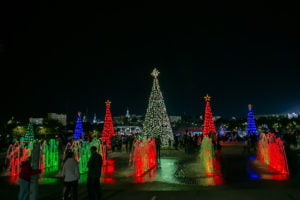 Present a Santa-Approved Route.
Couples who prefer to go with the flow won't necessarily plan all of the details of this mobile date night. In some neighborhoods, for example, festive homeowners come together to create majestic light shows. Do map out a route if you plan to joyride to multiple locations (and, if needed, include pit stops too).
Fill Your Gas Tank.
OK, this may seem like a no-brainer, but still… save time on date night by visiting the gas station earlier in the day or week. Rudolph may power Santa's sleigh but you've got to hit the pump. Date night is all about filling your hearts with memories, so be sure your car is revving to go.
Wear a Winter Wardrobe.
Don't just save the ugly Christmas sweaters for that one annual party. Go ahead and wear those tacky pullovers loudly and proudly on this joyride night out. Or, better yet, opt for comfy matching holiday pajamas!
Who needs real pants with zippers when drawstring jammies are this season's most suitable attire?! Pssst… be sure to wear comfy shoes if you plan to park and walk along certain residential streets.
Snowball Snack Attack.
Holiday popcorn, candy canes, and, of course, Christmas cookies galore! Yup, you need all the snacks for this holiday lights trip. Besides, the stretchy waistbands on your matching pajamas are all the permission you two need to have this snack attack rendezvous.
And seasonal beverage options are oh so delicious too. Will you fill your Yeti tumblers with eggnog, warm apple cider, marshmallow-topped hot chocolate or Santa's White Christmas coffee? Maybe also bring a couple of bottles of water to stay ho-ho-hydrated.
[Note: Most residential routes do not have restrooms so sip beverages accordingly.]
Comfort and Joy.
Sharing sugary snacks with your sweetie may keep you from getting hangry, but be sure to also stock the car with other merry necessities to take festive fun to full speed. Think about heated blankets, a selfie stick to capture the moment, ridiculous Grinch-themed slippers, that huge Rudolph stuffed animal that you just had to buy, etc.
Tune into Traditional Tunes.
To fully tune into each other and this date night, set the right mood music. Mix 100.7 has got you covered all season long with Christmas classics, or create your own Amazon Music holiday playlist. Plus, some of those awesomely coordinated neighborhood displays are synchronized to Christmas music (typically found on a specific am radio dial).
Engage in Cheerful Chatter.
In between Christmas sing-alongs, plan to spark up some holiday-themed conversations using helpful starter questions. Merry and memorable dialogue will surely be had thanks to these precious prompts.
Play Goodwill Games.
As you drive around appreciating holiday light displays and decorations, consider adding in a playful game. For example, print out holiday-themed bingo cards. Be the first to spot things like a star, elf, Mrs. Claus, etc.
Red & Green Ribbon Recap!
When you've had your fill of Christmas lights, retreat to the couch for a spirited summary of your joy ride. Talk about which houses had the best displays and more. Then, perhaps, snuggle up to end the night watching a festive flick as you feast on peppermint ice cream.
Adapted from OrlandoDateNightGuide.com, originally written by Nancy DeVault