'Tis the season to sip specialty holiday cocktails with someone special. Christmas pop-up bars and themed experiences have come to town, making date night easier to plan, and bringing plenty of cheer to this time of year. We've been sipping and sampling so you know exactly where to go to find Christmas Cocktails in Tampa Bay this year.
Best Holiday Cocktails and Christmas Pop-Up Bars
Apres Sea in Clearwater Beach
Woodwright Brewing Company in Dunedin
Blitzin Bar in St. Pete
Xmas Bar St. Pete
Willa's in Tampa
Barterhouse Ybor
Santa's Social Club in Dunedin
Miracle at Mezzo in St. Pete
Icicles Craft Cocktails in Tampa
Sippin' Santa in Dunedin
Keep reading for more on where to find these pop-ups and the tasty seasonal cocktails they're serving up.
Thursdays and Fridays, Starting November 30 through Christmas
301 S. Gulfview Blvd., Clearwater FL

Hyatt Regency Clearwater Beach Resort & Spa is debuting the "Apres Sea" holiday pop-up experience. The festive pop-up bar will be available on the resort's Sky Terrace rooftop venue which features panoramic views of the beachside setting. Starting on November 30, "Apres Sea" will be open every Thursday and Friday leading into Christmas. It will feature a variety of holiday-themed beverages including a sugar cookie martini, gingerbread old fashioned, a mistletoe mimosa, as well as additional cocktail and mocktail selections.
A portion of proceeds from the holiday cocktail menu at the "Apres Sea" pop-up and the resort's on-site restaurants will benefit Hope Villages of America, a local non-profit organization that supports neighbors facing hunger, homelessness, domestic violence, or lack of basic needs.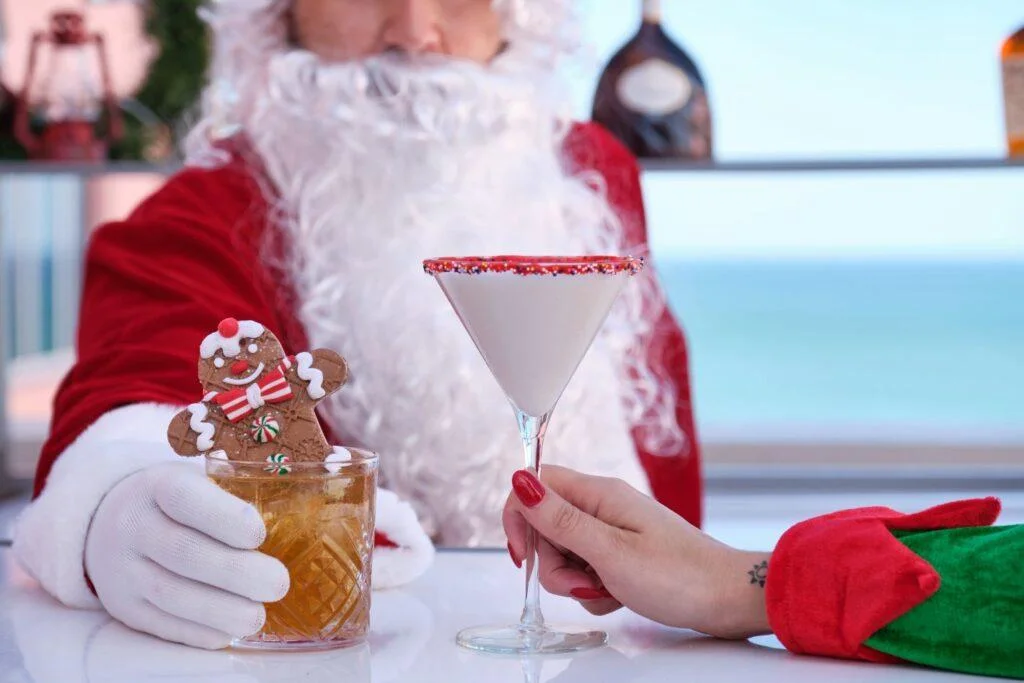 985 Douglas Ave.
Dunedin, FL
The beer garden will transform into a coniferous wonderland along with evening campfires. There will also be live music throughout the season.
Blitzin Bar in Downtown St. Pete
November 28 – December 31, 2023
249 Central Avenue
St. Pete
As you step inside, the air is infused with the delightful scents of crisp pine, creating an atmosphere set with winter foliage, the flickering glow of LED lights, and state-of-the-art winter tunes that will wrap you in a symphony of seasonal joy. Guests can take photos on different backdrops, dance, or sit and relax. Hours of operation are Monday – Wednesday from 8 pm – 3 am and Thursday – Sunday from 3 pm – 3 am.
260 1st Ave N.
St. Petersburg, FL
This festive pop-up bar in St. Pete features an array of holiday-themed cocktails like the Naughty or Nice Bubbly, Jingle Juice, Mistletoe's Kiss, Drunken Gingerbread, Here to Sleigh, and more. Take a shot of the Cinnamon Toast, Butter Cookie, or the Peppermint Crush.
Now decorated
1700 West Fig Street
Tampa, FL
The holiday decor at Willa's right now is truly excellent. And if the ambiance does not bring you enough Christmas cheer, then you should take a look at their holiday cocktail menu.
Sip on Milk & Cookies with Santa Teresa Rum, Park Cognac, Rumchata, coconut and milk with a mini chocolate chip cookie on top. The Merry & Bright tones down the sweetness with 400 Conejos Mezcal, Select Aperitivo, fresh-squeezed lemon and torched rosemary.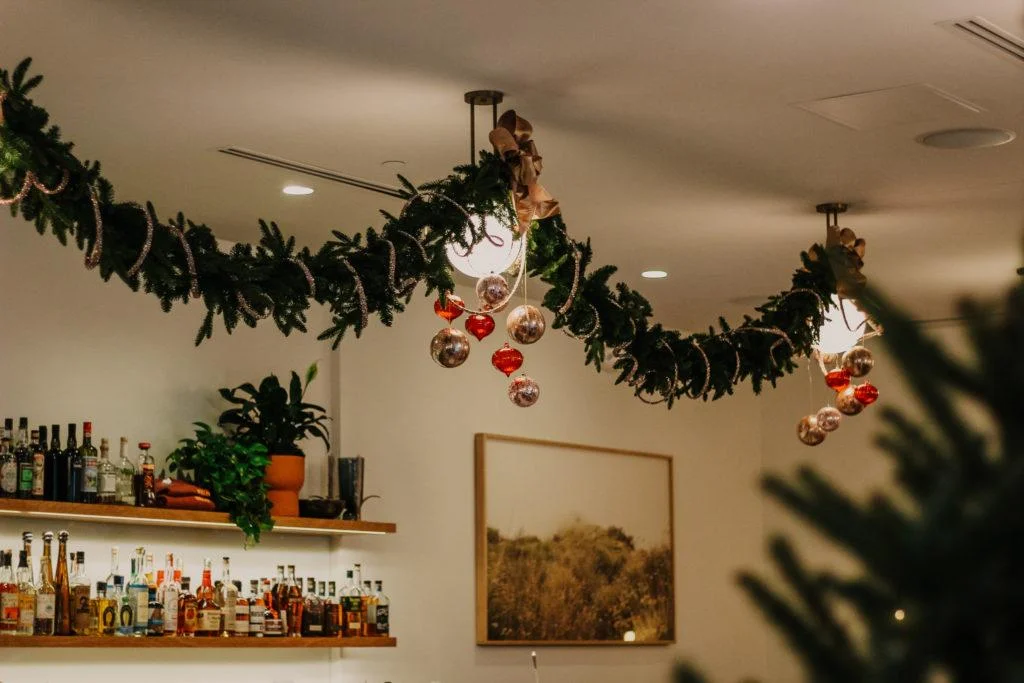 Starts November 22, 2023
1811 N 15th Street Suite A,
Tampa, FL
Discover Santa's Secret Cocktail List at Barterhouse Ybor's Blitz Inn 2022 Holiday Pop-Up Bar. Santa, apparently, has great taste, with some truly unique and seriously seasonal offerings.
The Dirty Santa features olive oil infused Ketel One, vermouth, Dill and pepper. Equally kooky but on the sweet side, try the Kevin and the Wet Bandits, CocoPuff infused bourbon with cinnamon and bitters. Looking for something more traditional? Oogie Boogie's Brew has dark rum, eggnog, spices and vanilla.
Sunday, November 19 – end of December
1111 Central Ave
St. Petersburg, FL
This time of year Intermezzo transforms into Miracle at Mezzo. This Christmas-themed pop-up cocktail bar brings a super festive setting with kitschy holiday decor along with delicious seasonal drinks.
We're partial to the Christmapolitan with vodka, elderflower, vermouth, spiced cranberry sauce, lime and absinthe. But it's hard to turn down other fun favorites like Grandma Got Run Over by a T-Rex (featuring super cool glassware) and Jingle Balls Nog. The fun lasts through New Year's Eve.
2023 Info TBD
937 Central Ave
St. Petersburg, FL
The chic Florida vibes of No Vacancy St. Pete are undeniable. Hang out in The EDGE district of downtown St. Pete and nosh on Florida food and share a punch bowl. The tropical & tiki cocktails are given a holiday makeover.
The awesome atmosphere of No Vacancy St. Pete is made even better with festive holiday decor and themed cocktails from November 30 through all of December.
Part of Winter Village
600 N Ashley Dr
Tampa, FL
Winter Village in downtown Tampa has all kinds of fun for date night, including a fun holiday-themed bar called Icicles Craft Cocktails.
Holiday cocktail offerings include a Campfire Old Fashioned with toasted marshmallow syrup, a Pumpkin Mule and the Sleigh All Day – Grand Marnier, prosecco, lemon, and a spiced sugar rim.
Grab your drink before exploring the lights and shopping the many small businesses set up at Curtis Hixon Waterfront Park for the holiday season.
516 Grant Street
Dunedin, FL
The Honu Tiki Bar in downtown Dunedin has transformed into the Sippin' Santa for the remainder of the holiday season. Think Tiki meets the North Pole for these holiday concoctions (and that means cool glassware, too) from December 1-24. 
Try the Kris Kringle Colada, the Jingle Bird, or Rudolph's Rum Rhapsody. Holiday cocktails are even available to go, along with a little bag of "good ice."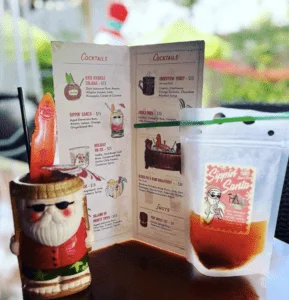 Starts November 24, 2023
966 Douglas Ave
Dunedin, FL
Christmas is coming to Dunedin's Sonder Social Club – or should we say Santa's Social Club. This Christmas bar takeover is officially open and ready to celebrate the season with you.
Incredible cocktails and themed nights (including an ugly sweater party) put the Santa Social Club on our date night wish list this holiday season.
2023 Info TBD
25 Causeway Blvd,
Clearwater, FL
You may not want to be a cotton-headed ninny mugging, but you'll want to drink one from Bar Tiki — peppermint-infused Rumhaven with house hot chocolate. Bar Tiki's holiday drink specials for the month of December are extra delicious.
Feature image credit: Miracle at the Mezzo  
Looking for more holiday fun? Here are some of our favorite ideas: