Everyone's favorite spooky month is here and that means it's time for the best Halloween dates. Lucky for you, there's no shortage of date night spots for you to spend your evening and get your scare on. From Tampa to Orlando to everywhere in between, here are the best haunted houses and attractions to visit this Halloween season.
FEATURED EVENT

Open Now till Nov 4th, every Friday & Saturday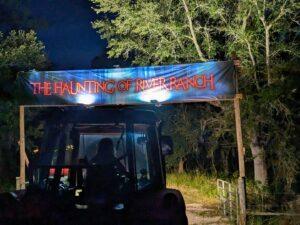 For a memorable date night that combines adventure and the spirit of Halloween, look no further than Westgate River Ranch Resort & Rodeo's newest event, "The Haunting of River Ranch." This seasonal extravaganza promises an unforgettable evening for couples.
Begin your thrilling night by hopping onto a haunted hayride that will take you through uncharted territory at the ranch, unveiling a spine-tingling tale that will send shivers down your spine. Hold hands with your partner as you navigate twists, turns, and eerie encounters.
For those seeking even more excitement, dare to enter the haunted house, where bravery becomes a shared experience. Make this Halloween season unforgettable with your special someone at Westgate River Ranch Resort & Rodeo's "The Haunting of River Ranch."
It's a date night adventure that will leave you both with lasting memories and a shared love for the spooky season.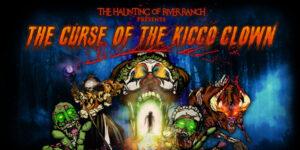 Tampa Haunted Houses You Can't Miss
Tampa
September 8-October 31, 2023
Howl-O-Scream, Busch Gardens' annual scare-fest is back! On select nights throughout October, you and your significant other can head to Busch Gardens for an unforgettable experience. You can't miss this event that'll give you a night of haunted houses, scare zones, horror shows, and thrill rides! Haunted houses this year include D.H. Baggum's Circus of Fear, Stranglewood Estate, and more. This event is a separate ticket event from admission.
$37.99 and up per person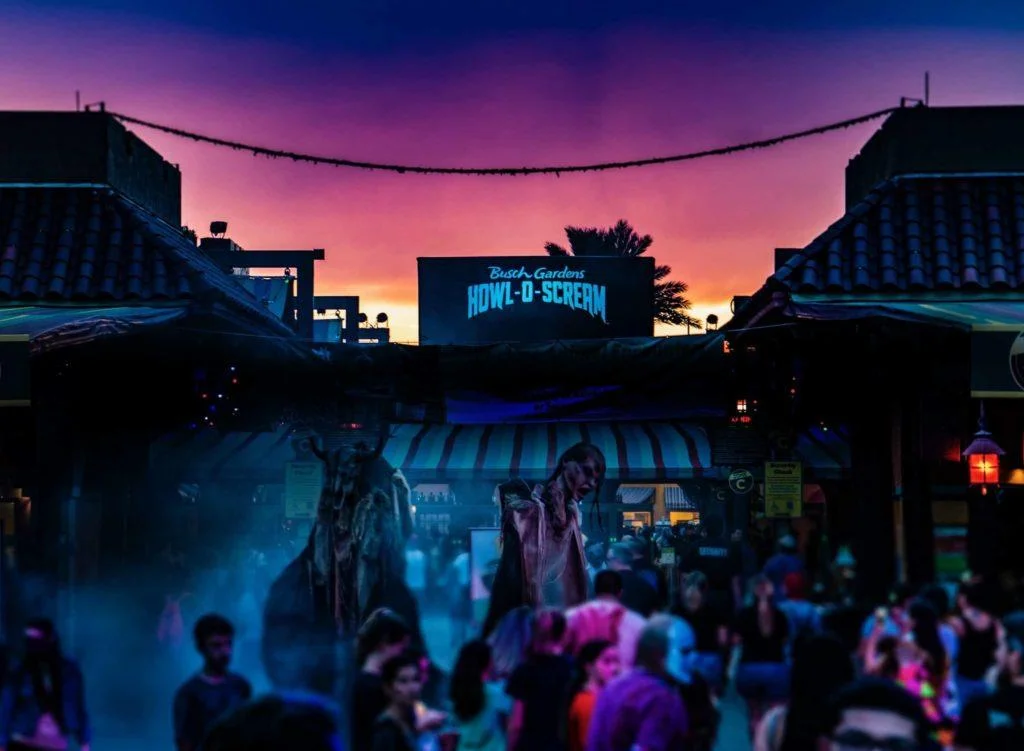 Plant City
September 29-November 4, 2023
Sir Henry's Haunted Trail was ranked the Top Haunted Attraction in Florida by TheScareFactor.com. I-4's premier fear park includes 3 haunted trails, an escape game, laser tag, live entertainment, food vendors, merchandise and more. You can take your date to Sir Henry's in Plant City any Friday, Saturday or Sunday in October for a fun Halloween experience you'll remember. Tickets much be purchased in advance.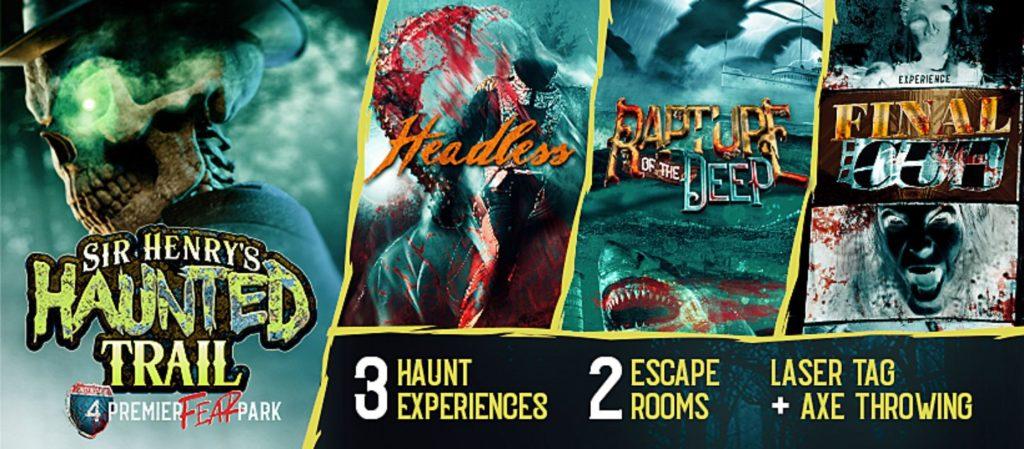 Tampa
Friday and Saturday nights from September 22-October 28, 2023

Doors open at 7:30pm and have to be in line by 10:30pm. All tickets will be sold online
Hop aboard a WWII ship for this haunted attraction on the water. Immerse yourself in the action aboard the ship, where few surviving members of the crew talk of a haunting female ghost aboard the ship. Also new this year is the location, which has moved to Sparkman Wharf. This is truly one of Tampa Bay's most unique Halloween experiences.
$20 per person
Dade City
Select nights, September 8 – November 4, 2023
Tampa Bay's premier horror has thrills like Monster Midway including a creepy beer garden with food and beverage options. In addition to these park enhancements, SCREAM-A-GEDDON will offer six haunted attractions as well as interactive elements including roaming sinister characters and more.
Odessa
September 22 – November 19, 2023
Raprager Family Farm in Odessa is bringing back its annual Fall Pumpkin Festival and Haunted Barn select dates through November 19, 2023.
This year's event is bound to be just as fun for adults as it will be for the kids. Aside from the pumpkins, corn pit, and petting zoo, there is a 5,000 square foot haunted barn, and a bunch of new additions for 2023.
October 20-21, 2023 from 6pm-10pm
Cost: $10 for ages 13 and older
Hillsborough River State Park
The Hillsborough River State Park Preservation Society is hosting a haunted trail at the park along with a costume contest, live music and treats as an alternative to trick-or-treating! Learn more about the Haunted Woods at Hillsborough River State Park here.
St. Petersburg
October 27-29, and 31, 2023
Beyond the Bayou will take you on a deep dive into the heart of the swamps' past where the whispers of rituals and spirits linger. Embark on an immersive journey through the eerie landscape, surrounded by twisted gardens and murky waters as you uncover haunting legends that have woven themselves into a mysterious realm.
Tickets start at $10 and go on sale October 2.
Largo
October 2,13,14,20,21,27,28,31, 2023 6-10PM
Experience a haunted house, scary trail, and hay ride, plus step right up to the Oddville Circus of the Strange and Macabre. Additional entertainment includes fire performers and acrobats. Or you can brave the mechanical bull.
Opening night is $27, all other nights $35
Yes, you read that right. A haunted CAR WASH. Every year, Tommy's Express Car Wash transforms several of their national locations into a haunted car wash for two days only and this year, four of them are in Florida (two of them in Tampa Bay!). On October 28-31, guests can get their cars washed while being spooked by ghouls and ghosts as they drive through the Tunnel of Terror. So, go get your car all squeaky clean…if you dare.
Various locations
Melbourne (2800 Veterans Way),  Oct 27-28 7-10 pm
Fort Walton Beach (412 Mary Ester Cut-Off NW) Oct 27-28 7-10 pm
North Port (1155 Sun Market Place) Oct 27-28 7-10 pm
Port St. Lucie (10940 S. US Hwy 1) Oct 27-28 7-10 pm
Kissimmee (2980 North John Young Parkway) Oct 27-28 7-10 pm
Pinellas Park (7600 US Hwy 19 N) Oct 27-28 7-10 pm
Spring Hill (4085 Mariner Blvd.) Oct 20-21, 27-28 7-10 pm
Sarasota (5020 Fruitville Rd.) Oct 27-28 7-10 pm
$20 all locations, Spring Hill $25
Haunted Houses and Trails Near Tampa
Alamonte Springs
Select nights in September 29 and October 28, 2023
If you and your significant other are fans of some outdoor thrills and scares, then A Petrified Forest is the perfect date night choice for you! There are three trails for you and your date to explore.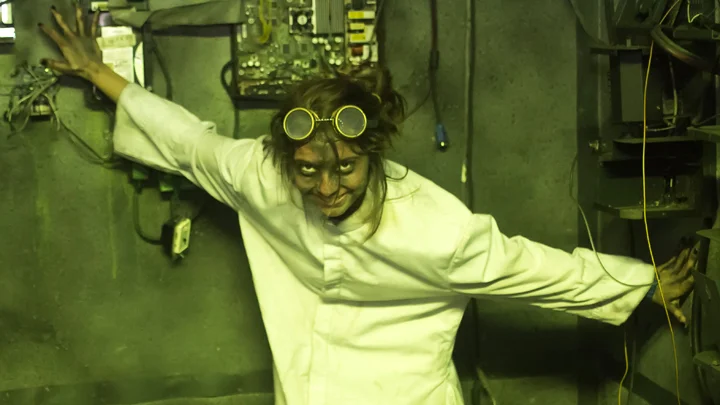 Kissimmee
Year-Round
This haunted house is a year-round attraction for scares and thrills! Although it's open all year, there's no better time to enjoy the 2 story Mortem Manor than during the month of Halloween. You can explore the Haunted House first, then go through the Last Ride simulator that will give you the experience of riding to your burial place. At just a short drive from downtown Orlando, the Mortem Manor is convenient for a date night spent celebrating Halloween in Orlando.
$18 plus tax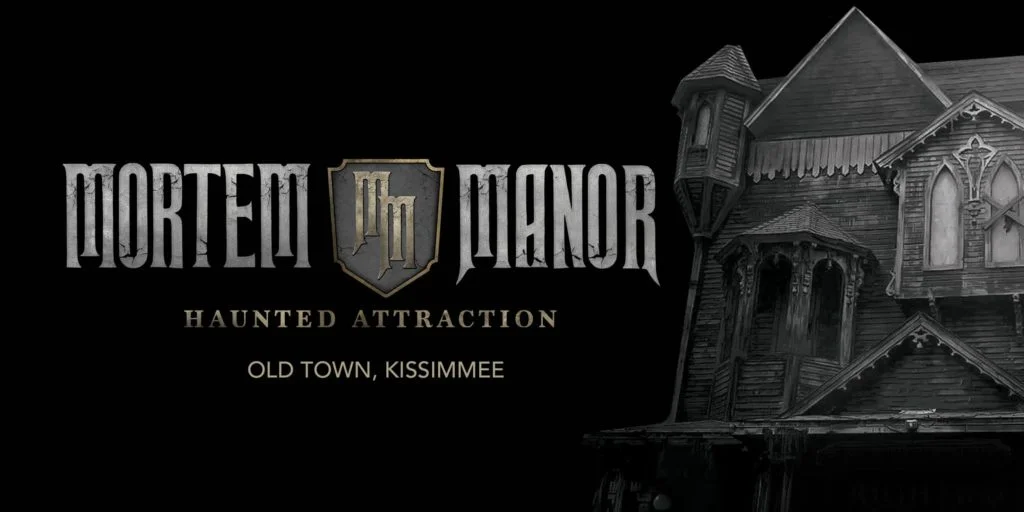 By the way, if you're venturing to the Orlando area for any of the haunted experiences there, check out these Halloween events in Orlando.
This year, new and old couples alike have their pick of fun attractions to choose from to celebrate Halloween. Whether you're looking for something near or far, you're sure to find something perfect for your October fright night.
Orlando
Select nights September 2-October 31, 2023
Located at Universal Studios in Orlando, Halloween Horror Nights will give you the scare experience of a lifetime! Scare your way through 10 terrifying haunted houses including The Last of Us, based on the popular video and TV series and Netflix's Stranger Things 4. There are also scare zones, shows, and other horrifying attractions waiting for you to make it an unforgettable experience.
$79.99 and up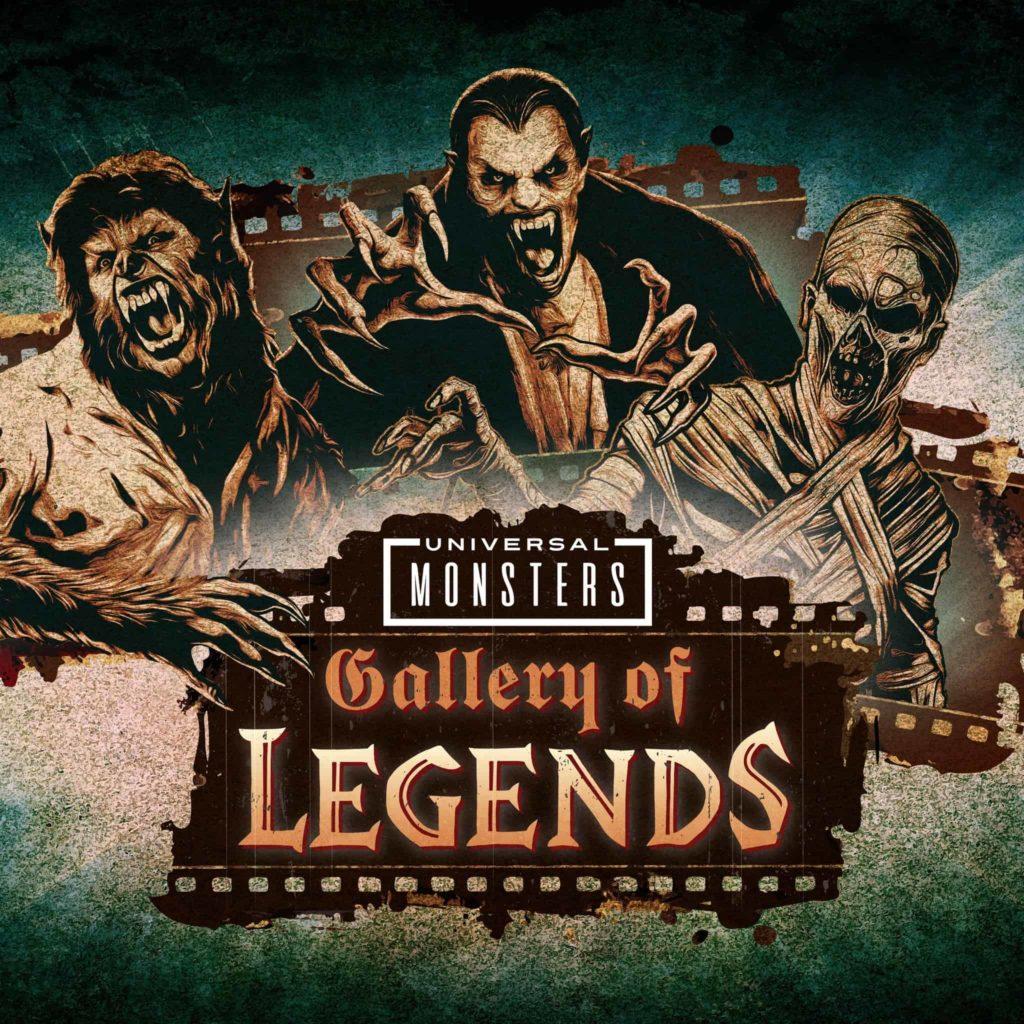 If you're planning a date night at Halloween Horror Nights you'll save lots of time and have more fun by reading How to Plan an Epic Halloween Horror Nights 2023 Date Night from our sister site, OrlandoDateNightGuide.com.