Get ready to SCREAM and SHOUT!  Howl-O-Scream is back at Busch Gardens Tampa Bay and will be thrilling you all spooky SZN long through October 31!
We attended on opening night and put together this spooky date night guide for you which includes all the latest info on this year's lineup of Busch Gardens Halloween fun. Plus, tips you need to know, including upgrade options, merchandise, a creepy cocktails to order while you're there!
If you didn't already know, Howl-O-Scream is a frightfully fun event put on by Busch Gardens every single year when Halloween rolls around. This year, Howl-O-Scream starts on September 8th and runs through Halloween itself, October 31st.
While you're there be sure to visit all of the terrifying houses, spooky scare zones, and all of your favorite sweat-inducing rides, including the new Serengeti Flyer.
Howl-O-Scream 2023 is full of delightful frights including new and returning haunted houses, scare zones, rides, and entertainment.
2023 Howl-O-Scream Haunted Houses
D.H. Baggum's Circus of Fear (NEW)
The Forgotten: Uprising
The Residence: Home for The Holidays
Stranglewood Estate
Witch of The Woods
D.H. Baggum's Circus of Fear (NEW house)
Come one, come all, to the most terrifying show you've ever seen! D.H. Baggum is bringing all his monstrosities that are sure to make your spine tingle and your blood run cold.
The Forgotten: Uprising (Reimagined)
Be Brave. Be Fearless. Survive the Night. Rise up against the vampires before they take back the city and kill every human in their way.
The Residence: Home for The Holidays (Returning Favorite)
The Residence is making a haunting return…but things are not as merry as they may seem.
Stranglewood Estate – (Returning Favorite)
Every town has its share of ghost stories—and this one is no different. Once a lively home filled with laughter and lavish parties is now filled with darkness and the spirit of evil.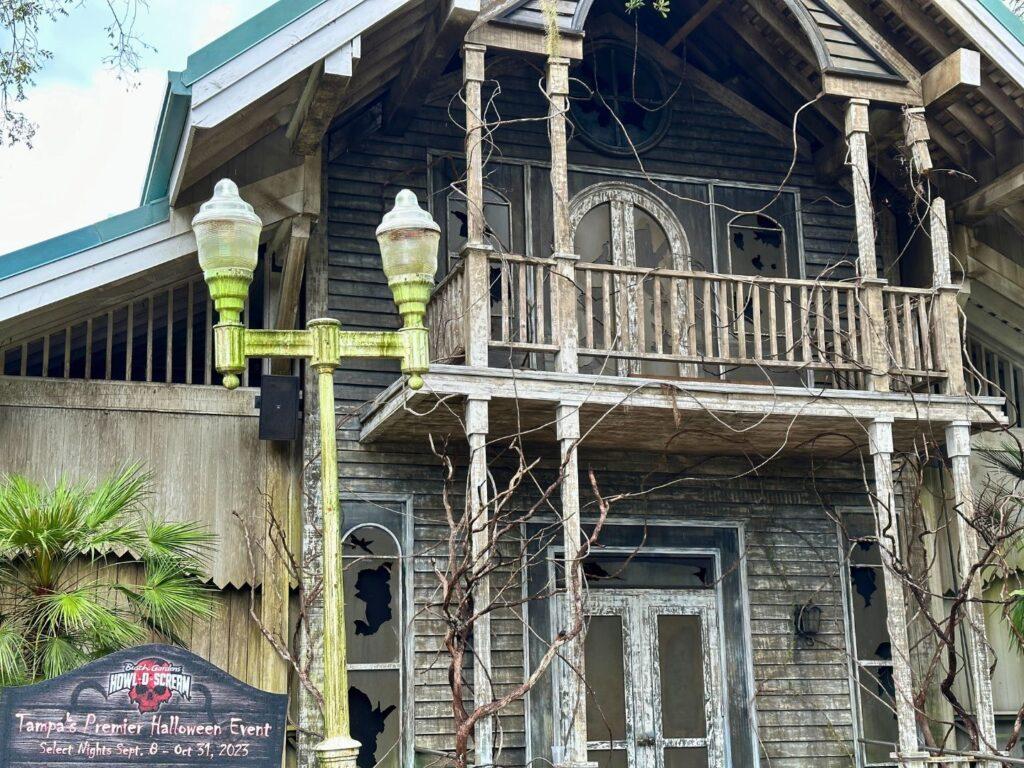 Witch of The Woods (Returning Favorite)
The witch is back and just as wicked as ever. Curiosity as brought many travelers into this dark forest and abandoned village, but only bone-chilling stories and dying screams make their way out…
Scare zones are dotted throughout the park and feature dark alleyways, ghoulish characters, and all the frights.
Sin City Zombies (NEW)
Big Ed's Demolition Derby (NEW)
Raven's Mill
Beyond the Veil
The Junkyard
NEW! Sin City Zombies
On the outskirts of the Vegas strip lies a small town that is home to some of the best entertainers to ever live and is overrun by zombies who run rampant.
NEW! Big Ed's Demolition Derby
Step into the twisted and adrenaline-fueled world of Big Ed's Demolition Derby. He's pulling together some of the roughest, toughest, and meanest baddies from all over Howl-O-Scream and bringing them there to compete. See how long you can survive this automotive nightmare.
Raven's Mill
Within the walls of the corn field lies a horrific nightmare you cannot awaken. The scarecrows of Raven's Mill are ready for you…
Beyond the Veil
The dark fairies and orcs are dying for you to experience the depths of their magically sinister forest. Thing you have what it takes to go beyond the veil?
The Junkyard
You'll find more than spare parts as your rummage through this surly scrap site. Will you make it out in one piece or be devoured by the haunted rubble?
Date night pro-tip: View the official Busch Gardens Howl-O-Scream 2023 MAP before your date night.
Viewing the map before you arrive will save you time and you'll avoid confusion. (2023 map coming soon)
Hidden Scare Zone & Roaming Hordes
Beware of the hidden zone and roaming hordes…just when you think you know what's coming, untold horrors lurk in the darkness awaiting your arrival.
Entertainment at Howl-O-Scream
Getting scared together is more than just houses and scare zones. Take a break – sort of – and enjoy a live show or two.
Rock the Grave (New)
Performing live at the Festival Fields stage, guests will be mesmerized with the all-new Rock the Grave, an explosive, high-energy live stage show that merges the worlds of alternative and classic rock and pop hits into an unforgettable experience.
Cirque X-Scream (Returning favorite)
Be on the edge of your seat during this electrifying and mesmerizing show. Cirque X-Scream features exhilarating acts and stunts, including trampoline trick and aerial performances at the Stanleyville Theater.
The Rolling Bones (Returning favorite)
Rising from the grave, this year's Howl-O-Scream sees the return of the high-energy and pulse-pounding live musical performances by The Rolling Bones at Dragon Fire Grill.
Rides During Howl-O-Scream
All of the blood-pumping rides you know and love will be in operation.
Serengeti Safari
Iron Gwazi
Tigris
Cobra's Curse
Falcon's Fury
Cheetah Hunt
Montu
SheiKra
Kumba
Along with the frights, rides, and entertainment is also photo opportunities, games, and dining! Check out Full-Service Liquor Bars in Pantopia, at the Entrance, Serengeti Overlook Pub, Stanleyville, Meat Market Bar, and the Nairobi Walkway.  Get your spooky memories captured on film, shop for horrific memorabilia, and play terrifying games!
NEW Beverage Options
Need some liquid courage to take on the ghouls and ghosts throughout the park? Get ready to enjoy some seriously spooky, deathly delicous drinks this year. The specially curated menu of creepy cocktails include libations such as the Poison Apple, Vampire Bite, Screamsicle, Twisted Citrus Punch, and the Gin Makes Me Sin.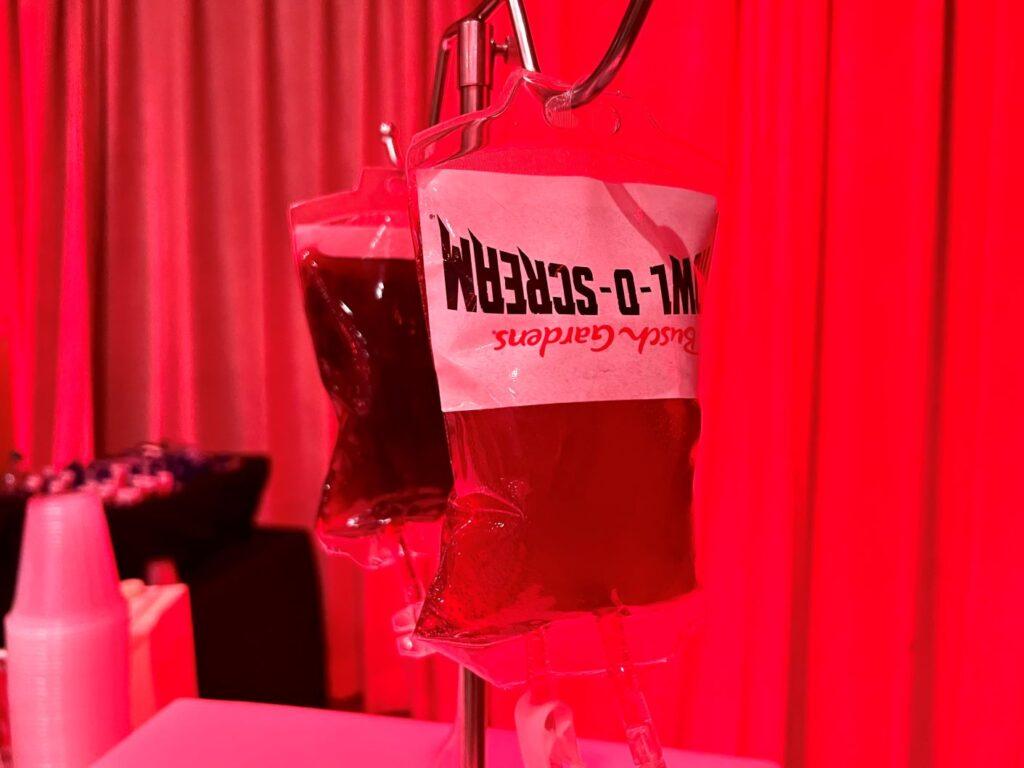 For something a little gorier (but good), you can also take a blood-red Jell-O Shot through a giant syringe or try the Cold Blooded Chiller Blood Bag Cocktail that you drink straight from an IV bag.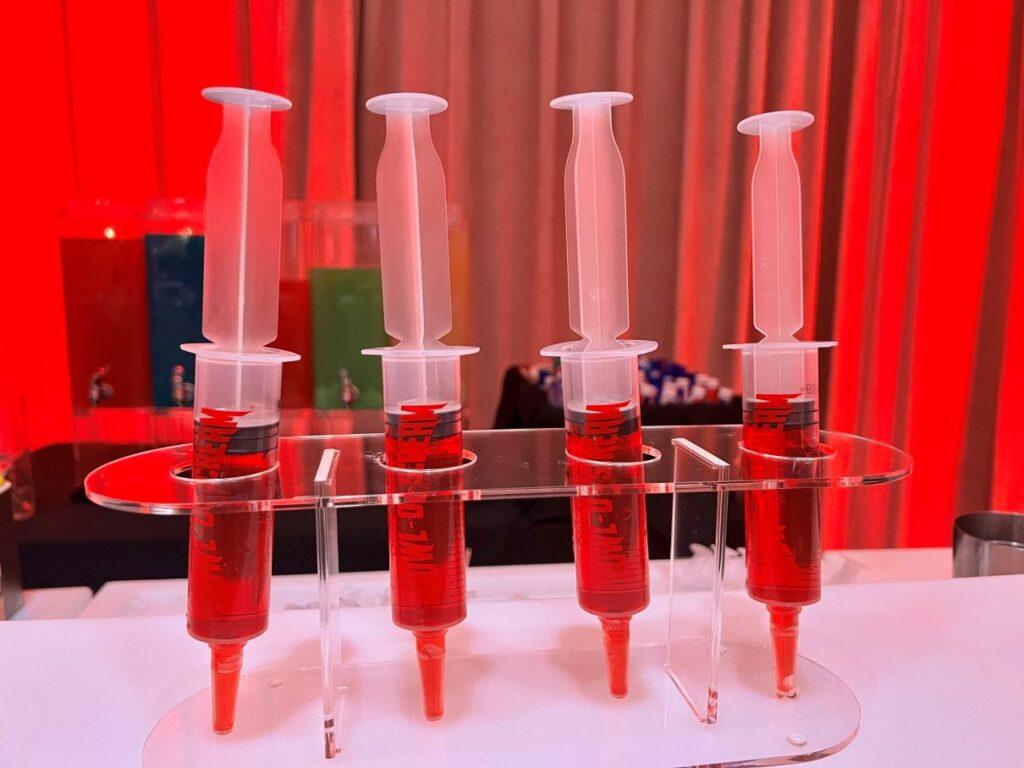 NEW Howl-O-Scream Merchandise
Want to look frightfully good this Halloween season? This year's merch even has a fun, throwback 90's flair. You can get your hands on some new Howl-O-Scream merchandise such as all-new shirts, jackets, and light-up lanyards. There are even new bags like the neon skeleton Loungefly backpack and painted skeleton crossbody bag.
Merchandise can be purchased throughout the park.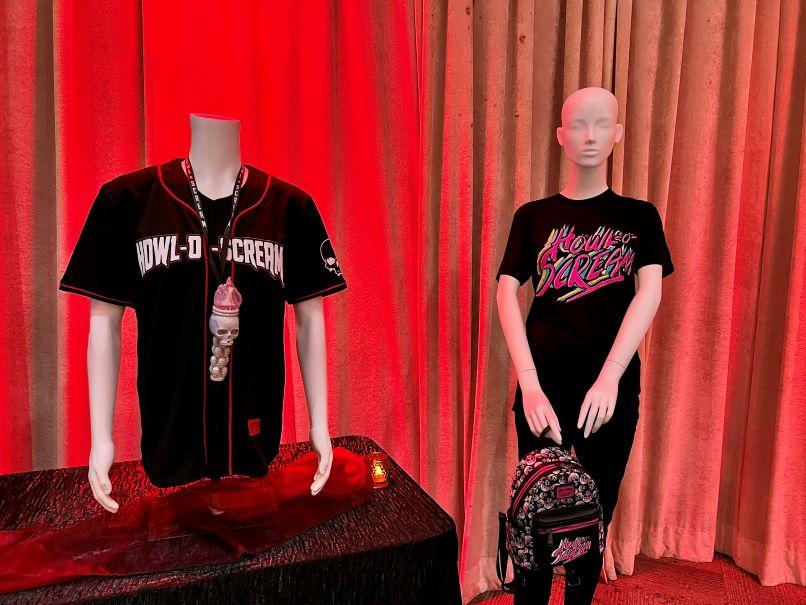 Single Night Ticket: Starting at $34.99
Unlimited Admission Ticket: Starting at $94.99. Includes unlimited visits from September 8-October 31. Valid after 5pm.
Two Park Ticket: Starting at $94.99. Includes one visit to Howl-O-Scream at Busch Gardens and one visit to Sea World Orlando on select nights.
Two Park Unlimited Ticket: Starting at $156. Includes unlimited visits to Howl-O-Scream at Busch Gardens and nighttime visits to Sea World Orlando between September 8-October 31.
Single Night Group Tickets: Starting at $32.99. Includes single night entry to Howl-O-Scream for groups of 15 or more.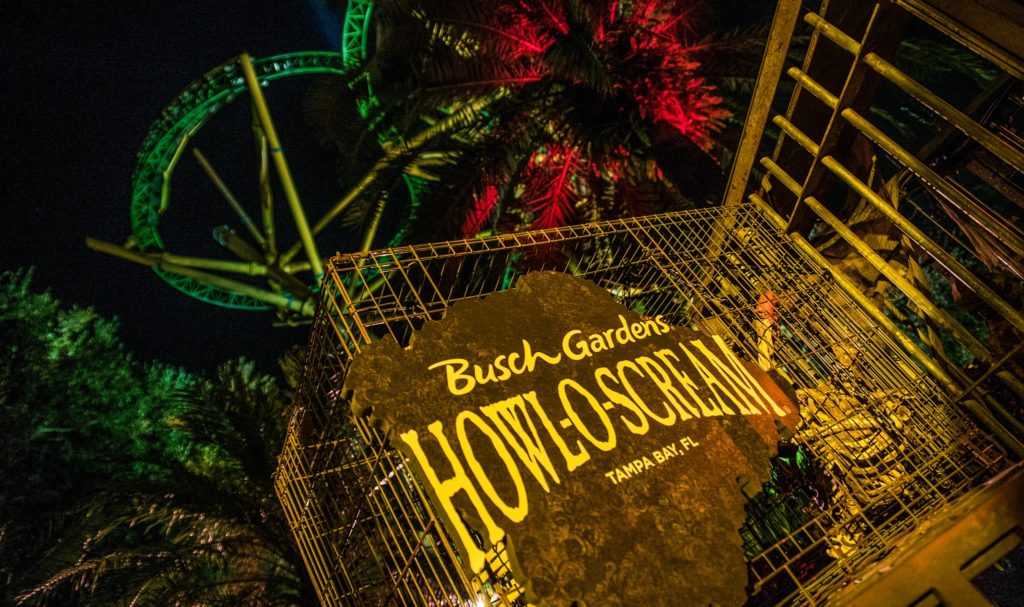 Ultimate VIP Tour
Create your own up to 7-hour experience with a private tour guide, exclusive experiences and unlimited access to haunted houses and thrill rides (minimum 2 guests). Includes admission, complimentary beverages at select locations, complimentary dinner at Dragon Fire Grill, preferred parking, and more!
Prices start at $249 per person.
Behind the Scenes Tour
Find out what goes into the scares on this daytime, lights on tour. See one of their iconic houses in a new light with a unique photo opportunity. Inculudes a one-time/one-house priority access to one of their houses at night during the event. Maximum of 10 per purchase. Daytime park admission is not included but is required.
$29.99 per person
Front Line Fear
Get front of the line access to five haunted houses of your choice. Includes single use access to five houses. Howl O Scream admission is not included but is required.
$69 per person
Front Line Fear Extreme
Get front of the line access to five haunted houses and nine major thrill rides of your choice, including Serengeti Flyer! Howl O Scream admission is not included but is required.
$79 per person
Make it an all-night event with a Howl-O-Scream Hotel Package 
Howl-O-Scream Overnight Fright Package: Valid on all event dates, bundle your ticket with a stay at a hand-selected hotel partner. Book here. 
Howl-O-Scream Wild & Wicked Weekend Package: Includes unlimited admission to Howl-O-Scream event nights on your selected weekend and daytime admission to Busch Gardens Tampa Bay for four consecutive days (Thursday-Sunday). Your choice of accommodations from hand-selected hotel partners. Free parking. Two adult minimum, two-night minimum. Book here.
The ghouls and goblins will be awaiting your arrival. Good Luck…
---
Featured image credit: Busch Gardens Tampa Bay