It's Gasparilla season which means the return of some of Tampa's favorite annual events. This March, the Gasparilla Festival of the Arts (GFA) returns to Julian B. Lane Riverfront Park from March 4-5. For two days, the Gasparilla Festival of the Arts will showcase artists and their work across mediums including ceramic, digital, drawing, fiber, glass, jewelry, mixed media, painting, photography, printmaking, sculpture, watercolor and wood.
Outside of the art, you can explore fun exhibits, enjoy a weekend full of live entertainment, and immerse yourself in several interactive experiences.
There will also be live entertainment emceed by ABC Action News Meteorologist, Denis Phillips and artistically-themed entertainment and performances including yoga, dance, puppets, stilt walkers, impersonators, visual artists, and more!
Keep reading to learn what you can expect from one of Tampa's largest art festivals, it's one of our favorite Gasparilla events.
There will be several interactive experiences for guests to experience.
Carmada: Returning this year to present its Art Car Extravaganza. There will be new art cars will be on display, hands-on creative opportunities, and live vehicle transformations by local artists! Visitors will be encouraged to vote on their favorite art car, with prizes going to the artists.
DMG Mobile Glass-Blowing Unit: Artist Duncan McClellan will bring his "glass art" experience, demonstrating the incredible glassblowing process in front of your very eyes.
AIA Interactive Experience: An interactive structural element created by the AIA (American Institute of Architects) and affiliated organizations.
NOMADstudio: The NOMADstudio Art Bus invites visitors to add to their giant mobile mural.
TBBCA Chalk Walk: See specially commissioned Chalk Artists bring their amazing 8'x8' chalk drawings to life in this interactive live-art experience, Tampa Bay Businesses for Culture & the Arts' Chalk Walk.
ABC Action News Meteorologist, Denis Phillips, will return as the live entertainment emcee! Enjoy artistically themed entertainment and performances, including yoga, dance, puppets, stilt walkers, music, impersonators, visual artists, and more!
Admission and Special Event Info
General admission is free and VIP tickets are available for $125. VIP tickets are valid for both days of the festival and includes access to their VIP tent area that includes shade, catered food, beer, wine, specialty cocktails, and private restrooms.
On Saturday March 4, guests can enjoy a special ticketed event called The Showcase from 7:30pm-10:30pm. The Showcase is an exclusive art and cultural event showcasing award-winning works from the Gasparilla Festival of the Arts that brings together patrons, supporters, and creators of art.
This is the public's first opportunity to view and purchase the award-winning art. Tickets include admission, complimentary parking, live music, catered food, full bar, and an opportunity to interact with the festival juror. Tickets are $75-$85.
Julian B. Riverfront Park is located at 1001 N. Boulevard, Tampa, FL 33607.
Free street parking is available adjacent just west of the park. There are also several parking locations that may be walkable:
Street Parking along Doyle Carlton Drive (5 min walk)
Barrymore Hotel (7 min walk)
Royal Street Regional Lot (10 min walk)
Garage parking is also available in the following nearby garages:
Poe Garage
Rivergate Tower Garage
Ft. Brooke Garage
For more info and a map of parking options, visit GFA's site.
Each year, the GFA selects five artists to be part of its Local Artists Spotlight Program. Funded by a grant from the Gobioff Foundation, the program advances GFA's mission to bring the finest national and international artists to our area and supports the talented and diverse arts community here in Tampa Bay.
The artists will each receive a free space at the festival and will each have a "remote studio." Guests will be invited to watch as they practice their craft and are encouraged to engage with these artists and ask questions about how they take an idea and transform it into a finished piece of art.
Once they complete their pieces, artists may sell them during the two days of the festival, giving guests the rare opportunity to own a piece of art that was created before their eyes.
Each year, the GFA showcases the work of emerging artists, representing an array of styles and media. Out of over 150 applications this year, they selected fifteen artists.
The program recognizes and features the artwork of up-and-coming artists who wish to establish themselves in a professional visual arts career. "Emerging artists" are defined by GFA as one who makes less than 25% of their income from their art and has not participated in any major exhibitions.
Each of the fifteen artists will be provided with a booth and a $350 stipend for supplies as well as mentoring from established Tampa Bay artists. Artwork by each of the artists will be reviewed by the Festival Award Juror, and one of them will receive the $1,500 Emerging Artist Award.
The Community Outreach Village was established for the purpose of presenting Festival goers with an opportunity to enjoy and purchase the artwork of special artists, such as artists with disabilities who participate through organizations such as Arts4All, Pyramid, Inc., and MacDonald Training Center. These groups appreciate the opportunity for their artists to earn income from sales as well as benefit from the public awareness their participation provides.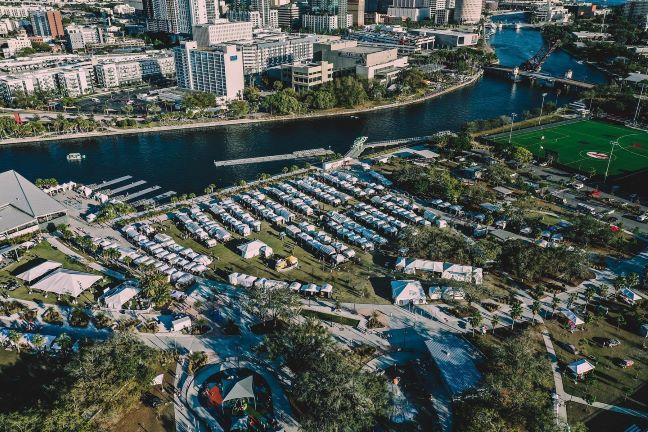 Art Collectors in Training Program
The Art Collectors in Training program (ACT) was organized to encourage the appreciation of the arts in young people, ages 6-14, as an opportunity for them to view and purchase artwork on exhibit from artists participating in the Gasparilla Festival of the Arts. Children will be able to shop in a "kids-only" shopping zone. Most items will range from $5 – $10, with a small portion of the more valuable pieces of art priced slightly higher. After they purchase their items, young art collectors and their accompanying adult(s) can meet with the artists face-to-face (names and booth numbers will be displayed on the artwork)! The ACT will be available from 11am-3pm both days.
Young Artists Expo
GFA is presenting the Tampa Bay Area high school outreach and Hillsborough County Elementary and Middle School Poster Art Contest again in 2023.
GFA's Young Artists Expo (formerly Scholastic Showcase), which debuted in 2017, gives the community's youngest artists an opportunity to display their artwork at the festival. The hope is that this experience encourages them to pursue their artistic talents and helps them recognize that becoming an artist is attainable and rewarding.
Featured image: "Sunny" by Michelle Mardis, GFA's 2023 Festival image
More things to do and events to explore: