The Front Porch & Bart's Tavern has been a staple in Old Seminole Heights since 2002. You might've driven right by it, as it is located in a 1989 Victorian house. Located on Florida Avenue, the Front Porch is serving American fare with a twist and is known for its quality food and homey location. Come check out one of the oldest eateries in Seminole Heights!
Why it's Good
Based on the name and setting of this restaurant, you can guess the vibe. The Front Porch is family owned and they want you to feel at home and comfortable. Whether you're out with family or on a romantic date, the setting makes you feel at ease. The Front Porch has an inside dining area, two full bars, as well as a wrap around porch complete with twinkling lights that come on after dark. The downstairs bar also features live music on the weekends. Once you've found the perfect spot, it's the food that'll really surprise you.
What to Get
This local restaurant boasts fresh ingredients and everything made from scratch. This includes their Southern Pot Roast and Louisiana Style Gumbo. Chef creations like Gorgonzola Garlic Bread and perfectly cooked Pork Au Poivre show that this is not your average neighborhood joint. Surprising finds like Escargot will be your new favorite!
When to Go
It's hard to visit The Front Porch and Bart's Tavern when there isn't some type of food or drink special going on. Come in Monday through Saturday for Happy Hour as well as reduced price appetizers and $10 rotating entrees. A personal favorite is Wednesday nights for Quesadillas and $3 margaritas!
During the weekends, guests can expect live music at night, and $3 drafts and wing specials. If you're a fun loving couple, make sure to check out late night Karaoke on Saturdays!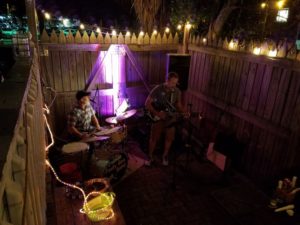 Feature Photo Credit for the Front Porch and Bart's Tavern: Front Porch Grill