Attention Cirque du Soleil fans: a brand new show is coming our way this October! Prepare for the incredible, breathtaking show "Axel". Enjoy all of the incredible acrobatics that you know and love on ice with world-class skaters!
The Show
Cirque du Soleil Axel is bringing this brand new experience to Tampa this October 31st through November 3rd at the Amalie Arena! Enjoy a dazzling, colorful display as you watch renowned skaters flip and fly across the ice as they tell the tale of Axel. There will be 'full-spectrum visual effects', heart-pumping music, and an original score to take your breath away throughout the duration of the performance!
While Axel is not the first 'on ice' Cirque show, it is an entirely new experience according to Daniel Fortin, Vice President of Creation.  Mr. Fortin says: "The success of our first creation on ice has reinforced our ambition to further explore the extensive creative possibilities of a frozen playground. With Cirque du Soleil AXEL, we will offer a truly electrifying experience to all audiences, pushing the boundaries of creativity with the unique approach that has forged the reputation of Cirque du Soleil."
Mr. Fortin's comment really shows the incredible strides that Cirque takes with their shows and that they leave no stone unturned! Are you intrigued yet? Cirque du Soleil's Axel is going to take what Mr. Fortin says and run with it…or, skate with it and will leave you on the edge of your seat throughout the entire show! You've got to check it out.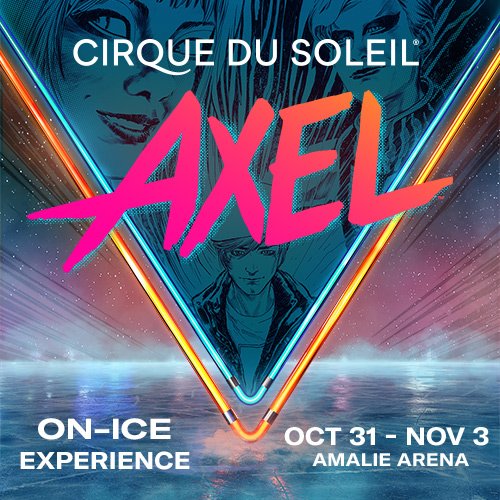 About Axel
The story follows along with a young man named Axel. He's a part of an interesting friend group with creative passions in music and art! Axel's story strives to remind us that our dreams aren't out of reach—everything is possible if you believe it and set your heart to it. Join Axel as he meets Lei and falls hard into what Cirque du Soleil calls, "a high-speed chase for love and self-realization."
The Schedule
Thursday, October 31st at 7:30 p.m.
Friday, November 1, at 7:30 p.m.
Saturday, November 2 at 11:30 a.m., 3:30 p.m., and 7:30 p.m.
Sunday, November 3 at 1:00 pm and 5:00 pm
Tickets
Tickets for Cirque du Soleil Axel are available online at cirquedusoleil.com. Don't wait!
If Cirque du Soleil Axel piques your interest, buy your tickets now! The show truly offers something for everyone with an endearing message that should be told over and over again. Consider Axel for a special date night, a birthday outing, a group night out, or a family night downtown. You won't be disappointed and you'll leave a Cirque fan for life!
For more information regarding Cirque du Soleil Axel, visit cirquedusoleil.com/AXEL
Be sure to follow #AXELCirque and #CirqueduSoleil on Facebook, Twitter, and Instagram for fun updates, cool shots, and a bit about the show!
---
Featured Image Credit: Cirque du Soleil