Are you and your loved one mystery fanatics? If so, visiting an Escape Room is the perfect idea for next date night. Although they are owned by different people, all Escape Rooms in Tampa Bay share the same general format. You and your significant other are trapped in a room with up to a dozen other people for 60 minutes. You are given a prompt and a set of clues and must work together to "escape," or solve the mystery, before time is up. The room is designed to fit the prompt, making it feel realistic and more exciting to couples.
With a wet Florida summer in full swing, this is a perfect date idea for a rainy afternoon or night.
The Great Escape Room, "Sherlock Holmes' Library" – Tampa
Address: 300 Madison St. #301, Tampa, FL 33602
The Great Escape Room, located in the heart of Tampa, is one of the most well-known Escape Rooms in the area. They have several different themed rooms, but the most popular is "Sherlock Holmes' Library." In this room, the group must solve a designated mystery in hopes to be chosen as an apprentice for Sherlock Holmes himself. The difficult level rating is 7/10 and only 35% of people solve the mystery, ultimately escaping the room. Reviews reveal however, that even when groups do not solve the mystery, it is still an evening full of fun and new friends.
Prices for this Escape Room range from $20-30 depending on date of purchase. More information regarding bookings, prices, and rules can be found on The Great Escape Room.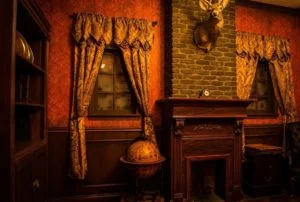 Escape St. Pete, "The Writer's Cabin" – St. Pete
Address: 2429 Central Ave, St. Petersburg, FL 33713
Escape St. Pete is a popular Escape Room located on Central, right in the heart of the city. It is not as big as the Tampa Escape Room, so the themes are a little more limited. However, they are always exciting and unique, drawing couples from all over Tampa Bay. The most popular Escape Room currently offered is "The Writer's Cabin," which asks participants to help discover what really happened to U.N. Ownen – a best selling mystery author. When her body was found in her cabin by authorities, her death was ruled a suicide. However, evidence has recently appeared that questions how she really died.
Think you and your loved one can help solve the murder? If so, visit Escape St. Pete for more information regarding rules and scheduling. Tickets for this Escape Room are $28 per person, making it an affordable date night for couples.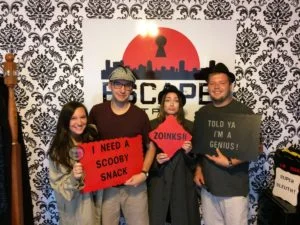 Escape Room Clearwater Beach, "Pirate Ship Escape Game," – Clearwater
Address: 483 Mandalay Ave, Suite #210 Clearwater Beach, FL
Escape Room Clearwater Beach is the most famous in Clearwater, providing couples with up to 5 different Escape Room options, all defined by different themes. Although all are given immense praise, the "Pirate Ship Escape Date," is a favorite among visitors. During your hour in this pirate-themed Escape Room, couples must decipher clues left by a crew member on Captain Ratbeard Tony's ship in order to find the hidden treasure. You and your loved one will be rich with not only treasure, but love as well, after this Escape Room date.
For more information regarding hours and scheduling, visit Escape Room Clearwater Beach. Like the other Escape Rooms listed, prices range from about $25-35 per person depending on the time and the Escape Room.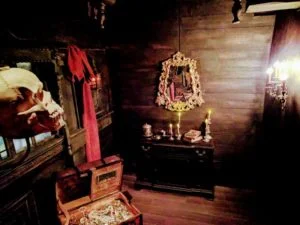 Escape FLA, "Vegas Hangover" – Largo
Address: 2480 E. Bay Dr. #21, Largo, FL 33771
This "Vegas Hangover" Escape Room date is for those wanting to engage with a little less serious escape topic. Taking a lighter side and filled with humor, this Escape Room date is exactly as it sounds – couples must try and piece together what exactly happened last night as you have no recollection of any events. The problem is however, you have somehow obtained a large sum of money and cops are starting to ask questions.
What happens in Vegas, stays in Vegas, huh?
Prices for this Escape Room run for $28 per person. Couples can reserve spots and purchase tickets online at Escape FLA. Like the others, Escape FLA offers multiple other Escape Room dates if you are in Largo and looking for something a little different from this topic.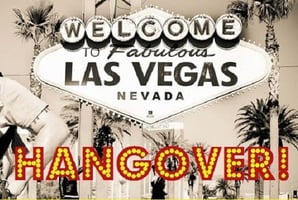 Whether you are asked to solve a a murder mystery or finding the hidden treasure, these Escape Room dates will provide couples with a date night full of fun and adventure.
Think you can ESCAPE?
Featured Image Photo Credit: escapestpete.com