CW Gin Joint is exactly how it sounds – a comfortable, yet modern and sleek, bar serving up delicious gin, cocktails, and wine, as well as delicious food pairings. Whether you are a gin drinker, an avid bargoer, a live music lover, or a food connoisseur, CW Gin Joint is the perfect spot for next date night with your loved one.
CW in CW Gin Joint stands for the proprietor and designer of this unique Tampa spot, Carolyn Wilson. She hopes that in addition to being full of liquor and food, couples visiting The Joint will also be full of love, comfort, and joy. And she, along with the Gin Joint staff members, do all they can on a daily basis to make you and your loved one feel right at home.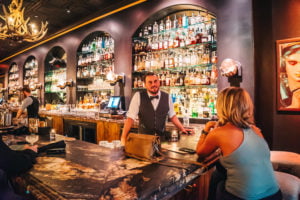 There are many bars in Tampa Bay that specialize in wine, beer, and whiskey, but a gin-focused bar is much less common – another element which makes this place so unique.
In terms of the gin itself, the Gin Joint has dozens of types, brands, and strains for couples to enjoy. CW Gin Joint categorizes the different gins based of flavor and whether you choose a floral, citrus, or savory gin, it is assured you will leave buzzed and happy. Couples can check out CW's "Gin Matrix," a grid describing the different types of gin, before making a decision. Drink it straight, on the rocks, or in one of CW's housemade cocktails. It is also important to note that CW Gin Joint has a huge selection of other types of liquor, wine, and beer.
Sip on your cocktail and enjoy CW's relaxed, comfortable ambiance, as well as live performances from local jazz, rock, and blues musicians.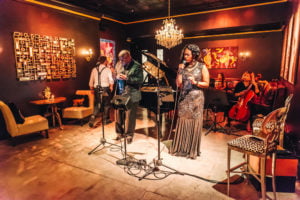 Just like any speciality bar, if you and your loved one are not fans of gin, there is still plenty of tasty options for you to savor. And as expected, prices vary based on quality of alcohol, as well as cocktail ingredients. But I must say, for a fancy bar and restaurant in downtown Tampa, the prices are more than reasonable.
Now let's talk food.
During your time at CW, you must try some of the simple, yet decadent dishes offered. Known for its cheese boards, you and your loved one have to try this famous food presentation complete with artisan, farmhouse, and French cheeses. In addition, these boards have insane meats represented, including duck prosciutto and pate, as well as a wide variety of olives, dried fruits, and nuts. Other starters are also available to couples, including a wide variety of soups, salads, and raw seafood (shrimp, oysters, etc).
Looking more specifically at entrees, CW Gin Joint offers dishes like Lobster Potato, Duck Confit, Filet Mignon, and Short Ribs. When ordering your entrees, don't forget to choose your mouthwatering sides, which include Greens Au Gratin, Skillet Potatoes, and much more. With all of these homemade dishes, not only can you taste the good quality ingredients, you can really taste the love that was put into each dish.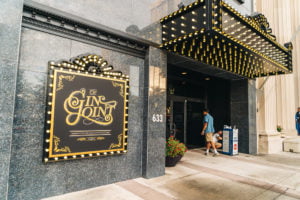 Last but not least … Dessert!
If you and your loved one still have room for dessert while you are finishing the last sips of your gin cocktail, you must try a CW dessert. A few local favorites include the Tropical Bananas Foster, White Chocolate Mousse, and Flourless Chocolate Cake. Yum.
Stop by CW Gin Joint for a drink, an appetizer, or a five course meal with your loved one. No matter what you are in the mood for, CW is the ideal spot for all couples. With a wide variety of quality booze, a large food menu, and an unbeatable ambiance, CW Gin Joint is a must-visit by all.
Address: 633 North Franklin St, Tampa, FL 33602
Featured Image Photo Credit: CW Gin Joint  Credit for other photos to Travel Pockets