If you have never been over to Crafty Squirrel on Central Avenue in St. Pete, now is the time to stop in! Throughout the month of April, Crafty Squirrel is upping their Theme Thursday game with Genre Nights! Every Thursday, the bar will feature a new music-related theme as well as $15 Martini and Rossi prosecco specials, games, prizes, other cocktails, food, and live entertainment by DJ 5 Day Forecast.
Apr. 11, 9 p.m. to 3 a.m.
Summer Love: A Justin Timberlake Takeover featuring "Sexy Back", "Suit & Tie", and "TKO"
Apr. 18, 9 p.m. to 3 a.m.
Crank That: Bringing Back the Best of 2000's Hip-Hop: T.I., Nelly, Lil' Jon, 50 Cent, and Ja Rule
Apr. 25, 9 p.m. to 3 a.m.
People's Choice: Cast your vote for the theme night of your choice: the Year 2004, the Year 2007, the Year 1999

On top of all of the April Theme Thursday events, Crafty Squirrel is featuring a brand new diversified menu! Since the opening of the sports bar in 2018, the menu has diversified greatly thanks to Proprietor Josh Cameron and Chef George Sexton. The menu will feature an American flare such as artisan mac & cheeses, skillet fries, build-your-own pizzas, and more! Best of all, the dishes are budget friendly ranging in price from $8-$16, served from noon to 3 a.m.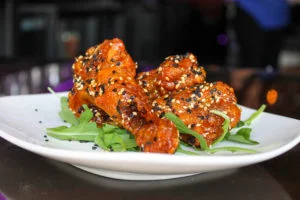 New Menu Samples Include:
Twin Korean Duck Legs: sweet red chili glaze and sesame seeds
Vegan Quesadillas: vegan chili, mozzarella, corn salsa, flour tortilla, and guacamole salad
Bacon Blew Cheese Skillet Fried: Applewood-smoked bacon, fried bleu cheese crumbles, green onions, tomatoes, pickled onions, and blue cheese fondue
Maine Event Mac & Cheese: butter poached Maine lobster, white truffle drizzle, and parmesan
BYOP: Build Your Own Pizza
Head over to Crafty Squirrel this month to catch all of the fun events this April! Come anytime to enjoy one (or many) of the new diversified menu options! Don't wait!
Featured Crafty Squirrel Image Credit: Crafty Squirrel