Be sure to mark your calendars on April 5th for National Burrito Day! Keep it simple with a classic burrito or spice things up with something totally out of your normal burrito-routine. Check out our list for the top burrito spots around the bay, perfect for your burrito needs on April 5th (and any other day for that matter). No burrito is a bad burrito!
Food Trucks/Stands/Quick Service
Hopefully, it's a well-known assumption that sometimes the most unassuming spots are the best spots for delicious food! Don't let the lack of a proper dining room scare you. These food trucks, stands, and quick service joints are insanely good and are the perfect places to grab a burrito to go!
10319 Dale Mabry
Tampa, FL, 33618
Food Truck
535 E Brandon Blvd
Brandon, FL, 33511
Food Truck/Stand
6809 N Nebraska Ave
Tampa, FL, 33604
Food Truck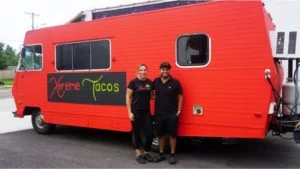 Restaurants
Head over to Romi's Tacos in Brandon for a quaint Mexican style restaurant perfect for the whole family on National Burrito Day! Romi's serves breakfast, lunch, and dinner so that you can get your burrito-fix any time of day!
With locations in Tampa and St. Pete, TacoSon is a force to be reckoned with! TacoSon prides itself in serving 100% authentic Mexican food to its patrons. The business is family owned to better serve the Bay Area Mexican food-lovin' families. TacoSon gets its name from Sonora, Mexico and promises to always serve delicious, fresh, home cooked food at a low price.
Cross the bay and head over to St. Pete for Red Mesa Mercado! Red Mesa draws its influences from both the streets of Southern California and Mexico. They claim that those places are where "secret recipes rich with flavors and the freshest ingredients get served up quick in a no-nonsense take-out style" (redmesamercado.com). Red Mesa Mercado also serves breakfast, including breakfast burritos and tacos! Yum! Be sure to check out their lunch/dinner burrito menu as well with Specialty Burritos such as the "Chile Relleno Burrito", the "Beef Tinga", and "The Cali" to really up your burrito game!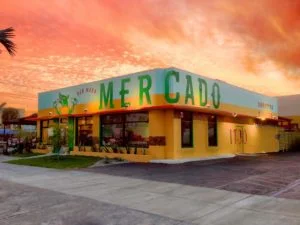 Head over to Crazy Burrito for a family run business, proud to serve Tampa families fresh, delicious, and authentic Mexican style food! Their burrito menu is huge with options such as the "Signature Crazy Burrito" featuring steak, pork, and chorizo! Other burrito options include the "Tofu Burrito", the "California Burrito" and so much more! The best part about Crazy Burrito is that every single burrito on the menu is $10 or less!
The folks at Mekenita Cantina are serious about their Mexican food! The creators of Mekenita Cantina took the time to travel all the way to Oaxaca to experience the Mexican culture and the culinary delights that have become a staple in America. Now located in Seminole Heights, Mekenita Cantina offers tableside service with a full bar inspired by the Oaxacan culture with fresh Pacific ingredients. Check out the "Ancho Grilled Angus Steak Burrito, the "Masa Batter Fried Tiger Shrimp Burrito", the "Citrus Grilled Chicken Burrito", or the "Chili Garlic Rubbed Smoke Pork Burrito". The freshness and uniqueness of their burrito stylings is unparalleled.
Alternative Burrito Options
For a fash, casual restaurant with fresh, easy, and guilt-free options, check out Freshii in Tampa and St. Pete! Their burrito options expand past Mexico into many other traditions! Try out their "Khao San" burrito with Thai influences featuring peanut and lemongrass! The "Baja" burrito features cilantro infused Mexican flavor with salsa fresca, corn, and avocado. Head back to your Southern roots with the "Smokehouse" burrito or the "Tex Mex"! If none of those burritos sound like your kind of burrito, Freshii allows guests the option to make a custom burrito!
Inspired by both George Peabody and Johns Hopkins, The Library is the perfect spot to enjoy the delightful notes of coffee, a delicious meal, and friendly conversation amongst peers and new acquaintances. There is both indoor and outdoor seating as well as a bar. For quick service, guests can find the walk-up counter for a sweet pastry, comforting coffee, or soothing tea! Check out their Breakfast Burrito on National Burrito Day! Their burrito is full of scrambled eggs, chorizo, potato, pico, and cilantro queso!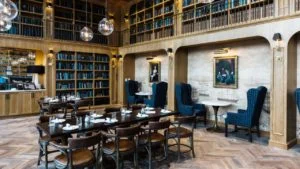 Whether your go-to burrito spot is a simple food truck, a family-style restaurant, or an unassuming burrito spot like Freshii and The Library, your burrito needs can be satiated on National Burrito Day! Stick with an old classic, or try something brand new! Either way, spend April 5th with your favorite
Featured National Burrito Day Image Credit: Epicurious