If you frequent TikTok and Instagram, then you've probably heard the term "butter board." It's a trend that went viral last year as an alternative to charcuterie boards and is still just as fun and unique to bring to happy hour, Thanksgiving dinner, or Friendsgiving. Being that I could eat charcuterie boards every day and not get tired of them, I knew this was a trend I needed to try ASAP.
What Is a Butter Board?
A butter board is exactly what it sounds like – a board slathered with butter. The concept is to cover it with toppings and use crackers or bread to dip in it. Butter boards can vary from sweet to savory. Some of the recipes I looked up involved sprinkling the butter with stuff like cinnamon, sugar, and jams. Others topped them with seasonings, onions, garlic, etc.
My girlfriends and I do happy hour once a week, so they were lucky enough to be my guinea pigs for this butter board experiment. After perusing Pinterest and scouring videos on TikTok, I realized something – multiple videos and foodie blogs later, I still had no idea what kind to make.
After thinking about it way longer than I should have, I settled on savory. My trip to the local gourmet market didn't help my indecisiveness, so I decided to get creative and was inspired to do a butter board along with a fun spin on the trend.
How To Make a Butter Board
Butter boards are a trend so they not only need to taste good, but they also need to look good (you can't post about it on the 'gram unless it's aesthetically pleasing, right?). So, before you start spreading butter all over any old dish, make sure you have a good solid serving board or wooden cutting board.
The toppings are where things can get overwhelming. I wanted something savory, so I took bits and pieces from recipes I found and created my own. I decided to go with roasted garlic, prosciutto, and fresh basil and drizzled it with olive oil. Since butter is so versatile, you can really use anything you like or have on hand. You can even get fancy and pre-mix in seasonings or garlic before spreading the butter on the board.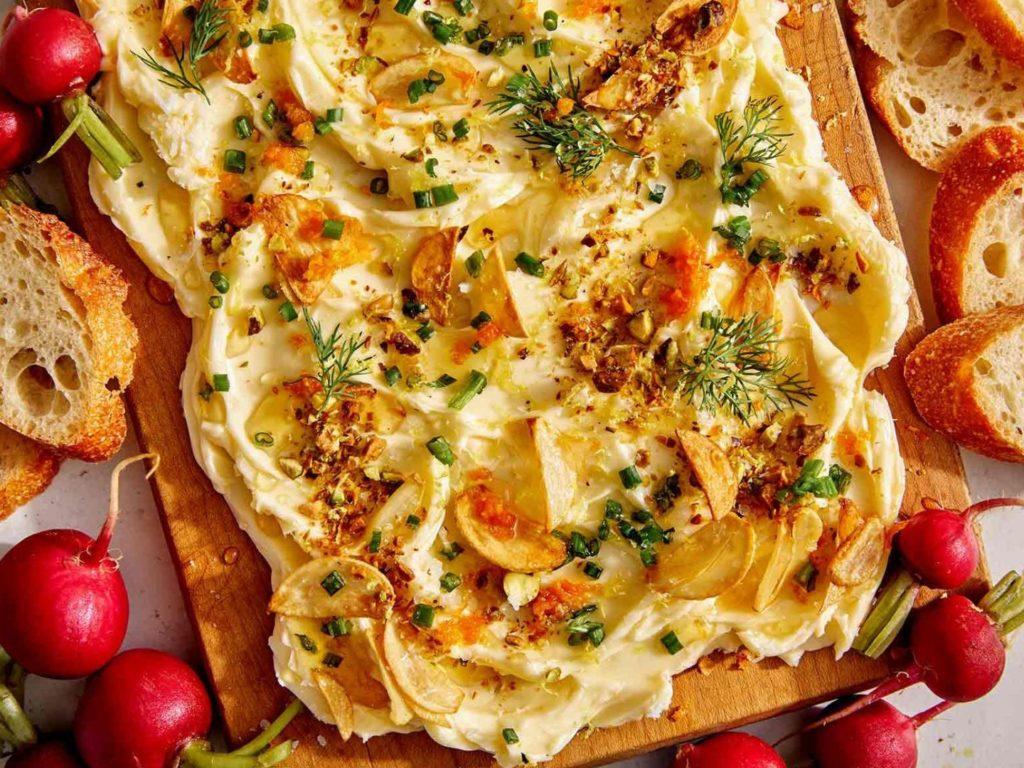 Make sure to leave your butter out to soften for about 1-2 hours before you use it. Using a butter knife, spread your softened butter on your board. Next, drop on as many toppings as you want – there are no rules here. Use however much or however little you want. Remember, we're going for both taste and aesthetics so make sure everything is sprinkled on evenly and looks pretty.
Next, grab the bread or crackers of your choice. I ripped up chunks of ciabatta bread for mine. Dip, eat, repeat. That's it!
Get Creative
While I was wandering the aisles of the grocery store trying to decide what to use, I was also struck with an idea. Because I love cheese (remember how I said I could eat charcuterie every day?) I decided to also make a goat cheese board. Like butter, goat cheese is super easy to work with and is also versatile enough to be both sweet and savory.
Since I was doing savory for my butter board, I decided to make the goat cheese board with a touch of sweetness. Using plain goat cheese, I topped it with dollops of fig jam, chopped pistachios, and the remaining prosciutto. Let me tell you, I could have eaten this with a spoon. It didn't even need bread.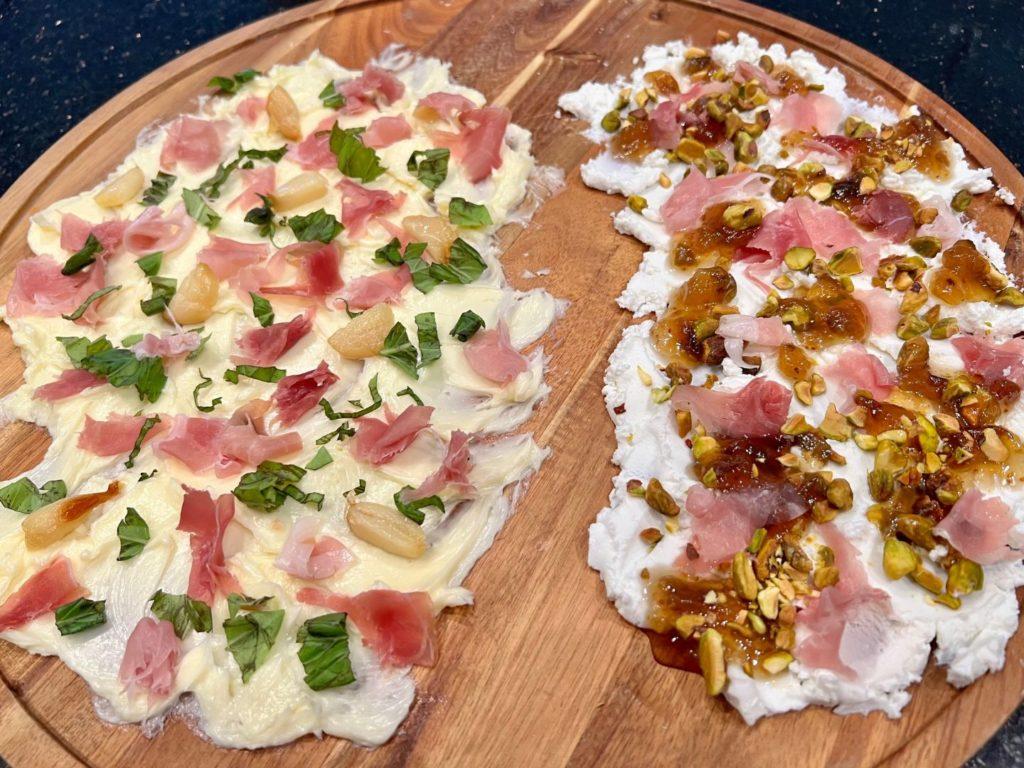 Both boards were fantastic and got big thumbs up from the happy hour crew. I think having both a sweet and savory option was a good touch.
Steal my idea and use this for your Thanksgiving or Friendsgiving gathering!
Upon searching for butter board ideas, I also ran across a brunch board idea that I desperately need to try soon – cream cheese topped with capers, red onion, and smoked salmon. Add some torn up bagels to dip and you've got yourself a deconstructed version of bagels and lox.
Final Thoughts
The beauty of a butter board is that it's so simple – anyone can make it. Whether you're a pro in the kitchen or haven't used your oven in 6 months, butter boards require minimal effort. They're also quick to put together, making them perfect for spur-of-the-moment potluck invites (or for all those times you waited until the last minute…we've all been there).
Also, the type of butter you use matters. It's the star of the show, so now's not the time to skimp on quality. I used salted Irish butter for my board, but any good quality butter (salted or unsalted) works. Definitely visit a local market for your butter board ingredients.
If you're using unsalted butter, consider salty toppers like cured meats, capers, and even rock, pink, or truffle salt. If you're using toppings that need to be heated or cooked beforehand, let them fully cool to room temp before adding them in unless you want a melted butter board.
I definitely recommend jumping on this trend if you haven't already – it's fun, unique, tasty, easy and is the perfect complement to any get together or Christmas dinner table. Get creative and enjoy!