Your lights are up, your tree is trimmed, but that doesn't mean you should have to slave away in the kitchen on Christmas Day! Christmas dinner to go is ideal if you want to enjoy family time at home with just a little less effort. These restaurants are offering holiday meals packaged and ready to go so you can celebrate from the comfort of home.
Christmas Dinner To Go In Tampa Bay
2023 Info TBD
3225 S. MacDill Ave., Tampa, FL 33629
Pane Rustica has a great selection of prepared meal choices and desserts to add extra cheer to your Christmas this year. Beef tenderloin, short rib, duck two-ways and salmon are all on the menu, each served with loaded mashed potatoes and speck-wrapped asparagus. A selection of pies and specialty breads is also available. Prices vary by dish.
Call or visit to order. The deadline is 12/21 with pickup on 12/24.
Tampa: 1700 N. Westshore Blvd., Tampa, FL 33607
St. Petersburg: 131 2nd Ave., N, St. Petersburg, FL 33701
Ruth's Chris has a special holiday takeout menu available for pickup through December 23. Their Festive Favorites menu includes holiday sides to-go including sweet potato casserole, au gratin potatoes, sausage and herb stuffing, and creamed spinach (starting at $2). To-go orders must be placed 48 hours in advance. There's also a sides menu that can be picked up cold and ready to reheat on Christmas Day.
READ: New Year's Day Brunch
Christmas Dessert 
1601 W. Swann Ave., Tampa, FL 33606
Make Christmas goody goody with some of the most famous pies in Tampa. Notorious for their signature Butterscotch pie, Goody Goody will be taking to-go orders for that plus their Chocolate Cream Pie, Coconut Cream Pie, Banana Cream Pie, and their seasonal Milk Chocolate Pecan Pie. They're sure to be the perfect ending to your holiday meal! Orders must be placed online by December 20 at noon.
Cost: $30-$40 per pie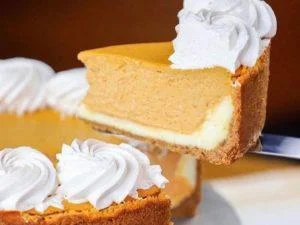 Tampa: 4011 W. Kennedy Blvd. Tampa, FL 336.9
St. Petersburg: 5250 4th St. North, St. Petersburg, FL 33703
Metro Diner wants to make your holiday hosting as stress-free as possible. Whether you're keeping it small or opening up your home to family and friends, their Holiday at Home Feast has options to work with any size crowd. Choices includes baked ham or roast turkey plus items such as mashed potatoes, sweet potato mash, green bean casserole, cornbread stuffing, cranberry sauce, and macaroni and cheese. Orders must be placed by December 22 at 8:00 p.m. for pickup on December 24.
Cost: $16.49 for one serving, $61.99 for four, $119.49 for eight.
2023 Info TBD
10103 Montague St., Tampa, FL 33626
Catch 23 is serving up a special Christmas Eve menu with an array of festive items available for takeout on Christmas Eve. In addition to their regular menu, enjoy your favorite holiday classics, including roasted turkey, spiral honey-glazed ham, and traditional holiday sides. Prices vary based on menu.
READ: Holiday Cocktails & Christmas Pop-Up Bars
Several locations throughout Tampa Bay
The Complete Feast and Dinner Feast — as well as its fan-favorite Ready to Eat Holiday Big Yellow Box, the perfect solution for a smaller gathering. Serving 10-12 guests, The Complete Feast offers cornbread dressing, gravy, baked potato casserole, green beans with bacon, a dozen buttery rolls, and a choice of spiral-cut ham, smoked turkey, or prime rib. Need to feed 8-10 people? The Dinner Feast comes with cornbread dressing, gravy, a dozen buttery rolls and a choice of spiral-cut ham, smoked turkey, or prime rib. Pre-order your Christmas meal online.
If you don't want to bother with clean-up, check out one of the restaurants in Tampa Bay offering Christmas Dinner.
100 Coronado Drive, Clearwater Beach, FL 33767
Celebrate the magic of Christmas with a truly unforgettable experience at Wyndham Grand Clearwater Beach! Indulge in the holiday spirit as you savor an elevated brunch buffet against the backdrop of breathtaking Gulf views from 10am to 2pm. The culinary team has crafted a mouthwatering selection of your holiday favorites, ensuring a feast that will tantalize your taste buds and leave you in the festive spirit. $75 per person.
Christmas Eve Brunch: 10:30am-3pm
Christmas Eve Dinner: 4pm-8pm
Christmas Day Brunch: 10am-3:30pm
Christmas Day Dinner: 4:30pm-9:30pm
2425 N Rocky Point Drive, Tampa
Enjoy the waterfront views as you savor the season at the Rusty Pelican! They are offering Christmas Brunch and A La Carte Christmas Dinner on Christmas Eve and Christmas Day. the four-course brunch includes a wide selection of seafood including oysters and crab, Salt-Roasted Turkey, bone in Rib Eye, and so much more.
Brunch Cost: $86 for adults | $35 for kids | Bottomless Mimosas: $30
Leave the cooking to the experts and sit back and enjoy the view from the Yacht Starship! They are offering Christmas Eve Brunch and Christmas Eve Dinner aboard their downtown Tampa ship and a Christmas Even dinner on the Clearwater ship. The 2-hour brunch features festive music and dancing and of course, a buffet brunch. They are also offering an Ugly Sweater Brunch on December 9 and 16 and Santa Brunch in Tampa on December 10 and December 17, 2023.
Tampa Brunch Cost: $79.95 and up for adults |$54.95 and up for kids
Get even more ideas from our full list of restaurants offering Christmas dinner in Tampa Bay.