French colonialism in Vietnam gave way to a fusion of food that is uniquely delicious. Heaping bowls of pho, fresh vegetables, and fragrant spices all characterize Vietnamese yumminess. Right here in Tampa, local chef BT Nguyen is providing this type of food at any one of her restaurants. The next time you and your significant other are searching for a new dining experience, consider any one of BT's restaurants. With a sit down restaurant, bistro, and to-go option, you and your date can enjoy BT's cooking no matter the occasion.
About French Vietnamese Fusion
The Vietnamese ideal for cuisine is in balancing five taste elements – spice, sour bitter, salt, and sweet. It is also Vietnamese culinary tradition to include balanced nutrients as well as color in their dishes. The resulting dishes are balanced and flavorful and even beautiful to look at! French cooking introduced many ingredients that enhance the already abundant Vietnamese recipes. Corn, potatoes, French bread, white onion, and asparagus are all common French vegetables that are used in Vietnamese cooking today. Together with the French technique of cooking, this mix of ingredients and cooking styles gives way to some truly scrumptious dishes that you must experience on your next date night.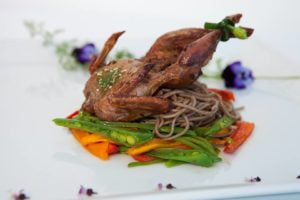 Chef BT Nguyen
Chef BT Nguyen's culinary creations have been chronicled in Bon Appetit, Travel & Leisure and on The Food Network "Emeril's Florida" show. As a native of Vietnam, Nguyen's love of cooking began at a very young age. As a child she watched as her relatives prepared the flavorful, elegant dishes that would become the bases for the cuisine at the BT restaurants in Tampa. Nguyen has a true love of food and a unique ability to blend flavors, fragrances, textures and colors so to create a one of a kind culinary experience.

This is the first of BT Nguyen's restaurants in South Tampa. Restaurant BT offers an updated take on classic French – Vietnamese cuisine. This is an excellent place to consider for date night as the atmosphere and décor is as elegant as the food. Guests can expect white plates, tablecloths and modern décor with accents that reflect the Vietnamese theme. Chef Nguyen has a background in fashion design which she has lent to the tasteful atmosphere of restaurant BT.
The plates presented at the restaurant are as beautiful as the atmosphere. Guests can expect French and Vietnamese classics as well as fusion dishes that incorporate local ingredients. Choose between Coq Au Vin with French baguette or Snapper a la Saigon with curry and Vietnamese herbs. Vegan options are also available.
A delectable dessert and drink menu accents the full dinner menu. You and your date can enjoy Vietnamese inspired sake cocktails and desserts. Make sure to try the Coconut Panna Cotta with a lychee and passion fruit broth!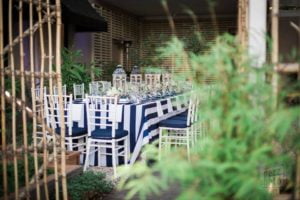 For a more casual atmosphere with the same delicious food, Bistro BT is the way to go. A twist on the classic French tradition of a bistro, this smaller restaurant serves modestly priced home-style meals, wine, and coffee. Bistro BT is meant to be a neighborhood spot that is quick and casual so you have the option of a leisurely lunch, quick bite, or ordering to-go food. You can still order upscale, authentic dishes like Coq Au Vin or Duck Confit, but simpler fare like Banh Mi sandwiches and Pho are also available. Make sure to try the Bistro Papaya Salad.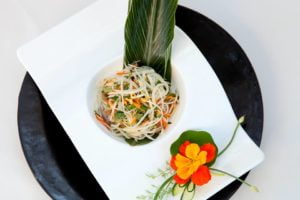 Sometimes you and your number one might just want to take some of this delicious food home with you. If that's the case, the quick BT To-Go spot is a great way to go. What's great about this location is popular lunch dishes available at other BT spots are now available all day. Orders can even be taken out to your car. This spot is laid back, healthy and quick! BT To-go is located just down the street from Restaurant BT.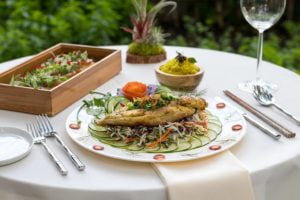 **Also check out their newest location BT in a Box at Sparkman Wharf!
---
Feature Photo Credit: Restaurant BT