Summer is here and that means everyday can be a beach day. We all love packing up some fruit and sandwiches and laying our towels out on the sand, but it can get a little repetitive. Mix up your beach days with boat rentals, jet skis, or paddle boards to get the most out of Summer.
Boat Rentals in St. Pete
Whenever I see someone on a boat, I get super jealous and wish I was cruising right there with them, but then I think about having to clean the boat after and all the maintenance that comes with having a boat, and I change my mind. Renting a boat is a great option if you want to have a fun day out on the water and in the sun, but don't want to have to worry about all the work that goes along with actually owning a boat. Here are some top spots to rent a boat in St. Pete.
With five different boats to choose from, Tierra Verde is a great option to rent a boat from. Tierra Verde has rentals that range from a Waverunner to a 24′ Sundeck boat. You can rent these boats for one hour or all day and the prices are not as high as you might think.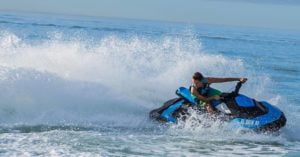 Treasure Isle Boat Rentals has three boats to choose from that will fit any size group you want to spend the day with. The smallest boat fits up to 4 people and the largest fits up to 15. This makes Treasure Isle Boat Rentals the perfect place to rent from for an intimate date on the water or a celebration with a bunch of friends.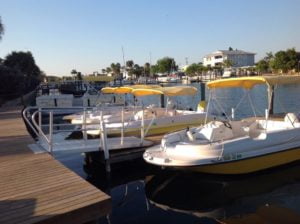 Paddle Board Rentals in St. Pete
If you want to spend your day on the water while being a bit more active then driving a boat, stand up paddle boards are the perfect option for you. As long as you have decent balance, paddle boarding is super fun and makes an adventurous date or group activity.
Paddle board at Treasure Island, Maderia Beach, and Fort De Soto with SUP Escapes. Every rental comes with a short lesson to make sure you have the most fun you can while paddle boarding. An hour rental is only $20, which is super affordable for such a fun activity. If you plan on staying at the beach for a few days, you can rent for the whole week for only $250.
Water Monkey is a super cool place to rent paddle boards from because they do tours to go along with their rentals. Some of these tours are an introductory stand up paddle board lesson, a nature tour, and a manatee tour. You can also just rent a paddle board on your own and not participate in any of the tours.
A great thing about Suncoast Water Sports is that you don't need a reservation to get a paddle board. This works well for people like me who make decisions on a whim. As long as there are paddle boards available, you will be boarding in to time at an affordable cost.
Featured Image Credit: tierraverdemarinaresort.com