In St. Petersburg, Florida, the Birchwood can be found. This beautiful and luxurious hotel offers the area more than just a nice stay. Inside, you can find the Birch & Vine, a restaurant that'll give you a date night to remember for quite some time. If you were looking for the perfect place to take your date to for the next time you go out, you should consider the Birch & Vine. After all, it was voted by the Tampa Bay Times as a top ten restaurant in Tampa Bay, so you know it has to be good.
The Meal
At the Birch & Vine,you'll get a meal you'll love. With many options available for each course, both you and your date are sure to find a dish that calls to you. You can start with appetizers such as pink shrimp cocktail, Korean street corn tamale, cheese slate and quite a few more. For your next course, you can try a dish from the light fares, cuts, or sets section of the menu or choose an entree like Scottish salmon or sweet potato gnocchi. Dessert gives you a variety to choose from, from chocolate to cheesecakes to ice cream and more. If you're a wine lover, this restaurant may just be your heaven with a Wine Wall featuring over 475 of the finest wines around. You can pair your meal with one of these delicious wines and even ask your server for some wine pairing tips if you can't decide.
The Canopy
You can't go wrong with a rooftop lounge! The Canopy located at the top of the Birchwood is perfect for a nice night out enjoying the cooler weather. Here you'll find a variety of good drinks, from frozen drinks to classics to cocktails to many, many wines. You can start your night out at the Birch & wine for dinner then head up to the canopy for some drinks and quality time together.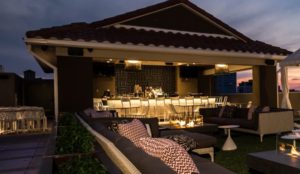 Feature Image Credit: thebirchwood.com