Although many of our favorite monthly events have gone virtual for our safety, there are still lots of ways to connect with your honey. Virtual Zumba, a free screening of Avengers Infinity War, and a fun murder mystery musical are some of our top picks for August events in Tampa Bay.
Note: The City of Tampa as well as Hillsborough County have recently issued emergency executive orders requiring face coverings when out and about, which you can read more about here and here. As always, we urge you to keep your distance, wear a mask, and sanitize/wash hands as often as possible!
August 1 – 9
Busch Gardens Summer Nights
Weekends; July 17 – August 16
Busch Gardens
Feel the spark after dark at Busch Gardens' Summer Nights, featuring a NEW laser and fireworks show, tasty seasonal eats, and extended park hours to coast through the night on Florida's best thrill rides every Friday, Saturday and Sunday from July 17 to August 16.
Included with park admission. Food and beverages available for an additional charge.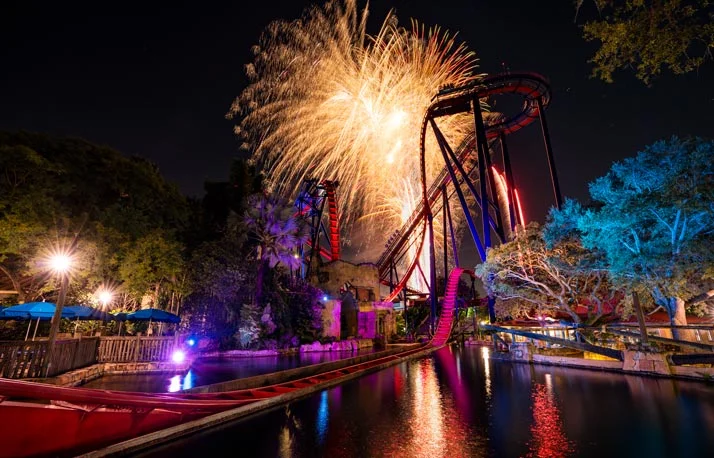 Casting Crowns Drive-In Show at Silver Moon Drive-In
Saturday, August 1, 7:15pm
Silver Moon Drive-In
Deeply missing live music shows but want to abide by social distancing measures? A Drive-In show offers you the best of both worlds. You can make this a group date night as up to six people can attend in your car to see Casting Crowns at the Silver Moon Drive-In in Lakeland.
$75-$175
Tampa Virtual Game Night
Select dates through September 13
Virtual event
Let's Roam's Virtual Game Night makes it easy for you to have an epic game night any night. You'll take on five rounds of fun games through Let's Roam's next-level video call software. Games include 8,000+ trivia questions, charades, Let's Draw (virtual Pictionary), and many more.
7 Day Free Trial, then $19.99 per month
Downtown St. Pete Sightseeing/Scavenger Hunt Tour
Weekends in August and September
Grab a buggy or scooter (rented separately for additional cost) and get ready to have some fun! The Self Guided Tours and Scavenger Hunts will take you and your travelers throughout your choice of Downtown St Pete or St Pete Beach and Treasure Island.
$39 per group, $19 with additional buggy or scooter rental
New & Noteworthy Virtual Book Club
Tuesday, August 4, 6:30pm
Oxford Exchange
Oxford Exchange's virtual book club highlighting New and Noteworthy books. August's selection is The Vanishing Half by Brit Bennett. Don't have a copy yet? Purchase Book Club books here.
FREE
Virtual Zoomba in the Park
Tuesday, August 4, 6pm
Virtual Event
In partnership with the Downtown YMCA, instructor Meagan Simmons leads all ages of attendees in Zumba, a Latin-inspired dance and cardio workout you can do at home! Check their Facebook page on Tuesday for the Zoom link to the class.
FREE
Virtual Coffee with a Curator: "Dalí and Catholicism"
Wednesday, August 5, 10:30am
Virtual event
Curator of Education Peter Tush presents "Dalí and Catholicism." Salvador Dalí was raised by a devout Catholic mother and an outspoken atheist father. Throughout his career, Dalí's art vacillates between shocking blasphemous images and beloved devout images. Providing context to our current "Sacred Science" exhibit, this talk explores the radical shifts in Dalí's depiction of religious subject matter, weighing it against paradoxical religious pronouncements he made throughout his career.
FREE
A Killer Party – A Murder Mystery Musical
August 5 – 19
A collaboration between more than 40 Broadway professionals all working together remotely, A Killer Party is not only a new musical but represents a new type of musical. With a purchase of the series, you support these artists "on stage" and behind-the-scenes, while they provide laughter and levity during this time of new ways to create and support art. A portion of your purchase price will also support The Straz.
Yoga – Wellness at the Wharf
Wednesday, August 5, 6-7pm
Sparkman Wharf
Wellness at the Wharf, hosted by Bella Prana. Unwind Wednesday with good company at our mid-week Slow Flow yoga class. This class will take place on the Wharf. Please provide your own mat, towel and water. All mats will be placed 6ft apart with markers made by their team.
FREE Admission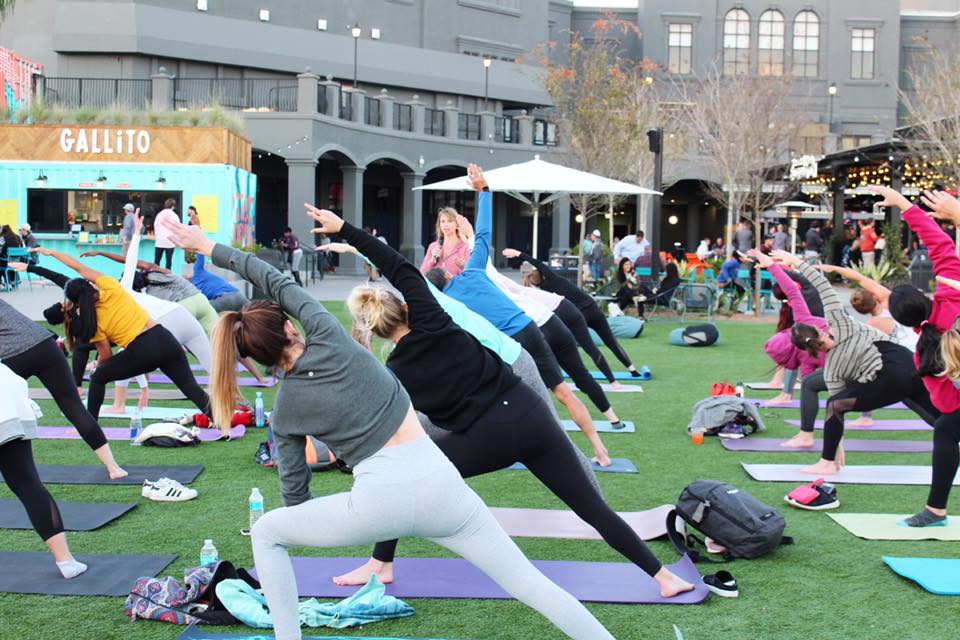 Movies on the Lawn: Avengers Infinity War
Wednesday, August 5, 7-9:30 pm
Sparkman Wharf
Movie on the Lawn featuring: Avengers Infinity War August 5th at 7:00pm. This event is open to the public and free to attend. Sparkman Wharf seating is first-come, first-serve. Outside furniture is not allowed, must sit on onsite furniture placed 6ft apart.
Barre Class with Pure Barre Tampa
Thursday, August 6, 6-7pm
Armature Works
The Pure Barre Tampa Studio and Armature Works have teamed up to present a high intensity, low impact full-body workout focused on toning and lengthening your muscles. Class will be held outdoors on our West Lawn, is free to attend, and capacity will be reduced. All attendees will be spaced 6ft apart to adhere to social distancing and an Armature Works representative will instruct you where to place your mat. Space is first-come, first-served. Early arrival is suggested.
FREE
Virtual Rock The Park w/ HGWT, Tribal Style, Brian Wilkinson
Thursday, August 6, 7-10pm
Virtual event
Rock the Park Tampa is typically held at Tampa's Curtis Hixon Waterfront Park on the first Thursday of each month. For 10 years RTP has produced a free monthly music series showcasing musical talents of all genres. In these changing times, we've decided to continue to bring a live musical experience via a LIVESTREAM from an awesome location. You can tune in live from Rock The Park Tampa's Facebook page.
Riverview Food Truck Rally
Friday, August 7, 6-9pm
Summerfield Crossings Golf Club
Food trucks, bars, music, vendors, and free parking.
FREE Admission, food and drink prices extra.
Summer Friday Flick: Muppet Treasure Island
Friday, August 7, 7-9pm
Carrollwood Cultural Center
The Carrollwood Village HOAs will present a Summer Friday Flick with a free screening of Muppet Treasure Island. Please RSVP with Aaron Washington at [email protected] to help ensure social distancing.
FREE Admission
Virtual Beer Fest
Saturday, August 8, 6pm
Virtual event
On Saturday, August 8, Tampa Theatre will host its 9th annual BeerFest in a brand-new way. Groundhop Day will still feature some of the best craft-brewed beers from around Tampa Bay, but instead of coming to Tampa Theatre to try them, we'll package up a tasting 12-pack for you to take home.
Grand sampling boxes are $55 and premium boxes are $75
Girls Night Out Comedy Show
Saturday, August 8, 8-10pm
Carrollwood Cultural Center
Girls Night Out Comedy Show features an all-female line-up of hilarious women. For this installment, we are pleased to welcome headliner Traci Kanaan along with Trish Keating and Catherine Maloney.
$15-20
Colette Bancroft & Guest Writers | Tampa Bay Noir
Sunday, August 9, 2pm
Virtual event
Oxford Exchange
Join Colette Bancroft and Guest Authors online as they discuss Tampa Bay Noir, a collection of short stories by local authors that take place in Tampa Bay.
FREE
August 10 – 16
Oxford Exchange Book Club
Tuesday, August 11, 6:30pm
Oxford Exchange
Join OE for their book club discussion of Tender is the Night by F. Scott Fitzgerald. Beer, wine & lite fare served.
$28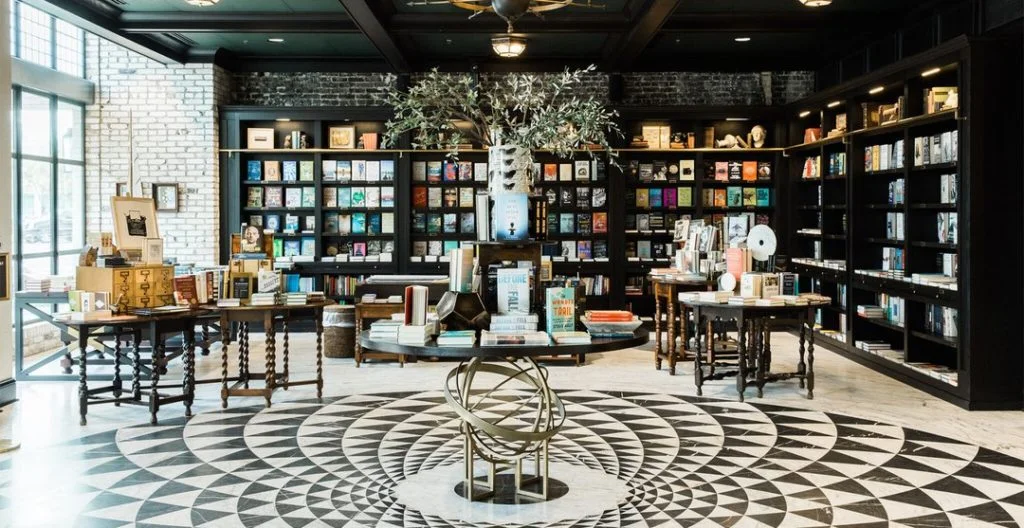 Movies on the Lawn: Captain Marvel
Wednesday, August 12, 6:30-9:30 pm
Sparkman Wharf
Movie on the Lawn featuring: Captain Marvel August 12th at 6:30pm This event is open to the public and free to attend. Sparkman Wharf seating is first-come, first-serve. Outside furniture is not allowed, must sit at property furniture placed 6ft apart.
FREE
Think + Drink ONLINE
Wednesday, August 12, 7-9pm
Virtual event
Tune in on Zoom along with world-famous photographer Clyde Butcher during a virtual think+drink / science. Mr. Butcher — known as the Ansel Adams of Florida — will discuss the stunning images now on display at The Bishop in their special exhibition of his work, Myakka River: A Florida Treasure. This series of 30 photographs capture the spirit of a primal, exotic place and allows visitors to immerse themselves in the beauty, complexity, and diversity of vital freshwater areas. The presentation will be followed by Q&A.
$3-5
Reader Meet Writer with Sarah Broom & Imani Perry
Thursday, August 13, 8pm
Virtual Event
Oxford Exchange is bringing authors to your living room! The next author in the SIBA Reader Meet Writer series is Sarah Broom in conversation with Imani Perry, discussing Broom's book The Yellow House.
FREE
Ronnie Dee & The Superstars
Saturday, August 15, 8pm
Parkview Terrace
$80 table of four
ECO Paddleboard Tour
Sunday, August 16, 9:45am
3090 Gandy Blvd N, St Petersburg
One of Urban Kai's experienced instructors will guide you through a variety of habitats in hopes of seeing some of our unique wildlife. The paddling trail provides an up-close look at these amazing ecosystems and seagrass beds. Board rental includes a paddle, leash & life jacket.
$45
Eric Jay Dolin
Sunday, August 16, 4pm
Virtual event
Join Oxford Exchange online as best-selling author Eric Jay Dolin tells the history of America itself through its five-hundred-year battle with the fury of hurricanes in his book A Furious Sky.
FREE
August 17 – 23
Reader Meet Writer | Adam Rutherford
Tuesday, August 18, 3pm
Virtual event
Oxford Exchange is bringing authors to your living room! The next author in the SIBA Reader Meet Writer Series is Adam Rutherfors, author of How to Argue with Racists.
FREE
Movies on the Lawn: Avengers End Game
Wednesday, August 19, 6:30-9:30 pm
Sparkman Wharf
Movie on the Lawn featuring: Avengers End Game August 19th at 6:30pm This event is open to the public and free to attend. Sparkman Wharf seating is first-come, first serve. Outside furniture is not allowed, must sit on property furniture spaced out 6ft apart.
FREE
3rd Thursday Tampa
Thursday, August 20, 6-10pm
Grand Central at Kennedy
This event is a gourmet Food Truck event featuring Live Music and Cocktails provided by the Pour House Tampa. Located on Madison Street at Grand Central at Kennedy in the center of the Channel District of Downtown Tampa!
FREE, food and drink prices vary
Yoga on the Water SUP Class
Sunday, August 23, 10am
13090 Gandy Blvd N, St. Petersburg
This gentle class will cater to all ability levels, whether it is your first time on a SUP or practicing Yoga or if you are a well versed yogi. The goal is to introduce you to a fun, playful experience while receiving the amazing benefits of SUP and Yoga.
$30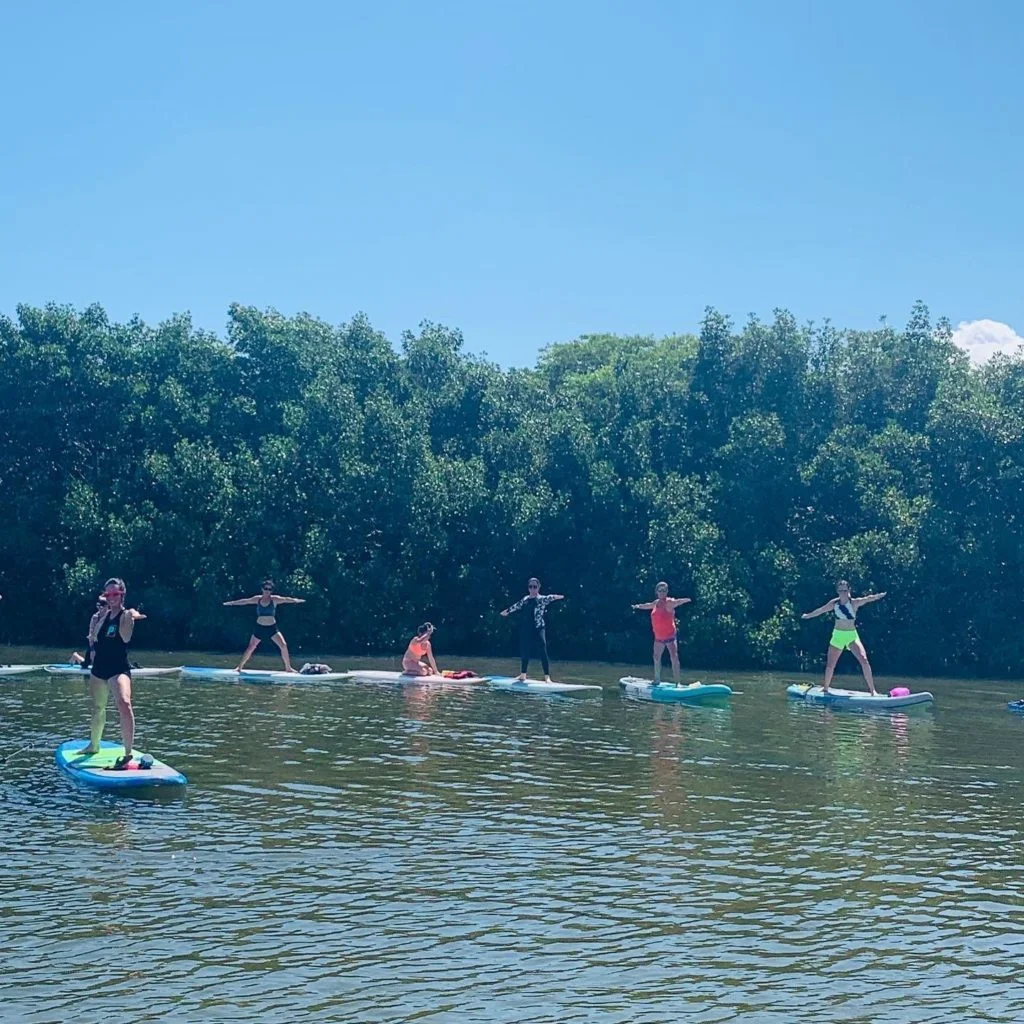 August 24 – 31
Sunset Sips & Small Bites
Wednesday, August 26, 5-11pm
M. Bird
Enjoy three 6 oz. craft cocktails perfectly paired with three small bites. Email [email protected] to RSVP.
$30/person
VIRTUAL TOURS AND EXPERIENCES
Tampa Theatre Virtual Cinema
While the historic auditorium remains dark in the face of COVID-19, Tampa Theatre continues to look for ways to provide unique cinematic experiences for our fans and friends. Tampa Theatre Virtual Cinema is a collection of new, first-run and curated classic movies released via streaming platforms by our film distribution partners exclusively for art-house audiences.
Virtual ticket: $12
Let's Roam – Date Night at Home
These in-home scavenger hunts allow you to "choose your own date adventure" and help couples deepen their connection. All you need is your phone! The interactive Let's Roam app will present you with a series of challenges and questions ranging in difficulty and point value. Work through the challenges in any order and have fun.
Monthly subscriptions start at $14.99/month, or $19.99 for a one-time scavenger hunt
Morean Arts Center: Create with the Morean Arts Center Virtually
Enroll in classes such as photoshop for photographers or enjoy one of the two virtual tours available.
Virtual tours are FREE, classes are extra
On-Demand Classes & Workouts
YMCA of Greater St. Petersburg
Enjoy a number of complimentary virtual exercise offerings for those who want to stay active at home during this time.
FREE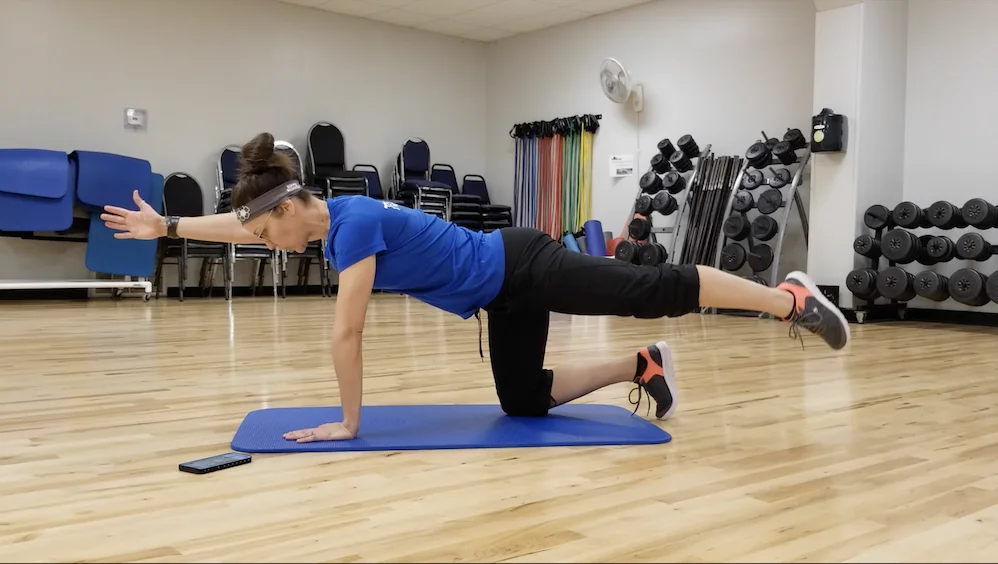 Imagine our Florida's Virtual 5K
Run or walk at your own pace for this fundraiser benefiting Imagine our Florida. Once you sign up, you'll receive a link to self-report your time. You can run on a treadmill, around the block, or even out in nature. You have until December 31, 2020, to complete your run.
$25
17th Annual Save the Manatee 5K – Virtual
Run, walk, bike, swim, kayak, or hike your favorite course and receive the manatee t-shirt, finisher's medal, and race bib in the mail. All proceeds are donated to the Save the Manatee Club.
Florida Aquarium SEA-SPAN
The Florida Aquarium is allowing you to continue to "sea" what they're up to while the aquarium is closed. Check the aquarium's Facebook page for daily Facebook Live videos including stingray and baby gator feeding and a wetlands tour. Past broadcasts can be found here.
FREE
Tampa Museum of Art – Museum From Home
Tune in and learn new insights from artists, curators, and educators about the artwork at the Tampa Museum of Art. Through these engaging online educational activities, we present new ways to experience, connect, and create with TMA.
FREE
Virtual Tours
Audio Tour of Ybor City
Enjoy history from 15 notable points along Ybor City, including Columbia Restaurant, Centennial Park, and Tabanero Cigar Factory.
FREE
The Ringling's Museum from Home
The Ringling is allowing you to tour the Bayfront Gardens from the comfort of your home, view Art Chats, send a digital postcard, explore over 100 different species of trees using TreeKeeper, and more! You can also find Ringling archives, Ringling staff favs, and the object of the week posts on The Ringling's Facebook page.
Shine Mural Festival Virtual Tour
Explore St. Pete's multitude of murals from the comfort of your home via the SHINE Mural Festival Virtual Tour. The virtual tour allows you to see photos, watch videos and find out about the artist and the artwork.
FREE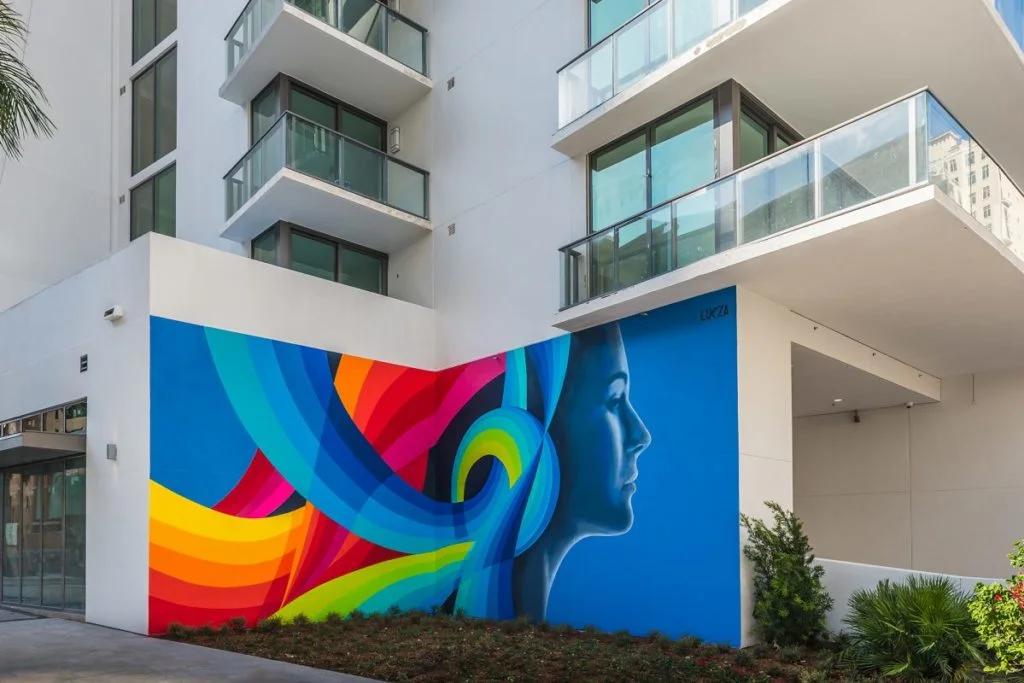 Dalí Museum 360: Virtual Tour
The Dalí Museum is offering a free 360 virtual tour, which includes 360 viws of the gallery, community room, cafe, museum store, and the picturesque top floor.
FREE
Florida Holocaust Museum: Virtual Tour
The Florida Holocaust Museum is offering virtual tours available through their website. This virtual exhibit is a collaboration between The Florida Holocaust Museum and the University of South Florida's Tampa Library and Department of History. The goal of the project is to bring the historical and educational resources and the visual experience of the Museum's permanent exhibition to a wider audience and to preserve the content of the exhibition.
FREE
Tampa Bay History Center: Museum From Home
The Digital Heritage and Humanities Collections at the University of South Florida Libraries in partnership with the Tampa Bay History Center is using the latest in digital and mapping technologies to create a virtual presentation of objects, architecture, and museum exhibitions. You'll be able to see artifacts in 3D, tour exhibits, and watch a number of educational videos.
FREE
---
Want more date ideas? Here are some of our favorites:
Featured image credit: Urban Kai