Who doesn't love noodles? Especially Asian noodles! While it may not be as abundant as one may prefer, there are quite a few "Noodle Bars" in the Tampa Bay area that are serving up delicious Asian style noodle bowls for your pleasure. Check out our list of local noodle bars and be sure to try them all to find your favorite!
Head over to Asiatic to enjoy delicious Asian style cuisine in the heart of Ybor City. All dishes here are made to order full of wonderful spice-aromatics that are perfect for your palate. At Asiatic, you can enjoy fresh, quick, and simple dishes that will get you as close to Thailand as possible without actually leaving Ybor. Their noodle options are long and include bowls such as Pho, Thai Boat Noodles, Udon Bowls, Phad Thai, and SO much more.
Located at the Hard Rock Bar & Casino on Orient, Jubao is a great spot to enjoy an Asian fusion of Cantonese and Vietnamese flavors. Their restaurant was newly renovated and now seats 44 people with a contemporary design and beautiful décor. Enjoy traditional Asian ingredients and wok-style cooking and choose from a variety of small bites, noodle soups, wok entrees, and more. This hot spot is open for both lunch and dinner so stop in and order a bowl…or two!
Ichicoro is an Asian chain with differing restaurants such as Ichicoro Ramen, Ichicoro Imoto, and Ichicoro Ane. Each spot pays homage to the other with delicious Asian noodle dishes served up hot and fresh just for you! No matter where you are in the Bay area – there's an Ichicoro for you. Check out each of their restaurant sites and enjoy all that Ichicoro has to offer.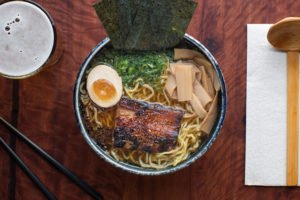 Take a trip downtown to Fusion Bowl for a Vietnamese fusion! If you didn't already know, Vietnamese food is one of the most healthy food options in the entire world. At Fusion Bowl, dishes are prepared on-site every single day with their most popular food item: Pho. Read what they have to say on this dish: "It's our house special soup made with chicken or beef bone simmered for over 8 hours, flavored with ingredients such as coriander and ginger. Serve with rice noodles, fresh herbs, and vegetables. This aromatic soup is very popular in Vietnam and ours is considered the best in town!" Be sure to stop in and see for yourself if their Pho is the best!
Head over to JC Noodle House for an authentic Japanese and Chinese style cuisine. They take pride in their convenience and deliciousness and offer both dine-in and take-out options with hibachi and bento meals too! They offer Lan Zhou Handmade Noodles and Japanese Ramen to satisfy that Asian noodle craving. Be sure to stop in and see what all of the fuss is about at JC Noodle!
Head over to Carrollwood and take a bite out of Simply Pho! There you will find a fast-casual and contemporary Vietnamese style eatery. Their menu consists of many differing Vietnamese options with Pho being their signature item. There you can order Kobe Beef, Filet Mignon, Pho Special, Seafood Pho, Shrimp Pho, Chicken Pho, and so much more. Their Pho menu is truly unmatched. They also offer Hu Tieu or Mi which is a traditional noodle soup with 7 different options. Other noodle options include Vermicelli, Stir-Fried Noodles, and Chefs Specials with noodle options. If you're truly in the mood for noodles, check out Simply Pho!
Wooden Ladle is a noodle shop that opened in May 2017 as a sister company of Zen Bistro. Located in Oldsmar, Wooden Ladle offers a blend of Asian dishes with local craft beers and a menu that changes with the seasons. At Wooden Ladle, guests can order Pho or Ramen as well as other small plates, Poke, and more!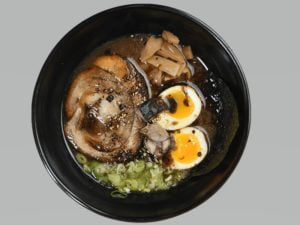 Featured Noodle Bars Image Credit: Asiatic Street Food + Noodle Bar