Although they may seem outdated to some, records are still an incredibly fun way to listen to music. They have also become more popular in recent years due to their excellent sound quality, as well as the joy that comes with picking out old albums in vinyl shops. Couples in Tampa Bay can hop on this record train by visiting the following vinyl shops for next date night.
The Sound Exchange
Located in Tampa, The Sound Exchange opened its doors in 1987 and has been providing a wide selection of records to music loving couples ever since. With excellent service and great prices, The Sound Exchange is one of the most popular record stores in the Tampa Bay area. In addition to records, this shop also offers tapes, DVDs, video games, vintage stereo equipment, books, collectible figures, and more. They will also buy your old records, so if couples are looking to trade in some overused records for some new ones, The Sound Exchange is the place to go. Based off reviews, couples can get lost in the plethora of merchandise The Sound Exchange has to offer. With that being said, this is a perfect date idea for a rainy day.
Due to increased popularity, in 2001 The Sound Exchange opened up a second location in Pinellas Park. Either location is a great spot for your next date with your loved one.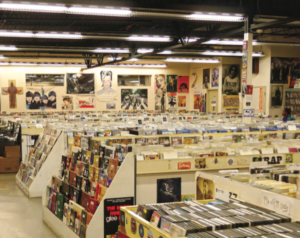 Tampa Address: 14246 N Nebraska Ave, Tampa, FL 33613
Hours:
Mon – Sat: 11 am – 9pm
Sunday: 11 am – 7 pm
Pinellas Park Address: 8625 66th St N, Pinellas Park, FL 33782
Hours:
Mon – Thurs: 11 am – 8 pm
Fri – Sat: 10 am – 8 pm
Sunday: 12 – 6 pm
Clearwater Record Show
Clearwater Record Show is the home of an immense variety of records. From funk to jazz to rock n' roll, Clearwater Record show is the place to go if you are in the Clearwater area. Based off reviews, the prices of the records are more than reasonable and you and your loved one will leave with not only many amazing records, but also a still-full wallet. Each week, this record store stocks up on "one of a kind" records. In addition to selling records, Clearwater Record Show also buys old records from couples and offers the opportunity to trade these records for new records. This funky shop is the perfect stop for music lovers next date night!
Address: 1610 N Hercules Ave g, Clearwater, FL 33765
Hours:
Wed – Sun: 10 am – 5 pm
Mojo Books and Records
Located in Tampa right by USF, Mojo Books and Records is a great record shop for couples to check out next date night. Originally created as a bookstore, this funky record shop is full of old books and old vinyl for couples to enjoy. Some genres of records that Mojo Books and Records include the following: classic rock, indie punk, jazz, soul, reggae, electronic, and more. The records are extremely cheap, starting at $1 a record, making this an extremely affordable stop for couples. In addition, while couples are rifling through old tracks, they can enjoy a cup of coffee or tea from Mojo's unique coffee bar, as well as the occasional live music performance.
Like the other shops described, Mojo Books and Records also buys old records off couples, giving them cash to either spend in their store or elsewhere if they prefer!
Address: 2540 E. Fowler Ave, Tampa, FL 22612
Hours:
Mon – Sat: 10 am – 10 pm
Sunday: 11 am – 7 pm
Daddy Kool Records
Located in the heart of St. Pete on Central, Daddy Kool Records is the perfect record shop if you and your loved one are in the St. Pete area. St. Pete is a funky and happening city and this record shop really encompasses the vibes of the area. More than just a record shop, Daddy Kool Records claims they "are music," offering couples with used and rare vinyls, CDs, concert tickets, t-shirts, posters, and more. With hard to beat prices, Daddy Kool is one of the more affordable record shops around, complete with friendly staff willing to go the extra mile to make sure you get the record you and your loved one are looking for. In addition, Daddy Kool will buy or trade couples' old records.
Address: 666 Central Ave, St. Petersburg, FL 33701
Hours:
Mon – Sat: 10 am – 8 pm
Sunday: 12 pm – 5 pm
Microgroove
Microgroove is a funky independent record shop located in Seminole Heights of Tampa offering a wide variety of records from different genres, as well as CDs, cassettes, turntables, and accessories. What makes Microgroove unique is their commitment to promote local music, as they offer many locally and regionally released vinyls to couples. Check out this fun record shop next date night to either buy, sell, or trade records with your loved one!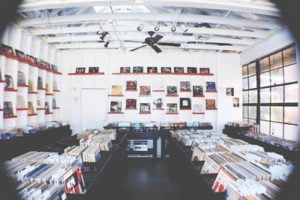 Address: 4906 N. Florida Ave, Tampa, FL 33603
Hours:
Mon – Sat: 12 pm – 7 pm
Sunday: 12 pm – 5 pm
No vinyl is the same, just like no couple is the same. Grab your loved one and check out one of these record shops next date night!