WELCOME TO 14 DAYS OF LOVE GIVEAWAY 2023!
Why celebrate Valentine's Day on just one day? Tampa Bay Date Night Guide's annual giveaway extravaganza is back this year with the return of our 14 Days of Love Giveaway.
Leading up to Valentine's day in February, a different winner will score one of the spectacular prizes below.
Drawings will begin Wednesday, February 1, 2023, and we'll contact the winner through email. There are no substitutions of prizes. Winners will be drawn around noon each day for that day's prize.
This year there are MULTIPLE ways to enter!
Enter up to 3 times for each day's prize
Main Entry: Sign up via email below to be entered once into all drawings.
Bonus Entries: Come back to this page every other day to sign up for the "bonus entry" for that day's prize.
Newsletter Bonus Entries: If you have signed up on our main entry form you will receive special newsletters with "bonus entry" opportunities! So keep an eye out February 1-14!
---
Enter Now via Email
[gravityform id="18″ title="false" description="true"]
---
RULES & FINE PRINT
All entries are automatically added to Tampa Bay Date Night Guide's newsletter subscriber list. All winners are chosen completely by random using the random number generator at Random.org. No exchanges, cash alternatives or substitutions for prizes. You get what you get, and you don't get upset! NO PURCHASE NECESSARY. Void where prohibited. Open only to individuals who are, as of entry date, legal residents of, and physically located within, the U.S. and Puerto Rico and who are not minors. Sweepstakes drawing starts 12:01 AM (ET) on 1/1/23 and ends 11:59 AM (ET) on 2/14/23. The Sweepstakes is made up of 5 sweepstakes. Winners will be notified via email. If the winner cannot be contacted or does not claim the prize within 72 hours of being announced, we reserve the right to withdraw the prize from the winner and pick a replacement winner. Official rules are at the bottom of this page.
---
Thank You to Our Sponsors!

---
Wednesday, February 1
**WINNER: Kristin Calvert (1/31/2023 19:04:00)**
Tickets are Lower-Level Tickets to the game on 2/21 vs. Anaheim Ducks, and One Autographed Jersey signed by Victor Hedman! ($500 Value)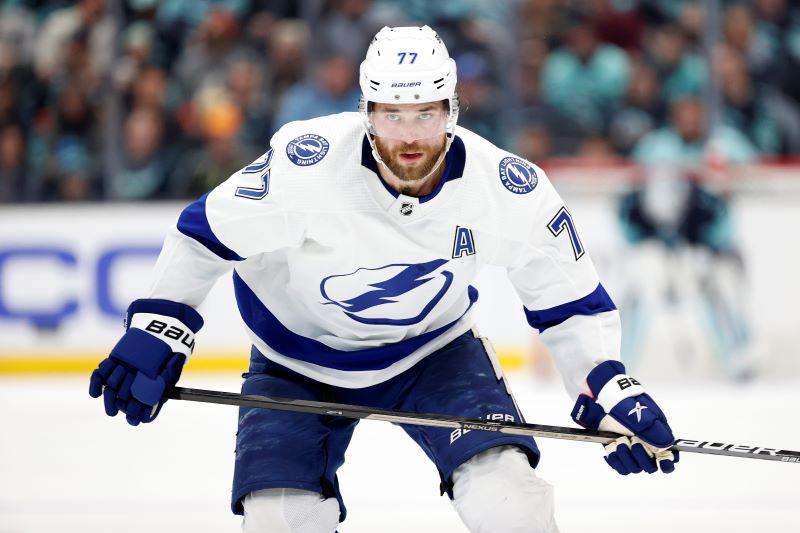 ---
Friday, February 3
**WINNER: Joseline Umana (1/18/2023 15:22)**
You've never been to a spa like this! Pampering for you and a guest: You'll enjoy a relaxing soak with your honey in the hops-filled soaking tubs, followed by a detoxifying sauna session, and a roll in the hay. All of this while enjoying tasty brews (and wine) from a local brewery on tap! (Gift Certificate value $250, to be used by 7/31/23).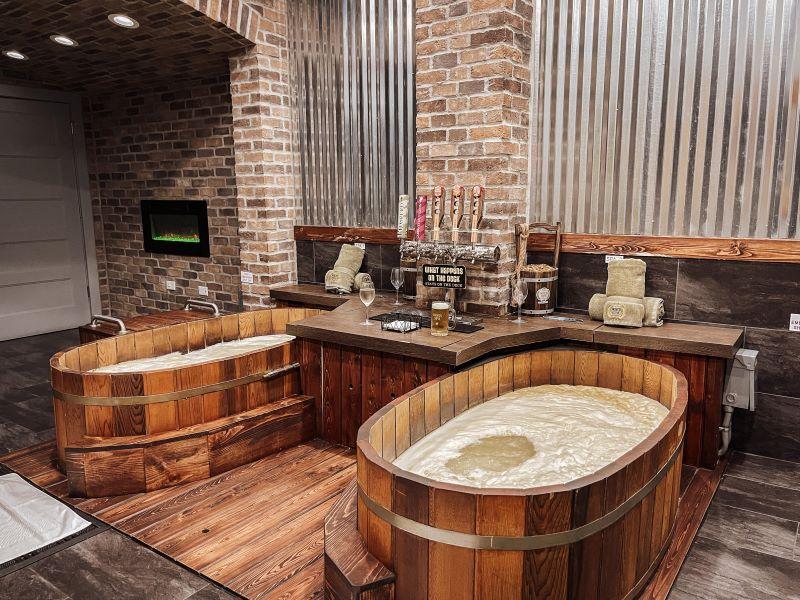 ---
Thursday, February 9
**Winner: Jomaris Jones (1/31/2023 19:43:00)**
Win a pair of tickets to the screwball hair-salon-whodunit that everybody loves: Shear Madness at 7:30pm on Friday, February 24. Audiences figure out the crime by following the clues and even questioning the suspects. Clues change every night, so audiences never know who the murderer will be until the end of the show. Seen by more than 12.5 million people worldwide, SHEAR MADNESS is the wash-and-go criminal caper that delivers the perfect cut every time. ($100 value)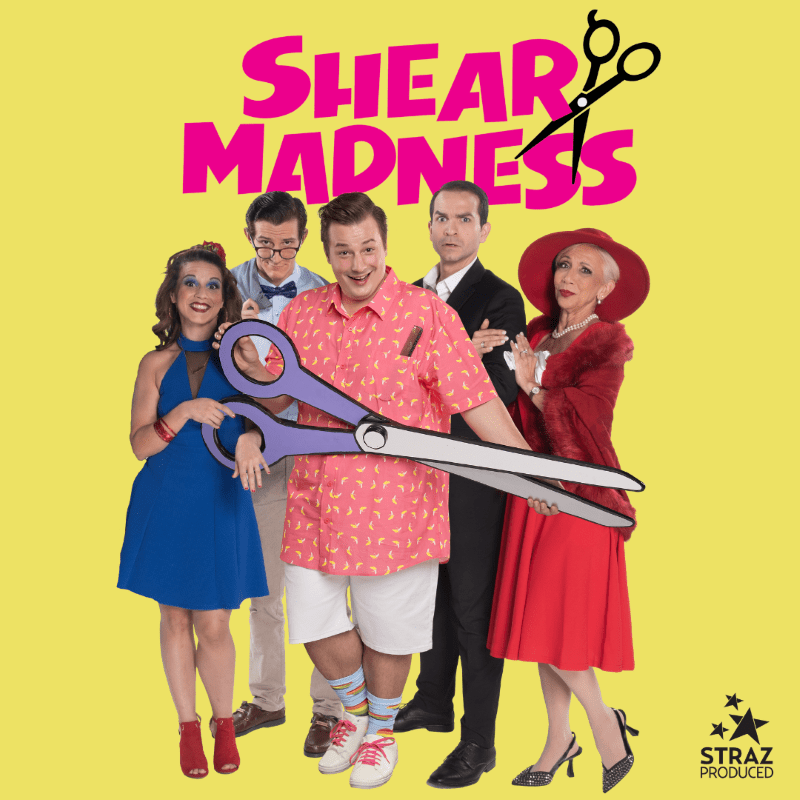 ---
Saturday, February 11 
**Winner: Erin Talanda (2/1/2023 20:06:00)**
Wild Florida is giving away a day full of adventure for two, just for Tampa Date Night Followers! You and your valentine will start your adventure by taking cute selfies Alvin, Simon and Theodore during your capybara encounter. After that, you'll hit the road to their Drive-thru Safari Park and come up close to wild and exotic animals. Then, end your day by feeding Wild Florida's tallest residents. ($170 Value)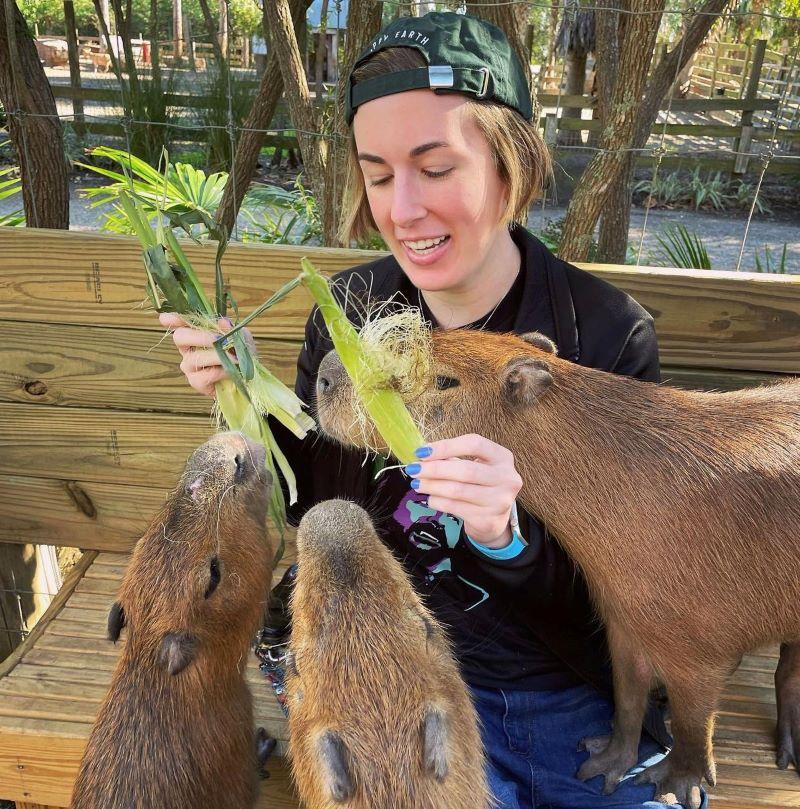 ---
Monday, February 13
**Winner: Kelly Jones (2/2/2023 13:39:00)**
Win a Date Night at Topgolf!
Get a bay with bae and play! Mix it up this Valentine's Day and take your date to Topgolf for food, fun, and drinks. ($200 value)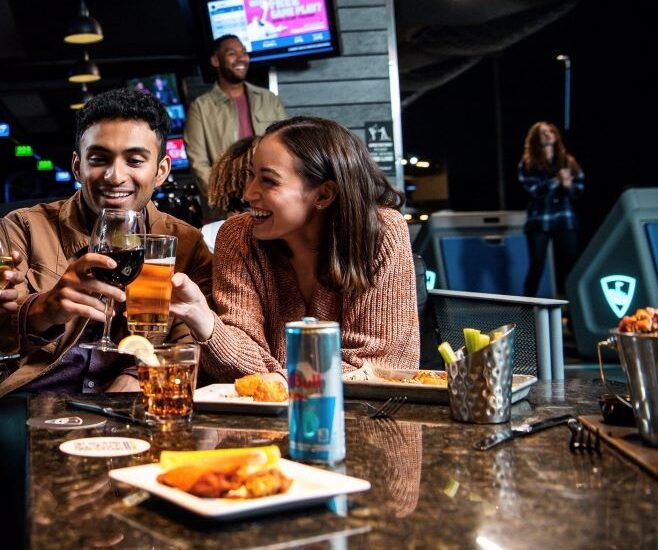 ---
14 Days of Love Official Rules
NO PURCHASE NECESSARY TO ENTER OR WIN, NOR WILL A PURCHASE IMPROVE ONE'S CHANCES OF WINNING.
Participation in the Tampa Bay Date Night Guide's 14 Days of Love contest (the "Contest") constitutes contestant's full and unconditional agreement to, and acceptance of, these Official Rules. The Contest is intended for play in Florida only and is void where prohibited. Do not participate if you are not eligible and located in Florida at the time of entry. The Contest area ("Contest Area") consists of the following Florida counties: Hillsborough, Pinellas, Pasco, Polk, and Hernando. Void outside Contest Area and where prohibited.
Eligibility: Contestant must be a legal US resident, residing in the Contest Area and at least 18 years old as of the Contest start date. Employees of Tampa Bay Date Night Guide ("Sponsor"), and individual prize providers, and of their respective parents, subsidiaries, and affiliated companies, and of any other entities associated with the Contest (collectively with the Sponsor, the "Promotion Parties"), and the members of those individuals' immediate families (defined as spouse, parents, siblings or children and their respective spouses) and households, are not eligible to enter or win. The term "household" includes all persons residing together in a single residence, whether or not related. Winning a prize is contingent upon fulfilling all requirements set forth herein.
Entry Period: The Contest is a series of 7 drawings that will occur February 1 through February 14, 2023. The entry period for the Contest begins on January 1, 2023 at or around 12 a.m. ET and ends on February 14, 2023 at or around 11:59 a.m. ET (the "Entry Period"). The Contest will be divided into 7 separate drawings taking place every other day February 1-14, 2023. The entry window for each day's drawing begins with the beginning of the Entry Period and will end on at or around 11:59 a.m. ET on that day. For instance, the Entry Period for the February 1, 2023 drawing begins January 1, 2023 and ends at 11:59 a.m. ET on February 1, 2023, and for the next drawing on February 2, 2023, the entry period ends at 11:59 a.m. ET on February 2, 2023. Each subsequent day, that day's Entry Period will end at 11:59 a.m. ET on that day.
How to Enter:
Email Entry Method: To enter via email ("Email Entry"), go to tampabaydatenightguide.com/valentines-giveaway and follow the instructions to submit your email address. Submitting your email address will enter you in all daily drawings where the daily entry period has not already occurred. For example, if you enter your email address as instructed at noon on February 1, 2023, you will be entered in each daily drawing starting with the February 2, 2023 drawing and continuing each day through the February 14, 2023 drawing. Duplicate email addresses will be discarded and you will not improve your likelihood of winning by entering the same email address more than once.
Entries will be accepted for each day's drawing using the Email Entry method until 11:59 a.m. ET each day. Sponsor will not accept screen shots as proof of entry. Any use of robotic, repetitive, automatic, programmed, script, macro, or any other automated means or similar entry methods or agents (including, but not limited to, contest-entry services or multiple or different email addresses, identities, registrations or logins) is prohibited and will void all entries submitted by that entrant if discovered by Sponsor. Each Email entry must include a valid email address for the entrant. Sponsor is not responsible for electronic communications that are undeliverable as a result of any form of passive or active filtering of any kind. If there is a dispute as to the identity or eligibility of a winner based on an email address or Instagram user id, the entry will be deemed made by the "Authorized Account Holder" of the email address or Instagram account used for entry. The Authorized Account Holder is the natural person who is assigned to the email address by the relevant Internet access provider, online service provider, or other organization responsible for assigning email addresses for the corresponding domain; the Instagram Authorized Account Holder is the natural person who first interacts via Instagram direct message. Entrants who fail to provide any required information may be disqualified without further notification by Sponsor. Sponsor is not responsible for entries that are lost, misdirected, garbled, distorted, truncated, incomplete, illegible, incorrect or late for any reason, and all such entries are void. Sponsor reserves the right in its sole discretion to disqualify any entry at any time that in its opinion does not comply with these Official Rules. Received entries become the property of Sponsor and will not be returned or acknowledged. The information that you provide in connection with the Contest will be used by Sponsor for communication and marketing purposes, including but not limited to receiving newsletter and other emails from Sponsor and/or its affiliates, which you consent to.
How to Win: Every other day around noon beginning February 1, 2023 and concluding February 14, 2023, one winner will be selected by random to win the current day's prize. For example, on February 1, 2023 one winner will be selected by random to win the February 1, 2023 Contest prize.
Winner Notifications: Sponsor will attempt to notify the winners by email after each day's winner has been randomly selected. Winners must have a valid email address where they can be notified. If a winner is ineligible, unreachable after seven days, fails to sign and return required documents or provide required identification by the deadline established by Sponsor, or if that winner is unavailable for prize fulfillment, the Sponsor reserves the right to award, not award, or otherwise dispose of the prize as Sponsor, in its sole judgment, deems appropriate. All results are unofficial until winners are verified.
Prizes: Each prize, including an estimated approximate dollar value, is detailed at tampabaydatenightguide.com/valentines-giveaway, above. The approximate total value of all prizes is estimated to be more than $2,500 but less than $4,000.
Prize Acceptance/Restrictions: Gift cards are subject to terms and conditions thereon. All taxes are the responsibility of the winners. Winners are subject to verification by Sponsor of the winner's name, age, address, phone number, and Social Security number (where the prize value is equal to or greater than $600.00). Sponsor will send prizes to winners by mail, email or by providing prize donor with winner's contact information. Sponsor is not responsible for loss, delay, or damage in delivery, or failure of prize donor to comply with its donations. Contest winners may be required to sign and return an Affidavit of Eligibility/Release of Liability and Publicity within seven days of the date Sponsor sends same to winner, and may be required to provide a completed W-9, per Section 9 below. Failure to do so will disqualify the winner. Prizes cannot be redeemed for cash or substituted for any other items by any winner. The Sponsor reserves the right to substitute any prize with another prize of equal or greater value. Prizes are non-transferable and no cash equivalent or substitution of prize is offered, except at the sole discretion of the Sponsor. All properly claimed prizes will be awarded, but in no event will Sponsor award more prizes than are provided for in these Official Rules.
Publicity Release: By participating in the Contest, each contestant acknowledges that his/her entry in the Contest constitutes that contestant's consent to use, publish, reproduce and for all purposes, including publicity, promotion and advertising, in any media (including without limitation, the Internet, television or offline promotions), each contestant's name, likeness, photograph, voice, opinions, and/or hometown and state, and any portion thereof, each extending throughout the universe and in perpetuity without further compensation, credit or right of review or approval, except where prohibited by law.
Taxes: Any valuation of the prizes stated above is based on available information provided to Sponsor, and the value of any prize awarded to a winner may be reported for tax purposes as required by law. All taxes, including federal, state, and local taxes, are the sole responsibility of the winner. Any person winning over $600.00 in total prizes will receive a 1099 form from Sponsor at the end of the calendar year and a copy of such form should be filed with the IRS. Each winner must provide Sponsor with valid identification, and a valid taxpayer identification number or Social Security number for total prizes valued at $600.00 or more, before any prize will be awarded. Sponsor will have the right, but not the obligation, to require any winner to complete and submit an IRS form W-9. Sponsor reserves the right to withhold prizes until the completed W-9 form is received.
Conditions: The Sponsor reserves the right, in its sole discretion, to cancel, terminate, modify or suspend this Contest or any portion hereof, or to disqualify any individual implicated in any of the following actions, if for any reason: (a) infection by computer virus, bugs, tampering, unauthorized intervention, actions by contestants, fraud, technical failures, or any other causes which, in the Sponsor's sole opinion, corrupt or affect the administration, security, fairness, integrity or proper conduct of the Contest, (b) the Contest or any website associated therewith (or any portion thereof) becomes corrupted or does not allow the proper processing of entries per these Official Rules, (c) the Contest becomes corrupted due to interruption in wireless calling devices or wireless service for any reason, or (d) the Contest is otherwise not capable of running as planned. If Sponsor determines, in its sole discretion, that technical difficulties or unforeseen events compromise the integrity or viability of the Contest, Sponsor reserves the right to void the entries at issue, and/or terminate the relevant portion of the Contest, including the entire Contest, and/or modify the Contest. If Sponsor terminates or modifies the Contest, information will be posted on the official Contest website. By entering, contestants represent that they are eligible and agree to be bound by and comply with the Rules and the decisions of Sponsor, which is final on all matters pertaining to the Contest. If Sponsor learns that any contestant has attempted to tamper with this Contest in any way or use fraudulent means to participate in and/or win the Contest, that contestant will be disqualified. The Sponsor reserves the right to disqualify any contestant at any time, for any reason, including, without limitation, language, activities or behavior deemed inappropriate. If a dispute arises regarding compliance with these Official Rules, Sponsor may consider, in its sole discretion, data reasonably available to Sponsor through information technology systems in Sponsor's control, but Sponsor will not be obligated to consider any data or other information collected from any other source. The Sponsor will have the sole discretion to administer the Contest and interpret and apply the Official Rules.
Indemnification/Hold Harmless: By participating, contestants agree: (a) to release, discharge, and hold harmless the Promotion Parties, and each of their respective affiliates, parents, subsidiaries, and advertising and promotion agencies, and all of their officers, directors, employees, representatives, and agents (the "Released Parties") from all liability, injuries, losses or damages of any kind to persons, including but not limited to invasion of privacy (under appropriation, intrusion, public disclosure of private facts, false light in the public eye or other legal theory), defamation, slander, libel, violation of right of publicity, infringement of trademark, copyright, or other intellectual property rights, death or property damage resulting in whole or in part, directly or indirectly, from the acceptance, delivery, possession, misuse or use of a prize (including any travel or activity related thereto), or from participation in and/or entry into or creation of an entry for the Contest and/or the broadcast or exploitation or use of entry or any other Contest-related activity; and (b) that the Released Parties have neither made, nor are in any manner, responsible or liable for any warranty, representation or guaranty, expressed or implied, in fact or in law, relating to any prize. In consideration for his or her participation in the Contest, each contestant agrees to hold harmless and indemnify the Released Parties from any and all claims, demands and/or causes of action of any nature or kind whatsoever, whether presently known or unknown, foreseen or unforeseen, that arise out of the contestant's participation in the Contest, including attorneys' fees.
Limitation of Liability: The Released Parties are not responsible or liable for: (a) any incorrect or inaccurate entry information or other errors in the printing, offering or administration of the Contest or in the announcement of the Contest prizes, (b) any error, omission, interruption, defect or delay in operation or transmission at any website, or wireless calling service, interrupted or unavailable network, server or other conditions, (c) failure of any entry to be received by Sponsor due to technical problems, telephone service problems, human error, or wireless calling service, (d) communication line, hardware and/or software failures, malfunction of phones (including wireless phones/handsets), phone lines, other communications malfunctions, unavailable network connections, cellular equipment towers, telephone systems or wireless service, (e) damage to any computer (software or hardware) resulting from participation in the Contest, or damage to mobile phone or other PDA device, (f) theft or destruction of, tampering with, unauthorized access to, or alteration of entries and/or entry information, (g) entries which are late, lost, stolen, damaged, illegible, and/or unintelligible (or any combination thereof), (h) any change of email address, mailing address, telephone number and/or any other contact information provided by contestant, or (i) mechanical, technical, computer, hardware or software errors, malfunctions, or failures of any kind, including but not limited to failed, incomplete, garbled, or delayed transmission of entries, traffic congestion, viruses, sabotage, satellite failures, electrical outages, on telephone lines, on the Internet, at any website, or application or lost or unavailable network connections or natural disasters or acts of God or man, which may limit an contestant's ability to participate in the Contest. The Released Parties are not responsible or liable for any prize(s) lost during shipment due to any (i) incorrect or inaccurate shipping information, (ii) any technical or human error, omission, change of mailing address, (iii) or due to theft, or destruction of, tampering with, unauthorized access to, or alteration of shipping information, (iv) or for any lost, stolen, damaged or unclaimed shipments (or any combination thereof), (v) or due to any other factor, including but not limited to, natural disasters or acts of God or man (or any combination thereof) without limitation. Any expenses incurred by the contestant during the entry process are the sole responsibility of each contestant, and the Sponsor will not issue reimbursement for any expenses or for any prizes due to the reasons set forth herein.
Disputes: By entering the Contest, contestants agree that: (a) any and all disputes, claims, and causes of action arising out of or connected with the Contest, or prizes awarded, will be resolved individually, without resort to any form of class action; (b) any and all claims, judgments and awards will be limited to actual out-of-pocket costs incurred, including costs associated with entering the Contest but in no event attorneys' fees; and (c) under no circumstances will any contestant be permitted to obtain any award for, and contestant hereby waives all rights to claim punitive, incidental, attorneys' fees, or consequential damages and any and all rights to have damages multiplied or otherwise increased and any other damages, other than for actual out-of-pocket expenses. Some jurisdictions do not allow for limitations on the ability to pursue class action remedies, or certain kinds of damages, and so these limitations may not apply to you. All contestants agree, by participation in the Contest, to submit to the personal jurisdiction of the state courts located in Hillsborough County, Florida. Florida law will govern this Contest, without regard to Florida's choice of law rules. The state courts located in Hillsborough County, Florida will be the exclusive forum for any dispute regarding any Official Rule or activity associated with the Contest.
Names of Winners: For a copy of the names of the winners, mail a SASE to: Winners List, Tampa Date Night Guide, 320 W. Kennedy Blvd Ste 220 Tampa FL 33606. Requests for winners' names must be received within 60 days of the end of the Entry Period.
Rights Reserved: The content, information, data, designs and code associated with the Contest and Contest website are protected by intellectual property and other laws. Any unauthorized use of copyrighted materials, trademarks, or any other intellectual property without the express written consent of its owner is strictly prohibited.
Sponsor: Orlando Sentinel Communications Company LLC, North Orange Avenue, Orlando, FL 32801.