It doesn't have to be Thursday to enjoy a throwback date night with your significant other. Do some time traveling with these fun date ideas, any day, any time of the week. You'll bring out the youth in each other, reminisce, and fall even more in love. Take a trip down memory lane with your crush and soon enough, after years of dating, you'll look back on these date nights and say, "Ah, those were the days."
ROLLER SKATING
Astro Skate Family Fun Center has multiple locations in the Tampa Bay area, including Brandon, Bradenton, and Pinellas Park. All locations offer fun and special skating nights where the prices and times differ. At the Bradenton location specifically, 10 p.m.-12 a.m. on Wednesdays is "Adult Night." No kids allowed- perfect for a date night! They also offer the intriguing "Jam Skate" where couples can skate while boogying to the music, spinning and flying around one another. Prices for this unforgettable night on the rink vary from $1-8 with an additional $2 for 4-wheel skates and $3 for inline skates, making it extremely affordable.
COSMIC BOWLING
What's better than cosmic bowling? Going cosmic bowling with the man or woman of your dreams, of course! Ten Pin Lanes, located in South Pasadena, right outside of St. Petersburg, offers cosmic bowling on Fridays from 9:30 p.m. to 1 a.m. and Saturdays 3-6 p.m. and 11 p.m.-1 a.m. Referred to as "Glow Bowl," you and your date will be glowing as you hit strikes and spares, drinking beer, and listening to the rocking tunes. It is $15 to bowl and $3 to rent shoes. Check out Ten Pin Lanes and have a funky, fun night with your partner and bowl into the morning!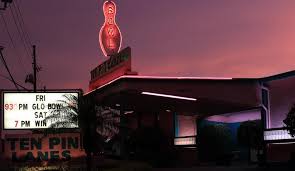 Address: 1453 Pasadena Ave S, South Pasadena, FL
DRIVE-IN MOVIE
Back in the day, drive-in movies were all the rage. You'd see couples snuggled up in the back of pick-up trucks sipping on Coca-Cola and munching on popcorn as they watched the massive outdoor screen. Although they are not as common today, some are still littered throughout the nation, including in our own backyard. Fun Lan Drive-In is located in Tampa and gives viewers a fun throwback experience. The drive-in theatre offers movies that are also in standard movie theatres, giving couples a chance to see the film they've been waiting for in a unique way. It is also one of the last standing drive-in theatres in Florida. The theatre plays about three films a night beginning at 7 p.m. and the last film starting around midnight. Visit Fandango.com to see more on ticket prices and show times.
Address: 2302 E Hillsborough Ave, Tampa, FL 33610
BILLIARDS AND GAME BAR
Peabody's Entertainment Complex offers couples with the ultimate throwback experience. Located in Tampa, Peabody's provides 11 professional pool tables, 13 "state-of-the-art" dartboards, fooseball tournaments, dancing, and DJ music. In addition, it is a full-service bar and grill, with some of the best food in town! Head on over to Peabody's to enjoy some old-fashioned fun and some good food with your special someone.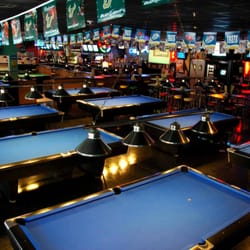 Address: 15333 Amberly Dr, Tampa FL, 33647
24-HOUR DINER
Speaking of food, Pop 'n Sons Diner is an old-fashioned, family-owned diner offering homemade specials and comfort food, including all-day breakfast for couples. Popular among locals and open 24/7, it is the perfect place to end a night of throwback fun. Located right by Raymond James Stadium in Tampa, Pop 'n Sons has been serving people for over 35 years and is a great option for a quick bite after watching one of Tampa Bay's local sports teams play.
Address: 4812 N. Dale Mabry Highway, Tampa, FL 33614