The holiday season kicks off with Thanksgiving – it'll be here soon! Thanksgiving at Disney World usually means a trip to Disney Springs for many locals and visitors alike. Our quick guide to Thanksgiving at Disney Springs includes where to book your Thanksgiving dinner reservation, where to grab a special treat, and some tips on parking and when to visit.
THANKSGIVING AT DISNEY SPRINGS
If you want Disney magic without the fuss of the theme parks, Disney Springs is a good option. Between the restaurants and all the shops, you can easily take care of a Thanksgiving meal and holiday shopping all in one place.
A reservation is not needed to visit Disney Springs, and it's free to park and walk around. Just be prepared that the parking garages may fill up early in the day.
Chef Art Smith's Homecomin'
Raglan Road Irish Restaurant and Pub
Planet Hollywood
Wine Bar George
Mario & Enzo's
Enzo's Hideaway
Morimoto Asia
The Edison
City Works Eatery & Pour
STK Orlando (Thanksgiving items November 24 – 27)
Everglazed Donuts & Cold Brew (Thanksgiving Donut available Nov. 11 through 30)
This Turkey Day, visit Maria & Enzo's and Enzo's Hideaway at Disney Springs for delicious Thanksgiving specials with an Italian twist.
Frittelle di Zucca ($19): Pumpkin ricotta fritters, cacio e pepe zabaglione
Porchetta di Tacchino ($39): Heritage turkey, crispy pancetta, brussels sprouts, polenta "dressing" and butternut squash cranberry agrodolce
Pumpkin Cheesecake ($16): Graham cracker crust drizzled with orange salted caramel
Featured image above: Enzo's Hideaway, image credit: Dani Meyering
Join The Edison at Disney Springs for a classic Thanksgiving meal this holiday season. Immerse yourself in the thrill of the roaring '20s, with gothic decor and nostalgic entertainment, while dining on traditional Thanksgiving turkey breast with all the accompaniments including stuffing, green beans, mashed potatoes and cranberry sauce.
Cost: $39 for adults and $18 for children ages 9 and under.
Reservations are strongly recommended.
RAGLAN ROAD IRISH PUB AND RESTAURANT AT DISNEY SPRINGS
Enjoy Thanksgiving dinner with an Irish twist. Roast turkey, mashed potatoes and gravy, honey glazed carrots, bacon-roasted brussel sprouts, and sausage-walnut stuffing. Thanksgiving dinner will be served all day—11 a.m. to 10:30 p.m. Guests who prefer to order lunch or dinner from the All-Day Menu are welcome to do so.
Live Irish music and dance begins at 5 p.m. on Thanksgiving Day and continues through pub close.
Cost: $38 for ages 9 and up / $18 kids under 9
Join Morimoto Asia at Disney Springs for a Pan-Asian-inspired Thanksgiving feast this holiday. Traditional favorites get a mouthwatering twist, including Peking turkey, roasted pork fried rice "stuffing," and Japanese-style candied yams.
Plus, Morimoto Asia's full menu of delicious traditional dishes will be available as well, including Buri-Bop, Wagyu beef and spare ribs. Morimoto Asia's Peking turkey dinner will be available on Thanksgiving Day, Nov. 24.
Cost: $45 for adults and $20 for children ages 9 and under.
Get more options: Restaurants in Orlando Serving Thanksgiving Dinner
Disney released details about yummy eats all across Disney World in the official Disney Eats Foodie Guide to Thanksgiving 2022
Thanksgiving Shopping
While there are no specific Black Friday hours for Disney Springs, it's open 10 a.m. to 11 p.m. Thanksgiving Day and 10 a.m. to 11:30 p.m. the following day.
There are dozens of stores at the large entertainment complex and some will likely have sales to help you pick out that perfect holiday gift.
Expect lots of crowds! If you're willing to traverse the crowds during Thanksgiving weekend then don't miss these favorite shops:
World of Disney
Marketplace Co-op (you can make your own candle!)
12 Days of Christmas
Art of Disney
Sugarboo & Co.
UNIQLO
Things To Do
There is more to do at Disney Springs during Thanksgiving besides eating and drinking. Be sure to enjoy the Tree Stroll and consider booking a visit to see Santa Claus at Disney Springs.
The Disney Springs Christmas Tree Stroll
While you're at Disney Springs for Thanksgiving, be sure to pay attention to the beautiful Christmas trees. The Disney Springs Tree Stroll brings elaborately decorated Disney Christmas trees to areas throughout Disney Springs. The Disney Springs Christmas Tree Stroll presented by AdventHealth kicks off on November 11, 2022.
You can pick up a guide to the Christmas Tree Stroll at the Welcome Center in the heart of Disney Springs.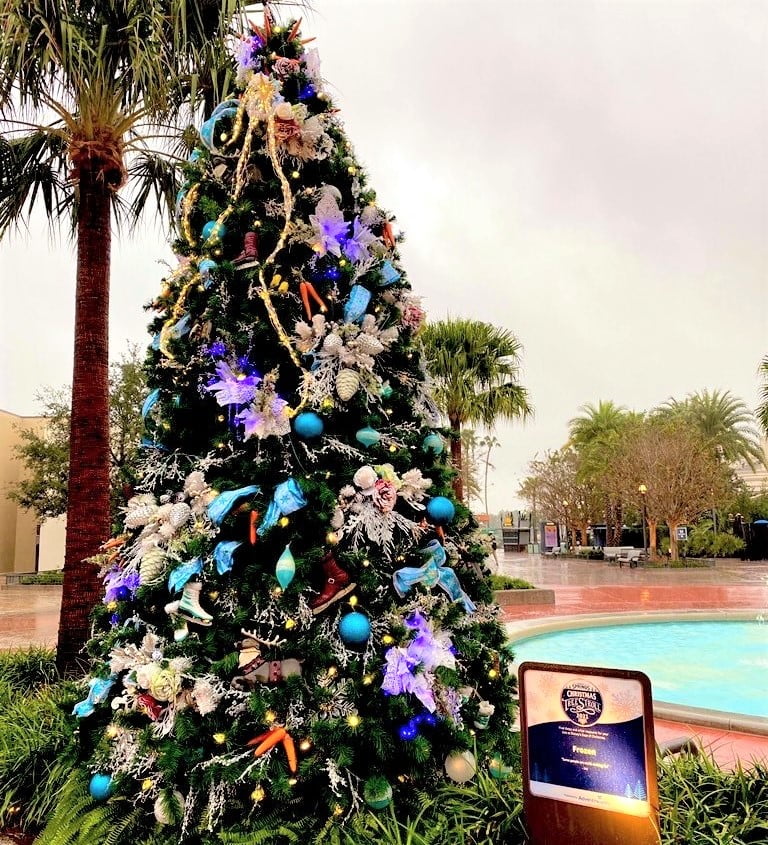 Santa at Disney Springs
You can see Santa for free at Disney Springs, but you'll need to get there early. To see Santa at Disney Springs, you'll need to sign up through the virtual queue. When you arrive, check for a sign with a QR code. Usually, Santa is at Once Upon a Toy which is in the Marketplace section of Disney Springs. And the virtual queue signs are near the entrance to Once Upon a Toy.
Ready for more festive fun?
Read The Complete Guide to the Holidays at Walt Disney World
Disney Springs Parking
Expect parking garages at Disney Springs to fill up by midday on Thanksgiving and the weekend.
Lime Garage and Orange Garage are the most popular. Grapefruit Garage is across the street and has a convenient pedestrian bridge. Finally, the surface parking lots near Cirque du Soleil are usually overlooked. Just know these surface lots are at the far end of Disney Springs, and the West Side, and the rows are not as clearly marked as the ones in the garage. So, take extra note of your car's location.
Wear comfortable shoes, you can expect lots of walking on this busy weekend.
While you're on Disney property enjoying Thanksgiving, consider stopping at one of the Top 5 Disney Hotels with the Best Christmas Decorations.
Tampa Bay Date Night Guide is a free guide to the best of the Tampa Bay area! We're supported by our advertisers when they buy digital ads & listings, sponsored content, and through affiliate links, so some things you read might be paid for or if you buy something thru a link on our site we might get a commission.