Now that winter is over and the warm weather has returned, outdoor time is in full swing. Luckily, the beautiful Florida sunshine allows for day after day of fun in the sun with friends and family. From the end of the school year to Memorial Day and July 4th, there is SO much to look forward to in the coming months. What better way to celebrate the Spring/Summer season than with some fresh, local Barbeque!
Check out these Tampa Bay BBQ hot spots for some flavorful fun. Also, be sure to eat some barbeque on May 16th in honor of National Barbeque Day!
Top BBQ Joints in Tampa Bay
Al's Finger Licking Good Soul Food
Big John's Alabama Barbeque
Jimbo's Put BBQ
4 Rivers Smokehouse
Westchase BBQ
Konan's BBQ
Hank's Place Catfish & BBQ
Jazzy's BBQ
Bar-B-Que King
Sarge's Smokehouse BBQ
Deviled Pig
1609 Angel Oliva Sr. St, Tampa, FL 33605
Named Top Barbeque Joint in Florida and one of Tampa's Top Restaurants on Yelp and TripAdvisor, Al's Finger Licking Good Soul Food is serving up some of the best BBQ in the Bay! Beginning in 2003 from a concession stand, Al's has been serving delicious food in the restaurant since 2009 in Ybor City! They prepare Tennessee style Barbeque in house with a family-owned and operated establishment!
Must-try items: Al's Finger Licking Good BBQ Ribs, Ericka's Spicy Collard Greens
5707 N. 40th St, Tampa, FL 33610
Another classic Tampa BBQ joint, Big Johns has been around since 1968 ever since the late Rev. John A. "Big John" opened the restaurant on 40th Street North. 42 years later, Big John's is still honoring Big John with their smokin' flavor and family atmosphere. The establishment is still run by John's wife and kids! Stop in for a full meal or grab a quick sandwich. They also have specialty trays to feed the whole famlily
Must-try items: BBQ Sausage Sandwich, Mac & Cheese
4103 W. Kennedy Blvd, Tampa, FL 33609
Voted Best Ribs in Tampa Bay, Jimbo's is a Tampa staple for all things BBQ! Since opening its doors in 1970, Jimbo's serves delicious BBQ style lunch and dinner cooked and marinated perfectly. Enjoy ribs, chicken, pork and so much more! They even serve up breakfast with a country flair. Stop into one of Tampa's most well-known barbeque joints and take a bite out of history!
Must-try: Chopped BBQ Pork Sandwich, Fried Okra
623 South MacDill Ave, Tampa, FL 33609
4 Rivers Smokehouse is a Florida staple since its founding in 2009. For the past ten years, the family-owned business has specialized in slow-smoked barbeque, homestyle fixings, bowls, and fresh baked goods.4 Rivers takes pride in their bold flavor combinations and ingredients which has resulted in numerous awards for their food! Perhaps one of their proudest awards was for one of "The South's Best BBQ Joints" awarded by Southern Living!
Must-try: Signature Angus Brisket, Texas Sausage, Bananas Foster Bread Pudding
Various Locations
Westchase BBQ has been a food truck staple in Tampa since 2013. This husband and wife duo cook up BBQ staples such as pulled pork, smoked chicken, and made from scratch macaroni and cheese. Make sure to follow their Facebook page to find out where the truck will be parked every week.
Must-try: Pulled Chicken, Baked Beans, Homemade Macaroni & Cheese
1510 N. Hubert Ave, Tampa, FL 33607
Head over to Konan's located off of 275 between Lois and Westshore for some finger-lickin' barbeque! Since its opening in 2011, Konan's been serving the best BBQ in the bay area, prepared with family recipes in mind by Tampa locals! It doesn't get much closer to home than that.
Must-try: Taste of Carolina, Taste of Memphis
8546 N. Dale Mabry Highway, Tampa, FL 33614
Enjoy true Southern-style barbeque, welcome to all who enter at Hank's Place. This is the perfect spot for the whole family, located on the west side of Dale Mabry! Look for the A-frame building and prepare for some delicious, nostalgic, southern style BBQ. Hank's offers menu items that will take you back to those delicious 4th of July BBQ cookouts!
Must-try: Brisket Cheesesteak, Hushpuppies, Fried Catfish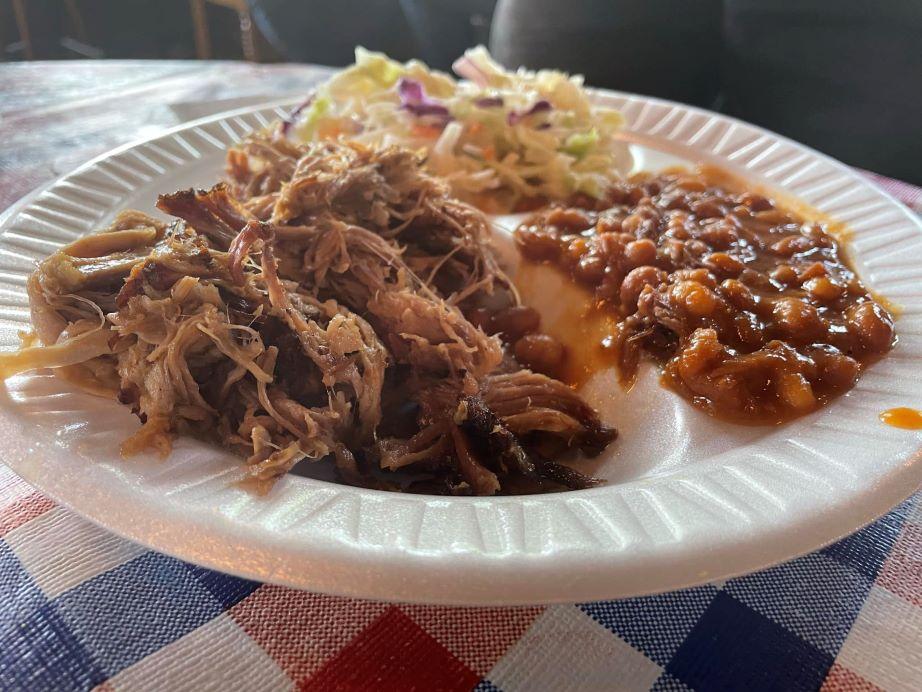 5703 W Waters Ave, Tampa, FL 
With locations in both Tampa and Clearwater, Jazzy's is cookin' up delicious BBQ all across the bay! Using real oak, their barbeque boasts a southern style flavor in all of their food such as smoked barbeque pork, beef brisket, chicken sausage, ribs, and more! The restaurant was opened by former NFL star, Johnny Ray Smith and his wife Pamela in the 1980s and were voted as one of the top 4 BBQ joints in the country by Good Morning America in 2022. Both played and cheered for the Bucs bringing the locality of the restaurant full circle! Be sure to stop in for homestyle, local barbeque in a charming family-style joint!
Must-try: King of Kings (5 meats), Loaded French Fry Bowl, 7-Up Pound Cake
2132 W Main St, Tampa, FL 33607
Head out to another delicious Tampa Bay BBQ staple! Since opening over 50 years ago, the restaurant has been family owned and operated and is the leader in oak-smoked ribs, chicken, sausage, and pulled pork. Buy a whole dinner for under $15 or grab a sandwich all under $10! Bar-B-Que King also offers Family Packs that come with 2 large sides all under $30! You can't beat that! Check out Bar-B-Que King this BBQ season.
Must-try: Oak-Smoked Ribs, Potato Salad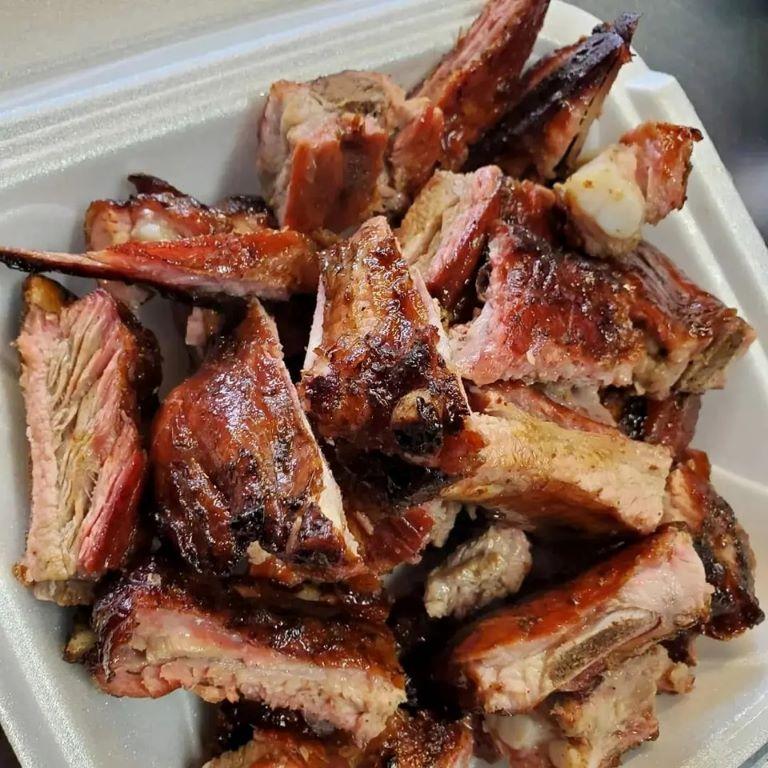 1500 W. Cass St., Tampa, FL (Sundays only)
Food truck – see website for schedule and locations
Located on Adamo, Sarge's has been smokin' up deliciousness since 2013 by Ken, Brian, and Chris. The trio served together at MacDill AFB and have developed the most unique southern style BBQ with flares of St. Louis, Memphis, Texas, and Carolina style BBQ!  Stop into the Cass Street location or find their Food Truck and experience the BBQ goodness!
Must-try: St. Louis Spare Ribs, Loaded Mac and Cheese, Pulled Pork BBQ Boat
3307 S. Dale Mabry Highway, Tampa, FL 33602
Deviled Pig, has been delivering "meat with an attitude" since 2018 to the Tampa area. With pit master, Lee Ann Whippen, winner of "Throwdown-Pulled Pork" against Bobby Flay, Deviled Pig is sure to delight the pickiest of BBQ enthusiasts!  Enjoy premium smoked meats, sandwiches, and classic BBQ. Order online for pickup, eat in the store, or check out their great Catering Menu!
Must-try: The Deviled Pig, Pirate Shipwreck Sandwich, Fried Jalapeno Mac & Cheese
Whether you're sticking to the classic Tampa Bay BBQ Establishments, or you're on the look-out for some new BBQ eats, the Bay area has something for you! Either way, be sure to support your local pitmasters this Spring/Summer season!
Featured Image Credit: Jimbo's Pit BBQ