You might be surprised to hear that just a state away is some of the most beautiful wildlife in the country. North Georgia is riddled with mountains that make way for stunning views, cascading waterfalls, and plenty of hiking and outdoor sports. Tallulah Gorge State Park is just one of the many places you can go to enjoy the beauty of North Georgia. Here is everything you need to know about hiking Tallulah Gorge and fully enjoying everything it has to offer.
Activities at Tallulah Gorge
Tallulah Gorge is one of the most breathtaking canyons in the Eastern U.S. The gorge itself is over 2 miles long and almost 1,000 feet deep. Visitors can see how the flowing Tallulah River, including a series of 5 waterfalls, has carved this complex 1,000-foot geological formation. Guests have the option of strolling, biking or hiking the trails around Tallulah Gorge. Bikers are offered a challenging 10-mile trail or a shorter and less strenuous path that can also be used as a leisurely footpath. Make sure to check out the Tallulah Gorge State Park dam release schedule as hikers are prohibited during dam releases. Visit Atlanta Trails for an excellent breakdown of all the trails offered at Tallulah Gorge. With so many adventures to offer, visitors might want to spend the night at the Gorge. The park offers site specific camping complete with electric. You can choose your campsite and reserve a spot at gastateparks.com.
One of the greatest things about Tallulah Gorge is how immersed you'll feel in the wildlife that makes up the state park. Hikers can expect to see all of the plants and animals which make up the fragile ecosystem within the gorge. Tallulah Gorge is home to deer, raccoons, foxes, as well as a number of species of birds and fish. The green salamander and monkey-faced orchid are both protected species that hikers can expect to see along their path.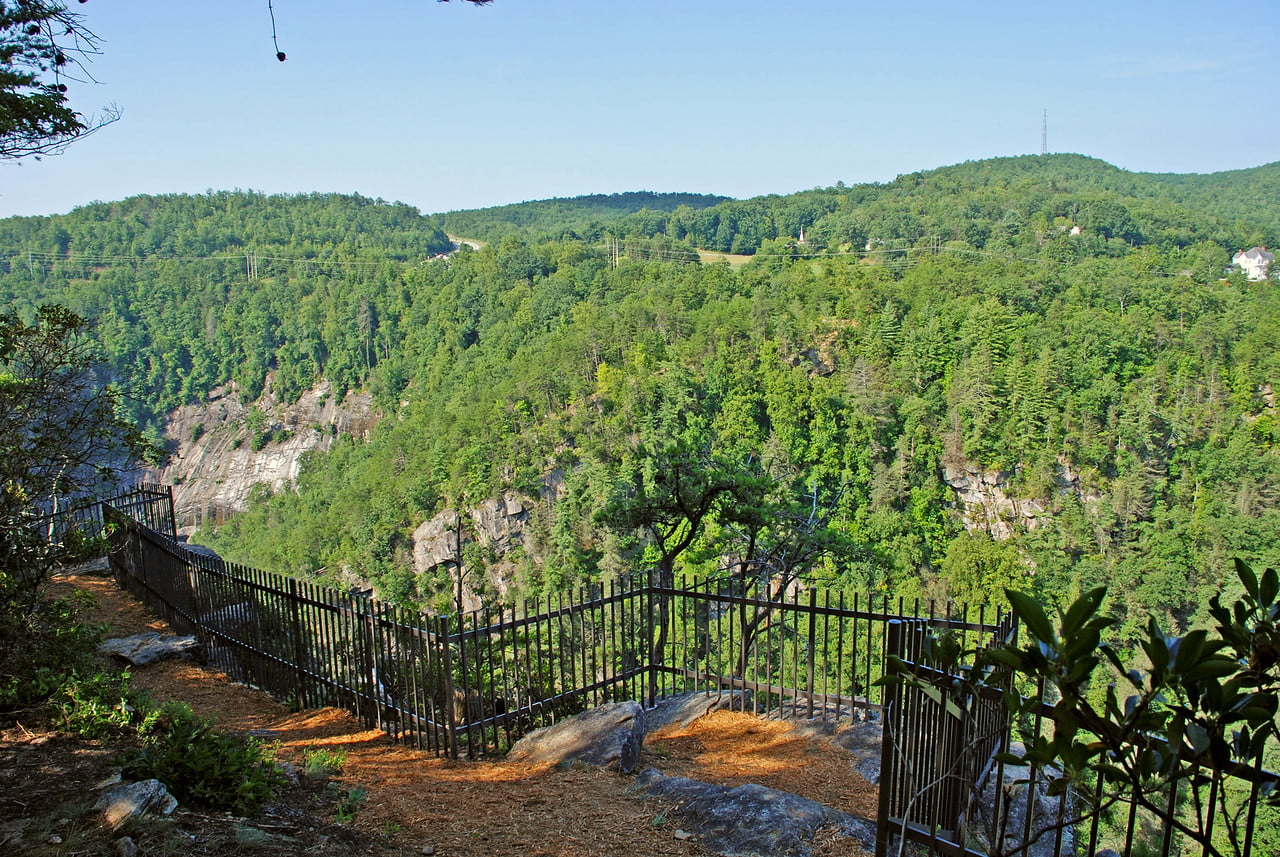 Sliding Rock Trail
One of the most exciting aspects of the gorge is the sliding rock that exists at the gorge floor. This is a natural slide that feeds into a large creek where guests can swim. The path to the sliding rock is considered the most strenuous hiking trail at Tallulah Gorge. But, with breathtaking views and the promise of adventure, it is well worth the hike!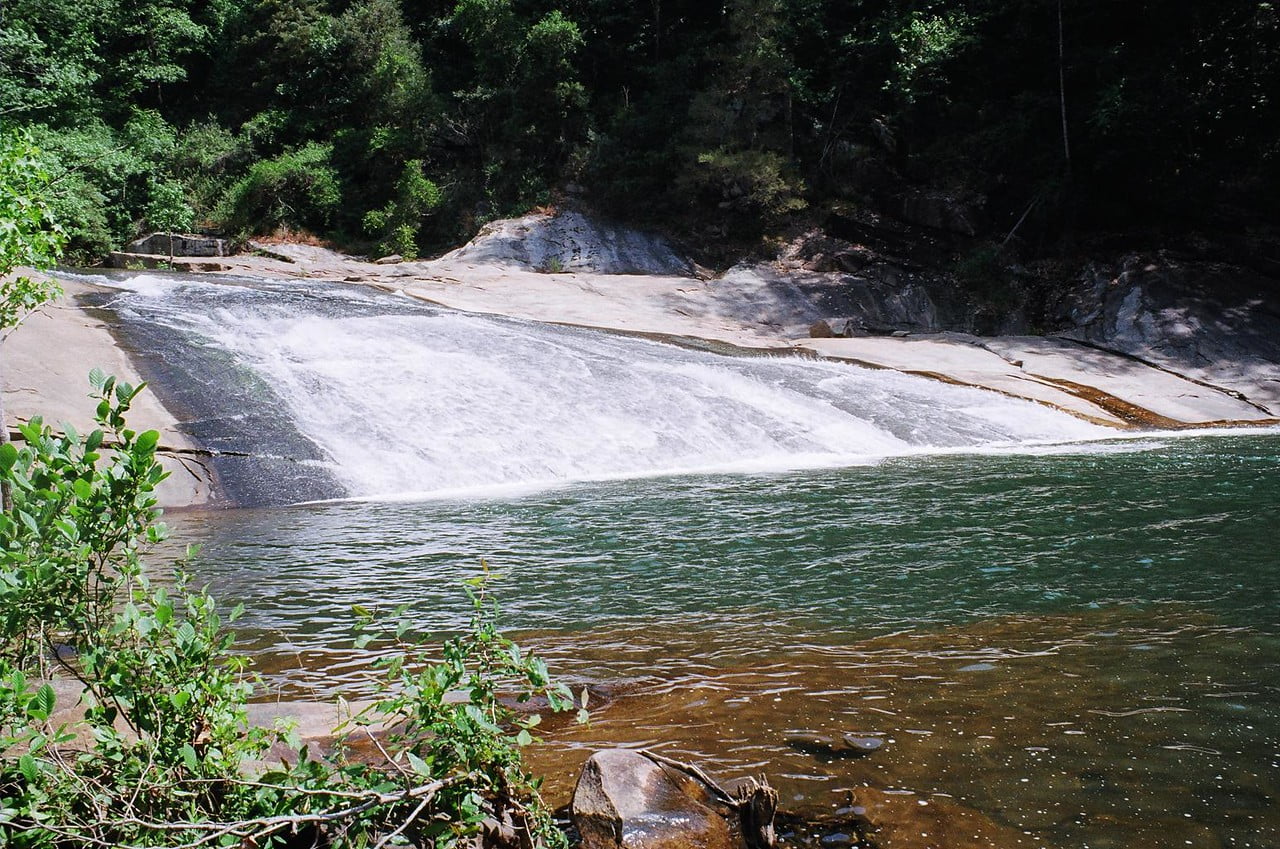 Visitors will want to begin their journey at the Jane Hurt Yarn Interpretive Center.  Along with allowing guests to get a little historical background on Tallulah Gorge, guests can also obtain their permit here. The permit is free but make sure to arrive early as only 100 passes are given each day. A park ranger will provide you with a map which details the trail. Bear in mind that the trail to the gorge floor is strenuous. You'll climb down over 1,000 metal steps, wade through a shallow area of Tallulah River, and hike through a boulder filled, mostly rock, path.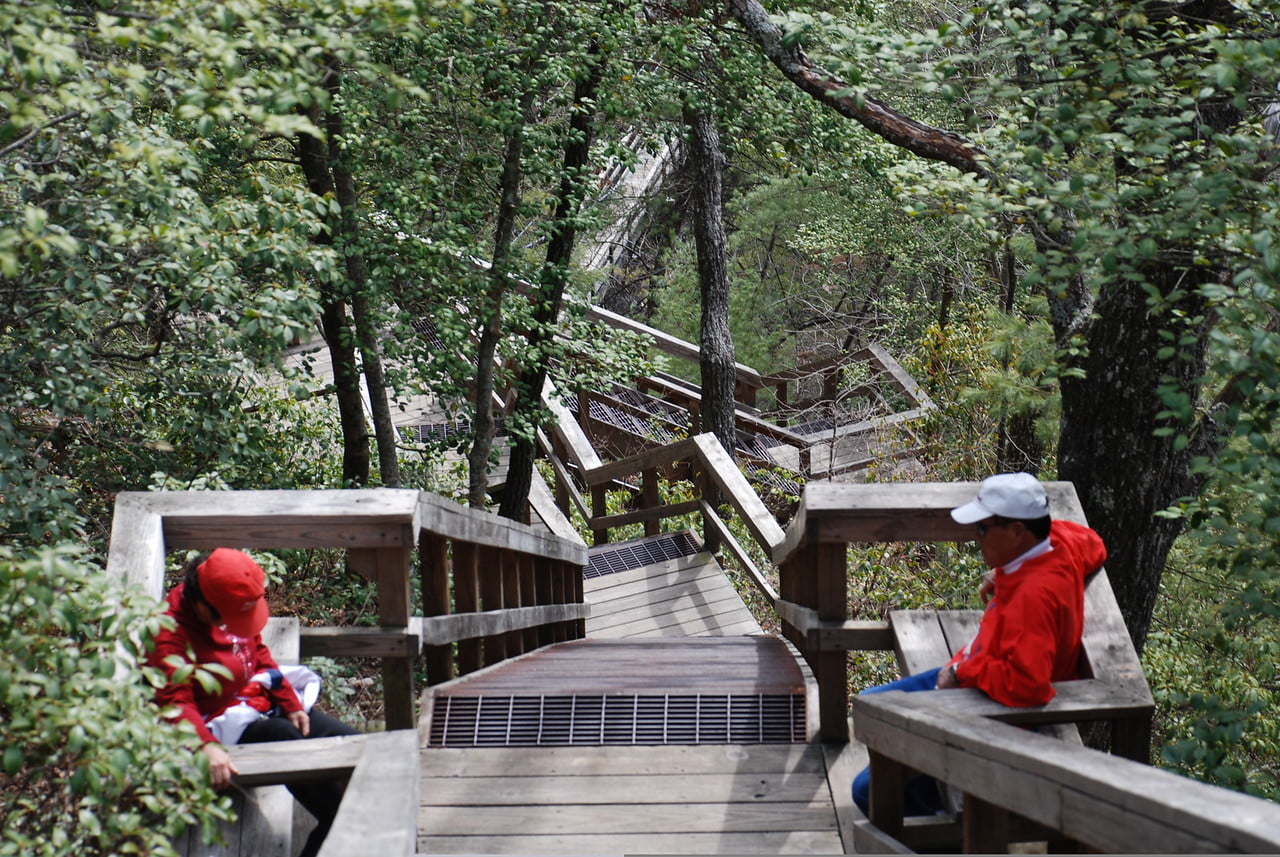 Children as young as 6 have been known to complete the trail and the path is as beautiful as it is strenuous. You'll be taken to overlooks which provide a bird's eye view of waterfalls and pass over a suspension bridge high above whitewater filled channels. After reaching the sliding rock, you have the option of coming back the way you came or taking the long way around which brings you on a 45 degree hike up the gorge to a paved footpath which ends at the Jane Hurt Interpretive Center. The trail is 3.4 miles in total.
If you find that you want to experience Tallulah Gorge but aren't up to the strenuous hike to the gorge floor, there are plenty of options. Hurricane Falls Trail takes you on an easy-to-follow trail with a clear path. You and your loved one can travel to 10 different overlooks along the trail. The overlooks offer dizzying views of the turbulent Tallulah River as it cascades over rock outcrops that make up the 5 waterfalls within Tallulah Gorge.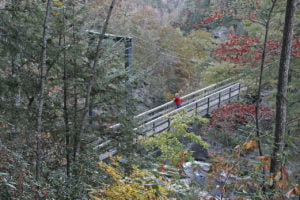 Gearing Up
The Hike to the Gorge floor is sure to be a workout so you'll want to make sure you have everything you need. Correct footwear is a must so hiking boots and athletic sandals are recommended. The trail can also be done in running shoes as long as you feel confident in their grip ability. If you're planning on sliding down sliding rock, shorts are suggested for a smoother ride. Plenty of water by way of a camelback or bottle is also recommended. Once you get down to the sliding rock, you'll want to take a dip in the clear waters and explore the area. This is a great place to hang out and enjoy a picnic while you cool off and recharge for the hike back up. Tallulah Gorge is sure to offer a full day of awe-inspiring outdoor adventure.
Feature Photo Credit: gastateparks.com