Mark your calendars, seafood-lovers! March 9, 2019, is National Crab Meat Day! To celebrate, check out 20+ places in the Bay Area, perfect for some delicious crab meat, or any seafood dish in between! From upscale to affordable, this list features the best spots all across the bay. Check 'em out!
Try out Salt Rock Grille in Indian Shores for a legendary dining experience! The Grille is a beach landmark with a passion for delicious food and drinks with the best atmosphere. Salt Rock Grille is known for their prime cuts of beef, freshly caught seafood, raw bar, and wine cellar! Pop in for dinner and choose one of their delicious menu options such as "Steak Tartare", "Crab Portobello", "Jumbo Lump Crab Cakes", and so much more!
If delicious, high-quality seafood is what you're after, check out Krispy Krab 2! Located off of Nebraska Ave in Tampa, Krispy Krab 2 is the perfect spot for all of your seafood needs. They strive for high quality in all that they do and strive to treat their guests to a delicious experience each and every time! The atmosphere is perfect for the whole family to enjoy fresh snow blue crabs, shrimp, even chicken wings! You won't be disappointed if you choose Krispy Krab 2.
Shells Seafood is the epitome of great, casual seafood! Located at multiple locations across Tampa Bay for over 30 years, Shells strives for "quality, service, and value" over the fancy, high priced seafood experience. Shells started out as runner up for the 1989 Small Business of the Year, and is now the #1 seafood restaurant in Tampa for the past 15 years! Check out their extensive menu and enjoy anything and everything seafood, from plates of pasta, to salads, to Maine lobster, and of course, crab!
Make your way towards International Plaza and Bay Street and look out for Eddie V's Prime Seafood! At Eddie V's, enjoy delicious, expertly prepared seafood and steaks! Their menu is extensive and features a large array of fresh seafood such as raw oysters or Pacific Ahi Tuna. Eddie V's offers delicious, hand-crafted cocktails poured for your pleasure all day and night. The establishment offers live music, free Wi-Fi, valet parking, private dining options, and large party seating! What're you waiting for?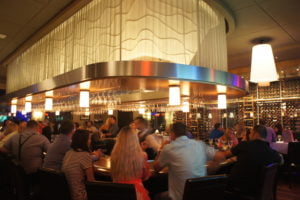 Head over to Ballast Point Neighborhood, and check out Big Ray's Fish Camp! Big Ray's chef, Chef Raymond "Nick" Cruz, grew up fishing right there at Ballast Point and knows anything and everything there is about cleaning and cooking fish! He strives to serve the best as well as the freshest seafood in South Tampa! Big Ray's offers delicious options such as the "Grouper Reuben", "Deviled Crab", "Conch Fritters", "Shrimp Po' Boys", and so much more!
Check out The Rusty Pelican right on the waters of the Bay and enjoy fresh seafood with a Caribbean flair! The Rusty Pelican has been a local favorite since its opening in 1978. Head over for a casual lunch, meeting, romantic dinner, or anything in between! Enjoy Key West Black Grouper and Crispy Whole Snapper or delicious western cuts of beef! Enjoy beautiful views along with your delicious meal and take pleasure in the joys of Florida life!
Try out Blue Sea Seafood Market & Restaurant for delicious, affordable seafood! Located on N. Nebraska Ave, Blue Sea is the perfect spot to buy your own seafood to cook back at the house, or take a seat and stay awhile and enjoy the atmosphere. The portions are out of this world and the food is always served hot! Blue Sea Seafood Market & Restaurant takes pride in cooking everything to order, fresh! None of their seafood is ever frozen and warmed over. Grab a box order of Shrimp, Scallops, Oysters, or Clams or check out one of the delicious Seafood Dinner options!
If you haven't tried out Ocean Prime before, now is the time! Ocean Prime is a modern American style restaurant and has been voted "Best Piano Bar" and "Outdoor Scene" as well as one of "Best Seafood Restaurants in the Bay Area"! Located right outside of International Plaza, Ocean Prime is the best spot for a beautiful setting, energy, and menu full of delicious seafood, prime cuts of steak, handcrafted cocktails, wine, and incredible hospitality!

Head over to Roy's off of West Boy Scout Blvd, and check out delicious tropical cuisine inspired by the beautiful Hawaiian Islands. Step into the beautiful dining room and be prepared to delight your taste buds! Check out their "To Start" menu and enjoy "Big Eye Tuna Poke", "Lobster Pot Stickers", "Crispy Chicken Spring Rolls", and so much more! Roy's offers both Fish & Shellfish options as well as other Meats & Poultry! For lighter fare, check out their Signature Sushi & Premium Sake menu for a little bite out of heaven!
Make your way over to Shrimp & Co. right off of 7th Avenue in Ybor City for delicious shrimp, crab, lobster, crawfish, grouper, tilapia, oysters, mahi-mahi and more! Shrimp & Co. blends Caribbean flavor with New Orleans spices. Opening in 2009, Shrimp & Co. offers a deliciously extensive menu of fried fish and steam pots! Enjoy their perfectly paired flavors with a creative twist that has been praised by Creative Loafing reviews that loved their "incredible blackened seafood" as well as their "imaginative spiced ceviche".
For 36 years, Skipper's has become a Tampa Bay landmark since its opening by two Air Force buddies in 1980. Now, Skipper's is a full-service restaurant with casual live music featuring a blend of "Florida Cracker" style as well as "Key West" influences. Enjoy what Skipper's calls, "Floribbean cuisine", which is their classic fusion of the best flavors from the Caribbean, Florida, and Louisiana. Check out their Black Bean Gator Chili, or take a bite out of their award-winning Key Lime Pie! You won't be disappointed!
Check out a great seafood spot with unbeatable service for the past 70 years! Leverock's is full of rich history since its opening by Johnny Leverock! What started as "Johnny Leverock's Oyster Bar" in 1948 in Pinellas Park, has now turned into a historic restaurant that has flourished into a classic gathering place for visitors and locals alike. Leverock's recipes are homemade by his wife Bertha including the fresh grouper, clam chowder, peanut butter pie, and key lime pie!
Ted Peters Famous Smoked Fish has been serving locals and visitors since 1951. Joined by his half-brother Elry Lathrop, Ted Peters opened up this famous establishment along with other family members including Tilla Lathrop "Mom", who commandeered the kitchen as created the German potato salad, Ellen Peters who created the Fish Spread, and last but not least, Betty Lathrop who helped out as well. Since then, Elry's son, Mike and Ted's grandson, Ted took over and have been running the restaurant ever since.
"While family members of the Ted Peters Famous Smoked Fish Restaurant span five generations, so do its customers. You may often hear, "this tastes just as good as when my grandpa brought me here as a kid" (tedpetersfish.com).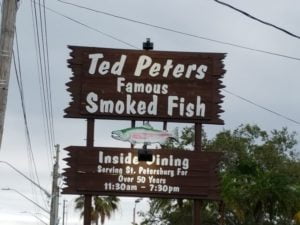 Check out 400 Beach Seafood & Tap House in St. Pete for a delicious, family run business! With 7 awards under its belt, 400 Beach is a full-service restaurant that dabbles in catering and is the perfect banquet destination! Located on Beach Drive, this restaurant is the perfect spot for any occasion! Head over for lunch and enjoy an oyster bar or check out one of their mouthwatering Baskets, Steaks, Salads, Burgers, Wraps, and more! Dinner features a similar menu with delicious main dish options such as Broiled Lobster Tails, Beach Crab Cakes, Sesame Seared Tuna, and more!
Head over to Willie's: The Place for Seafood for simple seafood with delicious options and affordable costs. Guests have been said to return week after week to Willie's to get some more of that delicious food! Located in Valrico, FL, Willie's has been in the area for over one hundred years serving as different businesses and establishments until it became Willie's in 2000. Grab a basket of Clam Strips, Deviled Crap, or, expand your palette and try some Alligator! Willie's offers Entrees as well as Broiled Seafood options, Blackened Fish, House Specials, Lighter Fare, Pasta, and more!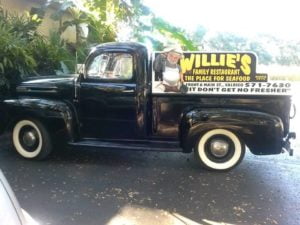 The Crab Shack is the perfect spot for a no-frills seafood experience! Food at The Crab Shack takes longer to prepare because every single menu item is prepared fresh for each customer! Meals are made cooked to order with a "Florida Style" flair. The menu is huge and features all of your favorites such as Fried Oysters, Seafood Combo, Salmon, Fried Catfish, Blue Crabs, and more!
Head over to St. Pete and make your way to the heart of the entertainment district for The Oyster Bar! Since 1999, The Oyster Bar has been serving up unique, inspired, culinary masterpieces and has remained a neighborhood favorite! Enjoy fresh seafood, quality meat, and poultry and relax as you're surrounded by friendly and efficient service for a memorable dining experience!
No need to make reservations here! At Trophy Fish St. Pete, enjoy first come, first serve service as well as delicious food! Trophy Fish supports local seafood and its'fishermen and hosts a warm, casual, laid-back type of dining experience serving all who enters! Located on Central Avenue, Trophy Fish offers an impeccable menu with Small Bites, Main Bites, Tacos, Sandwiches, Salads, and other Fresh Fish Plates!
Head over to RumFish Grill for an up-scale dining experienced that's like no other! Guests can not only eat and drink but shop and explore as well! The restaurant is famous for its 33K gallon aquarium built by Animal Planet's hit series TANKED! The aquarium spans the entire wall of the dining room providing the perfect dining entertainment! Watch out for stingrays!
Make your way to Apollo Beach for Circles Waterfront at Lands End Marina! Enjoy Circles' versatility with Indoor Fine Dining, Patio Waterside Dining, Inside Main Bar dining, or Tiki Bar Dining! Circles has been voted Tampa's Most Storied, Iconic & Award Winning Waterfront Restaurant since 1998. Check out their "Jumbo Coconut Shrimp", "Coral Reef Linguine", "King Crab Legs" and so much more!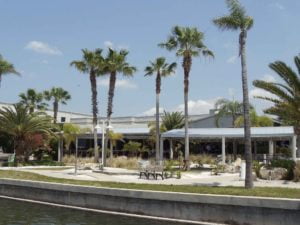 Featured National Crab Meat Day Image Credit: Cameron's Seafood