Run, run Rudolph! With so many fun things to do during the holiday season in Tampa Bay, it's a good idea to make time for your well-being. A great way to focus on your wellness while still having tons of fun is with a jingle run. There are so many festive races, 5Ks, and fun runs around Tampa Bay this time of year. And we've put together a complete list of them all.
Written by Meghan Roth
Jingle Runs and Holiday Races in Tampa Bay
Jingle Jog 5k
Saturday, December 2, 2023
Sarasota, FL
Join the 26th Annual Jingle and Jog 5K Run/Walk benefiting The Haven! Starting at The Haven's beautiful campus nestled on 32-acres of lush Florida scenery, participants will experience a smooth course under the canopy of oak trees.
$35
Lake Jovita Reindeer Run
Saturday, December 2, 2023
Lake Jovita Golf Course – Dade City, FL
The run is held ON the golf course at Lake Jovita. This will give you an opportunity to run through the beautiful golf course with some of the most dramatic elevation changes in the southeast. The route will take you through woods and over bridges as you enjoy the beautiful landscape. This is one of the most challenging 5K runs in Central Florida!
$20 – $35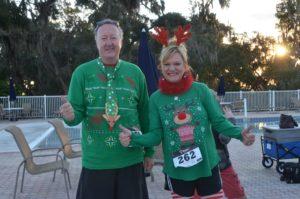 White Elephant 5k
Saturday, December 2, 2023
Lakeland, FL
The White Elephant "Gift" to you will be swag from a prior race! You just let us know what size, and you'll have a surprise. Shirts & Finisher awards in the true White Elephant Fashion. Your "gift" is wrapped and ready for you after you cross the finish line!
$25
Boley Centers' 41st Annual Jingle Bell Run
Friday, December 8, 2023
St Petersburg, FL
Boley Centers' 41st Annual Jingle Bell Run will feature a 5k lighted path, live bands along the course, a glow zone, snow, glow necklaces and thousands of merry runners, joggers, walkers and four-legged trotters!
$40
Arthritis Foundation Jingle Bell Run
Sunday, December 10, 2023
George M. Steinbrenner Field
Be part of the original festive race for charity and signature Arthritis Foundation holiday event! Wear your favorite holiday attire and together, we'll jingle all the way to a cure! Register as an individual or bring a team of friends, family and co-workers to run, walk or stroll, and spread the good cheer. Together, we're raising funds to support research for ARTHRITIS TREATMENTS & A CURE — plus life-changing ARTHRITIS RESOURCES & LOCAL PROGRAMS.
$25 – $45
Holly Jolly Jingle Bell Jog 5k
Saturday, December 16, 2023
Lakeland, FL
Join the City of Lakeland for its 9th annual Holly Jolly Jingle Bell Jog 5k on the scenic Three Parks Trail. Holiday attire, and cheer, are welcome!!
$35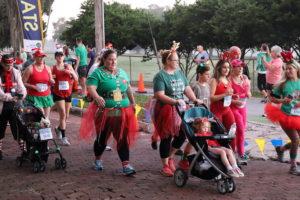 L.O.U.D. Runners 5k, Virtual, & 1-mile Reindeer Race
Saturday, December 9, 2023
Gadsden Park, Tampa, FL
The Reindeer Race is THE 5k in Tampa to get you in the holiday spirit. You will receive a holiday-themed race shirt, finisher medal, and lots of holiday cheer. If you finish in the top three male or female you'll also receive an award and free entry into the 2024 Reindeer Race. Stay after the race and you may also win one of the many great prizes.
$15 – $30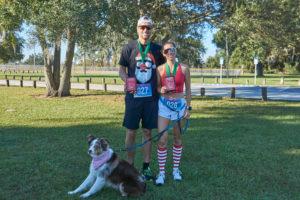 Run Tampa Tinsel Run
Saturday, December 9, 2023
Al Lopez Park, Tampa, FL
Run with Your Gnomies! Run through beautiful Al Lopez Park on a flat, mainly asphalt, course. This chip-timed race includes a short sleeve tri-blend gender-specific shirt and a finishers medals.
$20 – $40

47th Annual Sandy Claws Beach Run
Saturday, December 9, 2023
Sarasota, FL
Now in its' 47th year, the run has been a fixture in the running community of Sarasota. Set a fast pace on the hard-packed, world-renowned Siesta Beach sand in the 5K race, sanctioned by the Manasota Track Club. Or enjoy a leisurely morning stroll along the shore in the 1-mile fun run that ensures all ages and abilities can join in.
$20 – $35
Santa's Twilight 5K
Saturday, December 9, 2023
Safety Harbor, FL
Join the fun at this holiday-themed 5K night run in Safety Harbor. Run along the moonlit bay and enjoy the beautifully decorated homes along the course. All participants will receive a custom race bib, chip-timed results, holiday shirt, holiday-themed finisher medal, glow sticks for the run, jingle bells for your shoes, and holiday cookies and hot chocolate at the finish!
$39 – $45
33rd Annual Say No To Drugs Holiday Classic 5K, 10K & 1 Mile Kids Race
Saturday, December 9, 2023
Clearwater, FL
1-mile kids race, plus kid-friendly 5K and 10K over the beautiful Memorial Causeway Bridge! This is an out-and-back course, starting at Coachman Park, over the bridge and back.   The 1 mile kids race will circle Coachman Park with lots of race marshals for your kids safety. Race registration includes awesome shirts, finishers medals, and PANCAKES!
$15 – $35
Chase the Dreidel 5K
Sunday, December 10, 2023
St. Petersburg, FL
Oy vey! How fast can a dreidel run? Come find out as a life-sized dreidel spins down the streets of St. Petersburg and the Pinellas Trail on a flat, chip-timed course.  Chase the Dreidel is pure fun – everyone is welcome! Registrants receive a race shirt and a super potato latke buffet. Walkers and strollers welcome.  A fun run for youngsters under 11.
$36
Florida Holiday Distance Classic
Sunday, December 10, 2023
Madeira Beach, FL
Get in the spirit and jingle all the way to the finish line at the Florida Holiday Halfathon & 10K. This race has become a Holiday tradition as you join Santa, elves, and other runners at this festive point-to-point race and get rewarded with a beautiful Holiday-themed medal. The Halfathon's flat, fast and visually varied course starts in Madeira Beach and ends at Largo's Taylor Park, while the 10K starts in Seminole City Park and joins the Half course with the same finish line at Taylor Park. Santa will have cold craft beer, hot food, and great music waiting for you at the finish line!
$50 – $80
Hot Chocolate Run
Sunday, December 10, 2023
Tampa, FL
Join the sweetest movement that has taken over the racing world! Start and finish amongst Tampa's biggest chocolate aficionados. Train, race, and indulge all the way to the finish line.  A chocolate lover's oasis awaits at the post-run party! Celebrate your accomplishment with a finisher mug that includes fondue, dippables, and hot chocolate, while checking out the exciting vendors and listening to great tunes!
$49 – 69
Here's everything you need to know about the Hot Chocolate Run in Tampa this year.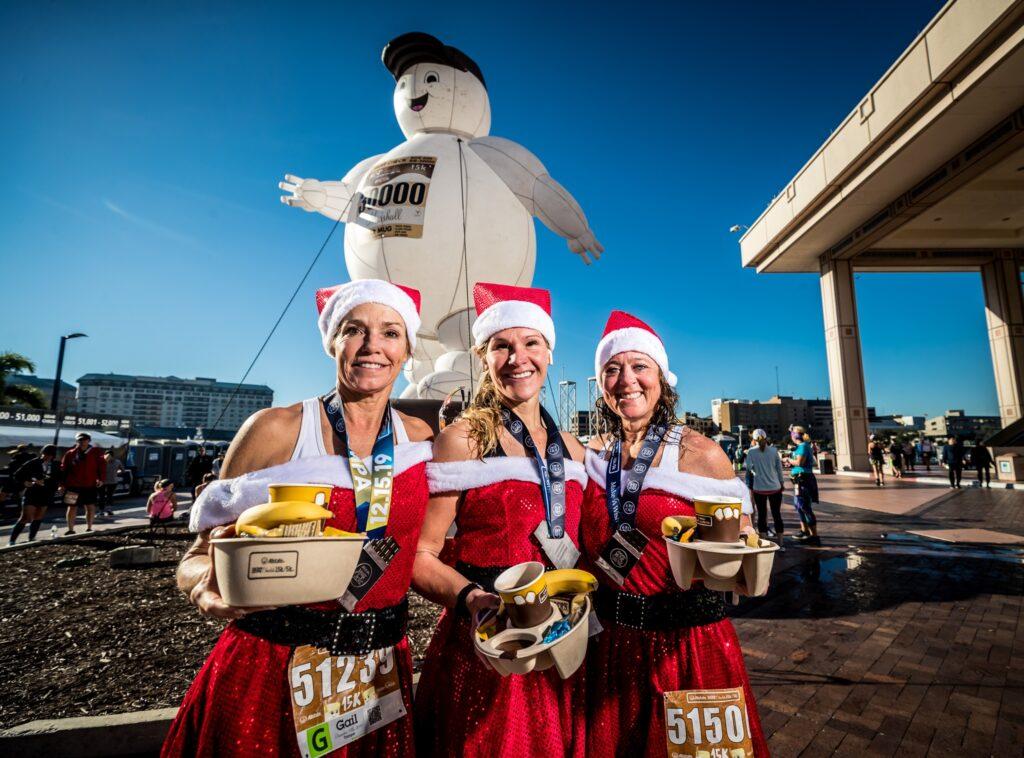 Candy Cane Course 5k/12k
Sunday, December 10, 2023
Tampa, FL
Join the annual Candy Cane Course 5k/12k!  A fun, Christmas-themed event that is perfect for the whole family. The fun includes designer shirt & custom medal, chip-timing with live results and awards, free photos and delicious treats waiting at the finish line.
$15 – $45
Aspirations Christmas Wine Run 5k
Sunday, December 10, 2023
Clearwater, FL
This exciting "Christmas Themed" event that features the scenic views of Aspirations Winery and offers a great assortment of locally produced wines! With extra swag options for all wine lovers, walkers and runners, this race is a sure thing for a great time!
$30
Publix Jingle 5K Run/Walk
Friday, December 15, 2023
Lakewood Ranch, FL
Move your feet to the Jingle beat! Be part of the largest holiday 5K Run/Walk in Sarasota and Manatee counties. The Jingle 5K Run/Walk is a festive way to kick off the holiday season while supporting scholarship opportunities in both Foundations. Runners will receive a custom commemorative 2023 medal and bib number.
$15 – $40
Frosty 5k
Saturday, December 16, 2023
Twin Lakes Park Sarasota, FL
The Frosty 5K is back for the 14th year! Starting and finishing at Twin Lakes Park, Sarasota, through the adjacent neighborhood. The race uses the same wide-open road course as the past three years, no grass or paths, all asphalt surfaces for a smooth, fast course. Runners and walkers of all levels are welcome for this Frosty good time. Race Perks Include Custom Frosty 5K Finisher Medal for ALL Finishers, Great Tech Shirt in Gender Specific and Youth Sizing, Prizes for Most Creative Frosty Costumes, Festive Post-Race with great food and beverages
$40 – $45
Keel Farms Christmas Wine Run 5k
Saturday, December 16, 2023
Kell Farms Plant City, FL
This exciting "Christmas Themed" event that features the scenic views of Keel and Curley Winery and offers a great assortment of locally produced wines! With extra swag options for all wine lovers, walkers and runners, this race is a sure thing for a great time! The Race Starts and Finishes at the Winery and is a scenic 2 loop tour of the farm!  The route is a mix of grass and paved and has several turns to run through the blueberries and farm.
$35
Christmas Glow Run 5k
Saturday, December 16, 2023
Sarasota, FL
Get ready for a magical and unforgettable holiday experience at the most anticipated family-friendly event of the year in Sarasota, the Sarasota Christmas Glow Run 5k! Join this night of festive fun as they light up the city with colorful Christmas decorations, lively music, and a spectacular night glow run like no other. This professionally chip-timed race will bring you and your loved ones together to run or walk the enchanting lakeside course, surrounded by the most breathtaking Christmas ambiance. And the best part? You'll be shining brighter than the stars with your complimentary glow products, included with your registration.
$45 – $55
16th Annual Downtown Dunedin Holiday 5K 10K 15K And Toy Drive
Saturday, December 16, 2023
Dunedin, FL
An unforgettable 5K 10K or 15K in Downtown Dunedin at the HOB Brewing Company. An awesome selection of finisher's medals are put out for each runner to choose from that celebrate the season. Open to all ages and levels of ability. Kid and dog friendly.
$45 – $65
Santa Run 5k and 1 mile
Sunday, December 17, 2023
Sarasota, FL
Put on your Santa suit for this 5k and 1 mile run through the bay!
$40 – $50