For years, Jim Gaffigan has been a household name. The comedian, known best for his stand-up comedy, is bringing his latest tour, The Dark Pale Tour, to Tampa from February 9-11 at The Straz Center. Not only will guests be treated to his hilarious antics about dealing with life's crazy challenges, but these shows will also be filmed for his newest upcoming comedy special.
Choosing The Straz as his next filming location has been exciting for both fans and those involved with the performing arts center. "I love Jim Gaffigan's work and his comedy," said Greg Holland, President and CEO of The Straz Center. "I'm so impressed that he's chosen to film The Dark Pale Tour here. It speaks to what the Straz is."
One of the things Jim is known best for is his take on parenting and everyday life. He and his wife Jeannie are the parents of five children – Marre, Jack, Katie, Michael, and Patrick – ranging from ages 10 to 18. "So much of his humor is built around the warmth he feels for his family," said Greg, "He speaks to that brilliantly."
We recently had the chance to chat with Jim about his upcoming show as well as his family, new projects, and his ties to Tampa.
Getting to know Jim
TBDNG: Tell us about The Dark Pale Tour.
JG: I'm super excited that I'm filming in Tampa because of a couple of factors. You know, I've obviously performed in Tampa numerous times and always had a great time. But I also feel like Western Florida has a lot of Midwesterners, and so being a Midwesterner, there's a feeling of familiarity there too. Also, I lived in Tampa for a year after college, so I'm far from an expert on Tampa, but I know a little bit. I was in some apartment complex that was on South Bayshore.
I feel like some of it is, after having gone through the pandemic, that's kind of set in just in like the past couple of years that we've all dealt with so. It's a little bit darker than some of my previous material. But I think that audiences like that. You know, you develop a relationship with people that come to shows and you know the expectation is that it's gonna be funny and you know that's the most important thing, but also that it evolves. It's not the same jokes.
TBDNG: What inspired you to want to do comedy for a living?
JG: You know, I didn't even know that it was an option, really. I mean, so I've been doing it over 30 years and so. 30 years ago it was not really a realistic occupation. I mean, there were people that could do it and make a living, but it would be hard to support a family. You know most comedians, with the rise of YouTube and satellite radio, it's transformed it to where now I'm performing in theaters which makes it so much more. You can afford a family of five kids you know, which is amazing.
TBDNG: How do you balance being as successful and busy as you are with family life?
JG: I think anyone that is doing a lot any parenting is always juggling. It's always reevaluating the situation and adjusting, you know? I mean luckily for me, I've been able to travel a lot with my kids like I would say like the past three times I've performed in Tampa, my kids have been with me. So, I will strategically plan tours around summer or Christmas or spring break so some of that is being very tactical with how you do shows and bringing everyone with you.
And when they were really little, we used to be on bus tours. It was chaos, but it's definitely like any parent will tell you – it's definitely a constant adjustment, right? This works for this month, but next month I don't know. It's ever evolving, that's for sure.
TBDNG: A lot of the content you do is focused on your home life and family. How do your kids feel about that?
JG: Yeah, it's so interesting because you know, being a comedian is similar to every stage when you have children, there's a point when they're like, they don't know what you do. They're maybe impressed at some point, and then they're like, not impressed. But I would say that they are an endless source of material. And that there is, if you're not complaining about your kids, you're not present enough. You know what I mean?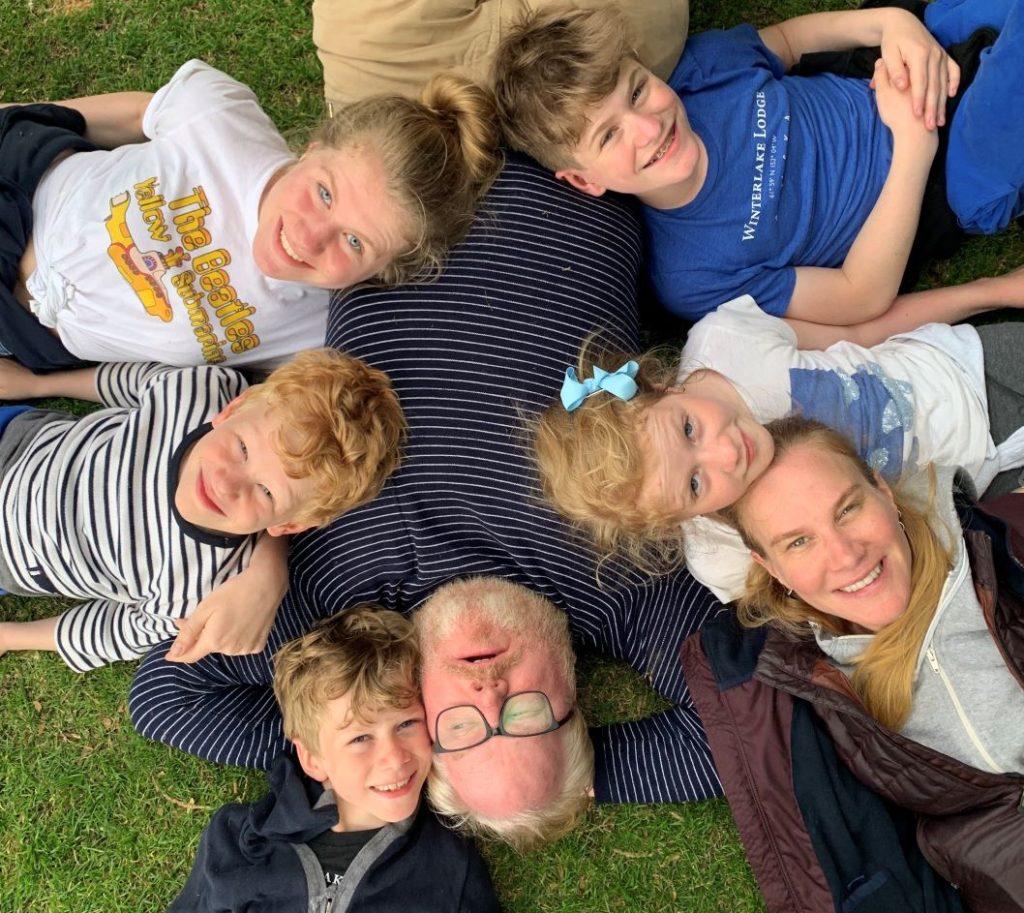 TBDNG: You did a bunch of content about the pandemic, which was hilarious because it was very spot on. How do you come up with all your ideas?
JG: Some of it comes out of complaining. If it's something that annoys you, you figure out a way to make it funny as opposed to a simple complaint. But you know there is something also when you're doing comedy. It's so fun to create a new joke that you get in the habit of doing it. There's the necessity of new material, but then it's really fun reading new jokes, so that drives you forward to find new material, things that just seem weird.
That's why, like with comedians, I was talking about point of view. It's just how you might see something. It usually means, if someone else likes it, and then I don't like it.
TBDNG: Your 17-year-old son, Jack, has performed before and he even opened for you at some at one point. Is this something that he wants to continue doing and follow in your footsteps?
JG: Granted, my son is 17 but you never have an idea how long this interest is going to last, you know? A kid could be really into Buzz Lightyear, so you convert their room into a Buzz Lightyear thing, and then they're like, oh, I don't like Buzz Lightyear anymore. I also want to encourage them, but I also don't want to force him to do it. He has done it a bunch, but I also am very much into the approach of letting him bring it up to me when he wants to do it.
TBDNG: And then what about the rest of your kids? Any of them have any interest? 
JG: They're all kind of funny and you know, it's weird because I feel like even going through things like going to parent teacher conferences, I think that there's always a stage where I think that they think what they should do is be a comedian, and I'm like 'you don't have to. You can do whatever you want.'
And sometimes, even in parent teacher conferences, the teacher will be like 'your child's very funny.' And I'm like, 'I want them to learn to read and write.' So, it is one of those things, just like you know you're just following along, seeing where it's going to happen.
TBDNG: You're known more as the 'clean comic.' You don't really use profanity or anything like that and you don't have to because you're hilarious, and it works for you. Is the route you always wanted to go or is that more because you knew your kids would be listening to what you'd be saying?
JG: I think that I got very lucky because comedians just do what they wanna do. And some of that has to do with family culture and also where you grew up. I grew up in a small town in Indiana where if you were cursing a lot, it would just seem weird. Whereas in New York City, if you are cursing a lot, it's just how some people talk. So, there's that.
But also, it was a relief because kids could look at my material and they wouldn't be offended or shocked or embarrassed. But then again, all kids are embarrassed of their parents, right?
TBDNG: What are some big moments that you never imagined you would have?
JG: Well, gosh, I mean I feel like they're all still part of me. Like when I do shows in theaters that I had no expectation that I would be able to have the opportunity to do. Performing in theaters is really an amazing thing. I love the fact that I had an opportunity to write a couple of books, that I did this show the Jim Gaffigan Show with my wife. You know, I love acting too, but it's weird – I guess at this point I'm just kind of trying to seek out creative fulfillment.
TBDNG:

You've done a few children's movies and shows. Have you ever had a kid come up to you and recognize the voice?
JG: I think the first Hotel Transylvania movie I did, which I think was Hotel Transylvania 3, I brought my kids and I think that was the first time my youngest, who probably was six at the time, was really impressed. He was like 'that's you doing that voice!' Also, the Luca movie because Pixar is such a part of childhood and those Pixar movies are so good that I think they were really impressed by Luca.
TBDNG: Coming up, you're playing Smee alongside Jude Law's Captain Hook in Peter Pan and Wendy, which is exciting. How was that experience?
JG: That was amazing. It was filmed in the middle of the pandemic, so it's been a while, but it was so fun. Also, it's one of these storylines that, I don't think there's anyone in the English-speaking world that doesn't know about Peter Pan. So that'll be really exciting when that comes out and fun for my kids to see me play Smee. And you know, I remember us watching the original one before I left to work on it, just as like research so it was kind of funny we did that.
Jude Law was good. It's so weird because there's so many different versions of it, right? And David Lowery, who also did Green Night and Pete's Dragon, he has his own vision of things. but it was just – if you're doing some big Disney movie, it's just very exciting.
TBDNG: Is The Dark Pale Tour family-friendly or is it more 18 and up?
JG: Oh yeah, it's definitely family friendly. The weird thing about bringing kids to a comedy show is, it's still PG or whatever, but little kids want to see material you've done before. You know, like when you have a little kid and they watch a movie like 10 times, whereas an adult wants new material. So, like there's an unspoken agreement between the audience and the comedian that if you're coming to this theater and I'm paying to see you, you're going to do new material and I don't always. So, I just would say that like sometimes kids think "oh he's gonna do the whales joke and the bacon and hot pockets." And that's not what I do in my I do my recent show.
For tickets to see Jim in February and for show information, visit strazcenter.org