Plan a night to try out all of these holiday drinks and choose one for your Christmas meal or Holiday Party! Need to taste test them all first right!?
It's the most beautiful time of the year, which means it's finally the "appropriate" time to listen to Christmas music, drink hot chocolate (or maybe an iced coffee since its Florida), and decorate the house with all things Christmassy. The holidays are such a wonderful time of the year you get to see everything decorated and lit up and green and red splattered on every wall, corner, or tree. We all know Christmas can be a hectic time of year when trying to find gifts, planning those Christmas parties, or what to cook for the big family Christmas dinner. 
Whatever the case, we know many of us could use a beverage or two during this hectic season! Whether you need to relieve some stress or have some tasty drinks for that party and Christmas dinner, these drinks will have your covered and into the holiday spirit! Merry Christmas and Happy Holidays! 
Holiday Drinks to try: 
What's Christmas without some eggnog and gingerbread? Here is a Christmas cocktail that will surely have your home smelling delicious! Whip up this cocktail and soak up all the Christmas flavors.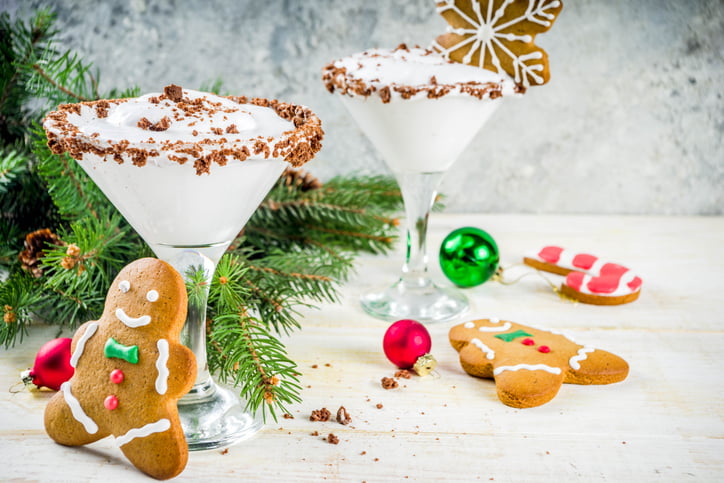 Do you want to build a snowman? Who would have thought boozy hot chocolate is something that we need in our life, especially around Christmas time. If that's not enough for you, then step it up a notch and make it filthy with a little marshmallow, peppermint, or anything you might want to add.

Peppermint Bark Mimosa: delish.com
For all the peppermint lovers out there, no one has forgotten about you during your peak season. This drink is especially for you. The next cocktail on the list is called Peppermint Bark Mimosa. Sounds good right!? With melted chocolate and crushed peppermint used to coat the rim of the glass. This is just the drink to get you into the holiday feels.

We can't forget a sweet and simple Holiday Mule for whatever holiday festivity is taking place. If your looking for something a little more simple, this Holiday Mule is just the drink.