Florida has 29 lighthouses remaining today with even fewer still operational. You could make a vacation solely out of traveling to the lighthouses around the state! Because of these lighthouses, mariners have been able to safely sail around Florida's coast for hundreds of years. Lighthouses aren't just practical though. They are a beautiful addition to the scenery and offer an inexpensive way to have a dreamy date outing. Elevated to a bird's eye view with the wind and sun kissing your face, take in the sights with your main squeeze. We've gathered a few Florida lighthouses worth a trip for you below.
VISIT NOW
The follow lighthouses have reopened to the public. Review each lighthouse's website for detailed information on safety procedures, face covering requirements and more.
Distance from Tampa: 2 hours 30 minutes
Surrounded by all of the original buildings and a quaint white picket fence, Ponce Inlet Lighthouse proudly stands as Florida's tallest lighthouse. It's a whopping 203 steps to the top for breathtaking views of the inlet. You'll even be able to catch a glimpse of Daytona Beach! The surrounding buildings are part of the museum, each featuring exhibits pertaining to the history of the lighthouse and surrounding area. Admission is $6.95/adult.
Complete your itinerary:
Walk through a mangrove estuary, sit in awe of a living reef aquarium, peek at the turtle rehabilitation area, gaze at a dune habitat, and touch stingrays at the Marine Science Center. $5 per adult. (Temporarily closed.)
Adjacent to the Lighthouse is Hidden Treasure Rum Bar & Grill. The pet-friendly outdoor deck features a twisted oak tree perfect for snagging a selfie. The restaurant claims they have the largest collection of unique vintage rum in Florida. Bottom's up!
If you have a boat, check out Disappearing Island. This tropical paradise emerges each day at low tide where Ponce Inlet and New Smyrna almost meet. Coordinates are 29.074742, -80.931316.
Distance from Tampa: 3 hours
Possibly the state's most famous lighthouse is the St. Augustine Lighthouse and Maritime Museum. The view from the top is one of the most beautiful with city scenery on one side and the bay on the other. There are several guided tours and interactive activities included with the $12.95/person general admission.
Seeking adventure and romance? Book one of the special guided tours. The Dark of the Moon Ghost Tour will take you into the lighthouse tower in the dark searching for paranormal activity ($24.95/person). Alternatively, the monthly Sunset/Moonrise Tour invites you to watch the sunset from the tower as the full moon rises while sipping champagne and noshing on hors d'oeuvres ($30/person).
Complete your itinerary:
*Reopening September 23, 2020
Distance from Tampa: 3 hours 10 minutes
Playing a critical role in World War II, Jupiter Inlet Lighthouse or "Station J," was home to seamen who intercepted radio messages from lurking German submarines. These submarines were attacking merchant ships that carried war supplies and causing quite the dilemma. Through "top-secret high-frequency direction-finding" signals, Station J was able to pinpoint these submarines at night when they would surface to relay messages. This allowed US aircraft to seize these vessels and thus ending German dominance in the water.
Tickets to visit this historic lighthouse are $12/person but free for active military.
Complete your itinerary:
Refuel at Square Grouper Tiki Bar. Having been featured in "It's Five O'Clock Somewhere" by Alan Jackson, you can rest assured the tropical atmosphere continues all year. Live bands take the stage seven days a week.
Soak up the sun at nearby Hobe Sound Beach or wander along the shore at Blowing Rocks Preserve.
Join a guided clear kayaking tour of the waterways with Get Up and Go Kayaking.
Distance from Tampa: 4 hours 45 minutes
Climb 138 steps to the top of this iron skeleton tower in Carabelle. The Crooked River Lighthouse is a National Historic site dating back to 1895, although it's recently been restored. The lighthouse was constructed to assist timber ships, fisherman and oystermen through the dangerous pass between Dog Island and St. George Island in the panhandle. Weather permitting, tours are offered Wednesday – Friday from 11am – 5pm, Saturdays from 9am – 5pm and Sundays from 1pm – 5pm.
It will only cost you $5/person to climb the lighthouse.
Complete your itinerary:
Visit The World's Smallest Police Station. Once a working phone booth for police officers to take calls sheltered from the weather, it is now open to the public.
Stroll along Carrabelle Beach. It's a small public beach that feels more like a private one.
Nearby Apalachicola is a great place to spend a quiet weekend in a slice of Old Florida.
Distance from Tampa: 6 hours 45 minutes
Once a guiding light for military and commercial ships to navigate the shallow reefs, the Key West Lighthouse was decommissioned in 1969. It now sits downtown giving an additional nautical allure to the city. When the lighthouse first opened in 1848, the Keeper was a woman which was almost unheard of during this time. Visitors can now get a glimpse of the keepers lives through pictures and displays of their personal belongings. Tickets are $14 per adult.
Complete your itinerary:
Stop for a selfie at Southernmost Point of the Continental US. This infamous buoy is located at the corner of South Street and Whitehead Street.
Float around like a butterfly at the Key West Butterfly and Nature Conservatory. This enclosed habitat is home to more than 50 species of butterflies and over 20 species of birds. Admission is $12 per adult.
Stroll through Mallory Square for shopping, restaurants, and entertainment. The world-famous Conch Fritters is located here, as well as a Cuban cigar emporium to watch a craftsman hand roll Cuban cigars. At sunset, you'll want to be sure you are in the square for the nightly sunset celebration.
End your evening on a sweet note at the original Better Than Sex dessert restaurant.
VISIT LATER
While the following lighthouses are temporarily closed due to COVID-19, bookmark them for a future day trip or weekend getaway.
Distance from Tampa: 2 hours
Boca Grande is a beautiful, quiet island with a quaint downtown perfect for an adults-only getaway to unwind from daily life. Standing as the oldest structure on Boca Grande, Port Boca Grande Lighthouse looks more like a seaside cottage than a towering lighthouse. It's been guiding sailors since 1890 and now includes a museum. Sit and stay awhile to enjoy the Gulf views while rocking in the front porch gliders.
Complete your itinerary:
Double up on lighthouse fun with a visit to the Gasparilla Island Lighthouse. The cost is $15/person — check the calendar for upcoming climb tours.
Boat to Cayo Costa State Park. This barrier island is only accessible by boat and boasts miles of untouched beach. Because it's remote, you'll feel like the only couple on the island.
Bring your bikes for a relaxing ride around Boca Grande on paved pathways. They run almost the length of the entire island!
Extend your stay with this guide to Three Perfect Days in Boca Grande.
Distance from Tampa: 2 hours
Prior to becoming part of the Kennedy Space Center, the Cape Canaveral Lighthouse stood tall guiding those out at sea. Tours are given upon a 48 hour-reservation only due to security clearance on the Air Force Base. Tours are 3 hours and include the Air Force Sands Space History Center, two historic launch complexes, and Exploration Tower at Cape Canaveral. Close-toed shoes must be worn for the lighthouse tour. Note that the stairways become narrow, steep, and have little or no handrails. Plan for the Cape Canaveral Lighthouse tour to take half of your day. Tickets are $27 per person.
Complete your itinerary:
Journey to the stars at the Kennedy Space Center learning all about the history and endeavors of NASA's space program.
Spend some time with your toes in the sand on one of the local beaches.
Kick back on the outdoor waterfront tiki deck as you drink a cold one and eat oysters on the half shell at Rusty's Seafood and Oyster Bar.
Distance from Tampa: 4 hours
Standing tall where the sand meets the ocean in upscale Pompano Beach is Hillsboro Inlet Lighthouse. Consider this a magical unicorn of lighthouses, simply because it's only open select dates and you have to catch a boat tour to get there. Tours and sail times are announced on the website. The boat ride is 30 minutes one way. Be sure to wear closed-toe shoes and be able to climb 130 vertical feet in a hot, narrow staircase.
FYI, a transportation fee of $35/person applies.
Complete your itinerary:
Arrive early for one of the first boat shuttles then spend the day climbing the rocks at the mouth of the inlet, wading in the blue waters and catching views of the reef running along the Atlantic beach.
Pack a picnic! There is no food service.
Bring along beach chairs and towels to stay for the day.
Distance from Tampa: 7 hours
Take a ghostly tour of the historical Pensacola Lighthouse. Previously visited by the Travel Channel and SciFi's Ghost Hunters, this lighthouse has been named one of the most haunted lighthouses in the USA. Ghost hunts in the Keeper's Quarters are given twice a month on Saturdays. Ghosts not your thing? Purchase your tickets to watch the patriotic Blue Angels practice from the Lighthouse catwalk. It's an aerial view few have the opportunity to experience! Expect to go through security checkpoints since the lighthouse is located is on an active Naval Air Station.
Daily admission for the Lighthouse and museum is $7 per adult.
Complete your itinerary:
Strut around Fort Barrancas for a self-guided tour of the Fort and Spanish Water Battery. There are also hiking trails along routes once used by soldiers.
Try Red Fish Blue Fish. It looks out to the Santa Rosa Sound and offers beautiful sunset views. Dining is available inside or on the patio.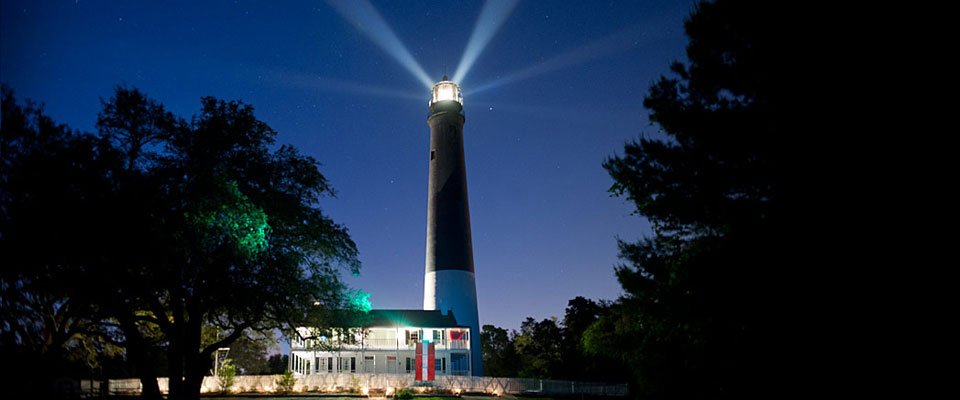 This post originally appeared on our sister site, Orlando Date Night Guide.
Feature image credit: St. Augustine Lighthouse & Maritime Museum