The year is coming to a close, which means it's the ideal time to take a break and celebrate with your significant other. If you're looking to get away from Tampa for a Florida holiday getaway, here are our top picks for the perfect trip. Each of these has a special holiday event as well as more options for you and your other half to make the most out of the vacation.  And if you're in Tampa looking for things to do, our list of Things to Do in Tampa is constantly updated!
Check out these great locations for a Florida Holiday Getaway
St. Augustine is a Florida vacation destination at any throughout the year,but during the holiday season it's even better. New and longtime couples alike can enjoy the annual, renowned Nights of Lights winter festival. With parades, horse and carriage tours, and a Christmas tour, you'll have plenty of holiday fun to partake in. And of course, you can explore St Augustine and find restaurants, museums, historical sites, ghost tours and more.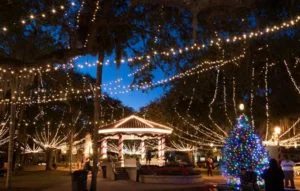 What better place to celebrate the holidays than Celebration, FL? If you're looking for a holiday getaway that features snow, this is where to go. At the Now Snowing Winter Wonderland, you can see the nightly snowfalls every night through the end of the years. You can also ice skate, watch performances, take a carriage ride, and more. After you've had your fill of holiday fun, explore Celebration for everything it has to offer or take the short drive up to Orlando for more fun.
This holiday event is like no other. Santa's Enchanted Forest is the world's largest holiday theme park full of rides, shows games and more. You can ride a Ferris wheel and roller coasters, watch South Florida's tallest tree light show, and explore the park for everything it has to offer. And of course, being in Miami means you'll have no shortage of things to do once you've explored the park to its fullest.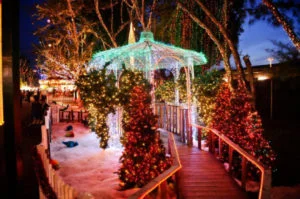 This cute village has everything you need for a perfect holiday getaway. You can ice skate at Baytowne on Ice or watch a show for the Wednesday Concert series. There's also a light show. If you want to ring in the New Year at Baytowne Wharf, you can join in on the Baytowne Countdown, which features two separate fireworks shows. Besides that, you can also shop in one of the many boutiques, eat at the delicious restaurants and cafes, or just wander through the quaint village.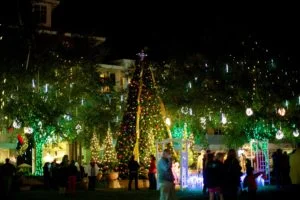 Christmas in Florida means the beach for many. At Jacksonville Beach, you can celebrate Christmas by spending the day out on the sand with your loved one. Then, come nightfall, you can walk around Deck the Chairs and see lifeguard chairs decorated with lights and lots of holiday cheer. You can also eat at any of the waterfront restaurants for a delicious meal.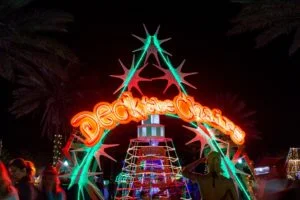 Another great beach Christmas celebration, Sandi Land has everything you could want for a holiday getaway. A day full of sun and sand, nightly music and light shows, and of course the 35 foot Christmas Tree made out of sand. There's also Duke, a dog sculpted out of sand especially for Sandi the tree. This event takes place near the waterfront of West Palm Beach, so you and your significant other will have plenty of other fun to partake in.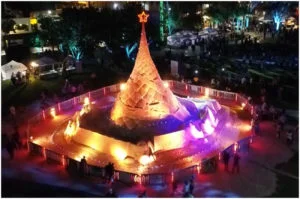 Feature Photo Credit: visitstaugustine.com